Sim: Strayling
Rating: Moderate
SLurl: 244,153,901
"I love my neighbors"
Interview with Mark Mildor
Leighla - Congratulations on opening to the public!
Mark - Thank you, Leighla. I am quite under-dressed, today. I know. Is first time we opened to public. So is really new in that sense. Been self-supporting for some time now.
L - Very exciting! One day, it will be my turn to introduce a new sim.
M - We will feed teh Fish Hunt buoy regularly.
L - How long ago did you start?
M - Ah well, almost a year now. We built with my sisters Greta and Venus.
L - What was your inspiration? What's the theme of your sim?
M - Well, are several layers here.
L - Can I get a tour?
M - Of course. Below is teh Mermaid Cave, as you can see... and is reachable via teh Poseidon trident thingy.
L - Are there actual mermaids, in the mermaid cave?
M - Sometimes. We had a party there, once.
M - Let me take you to teh ballroom, upstairs, with New Year theme still on. We go to the Gypsy Lane, first. This is where my friend, Greta, made this place.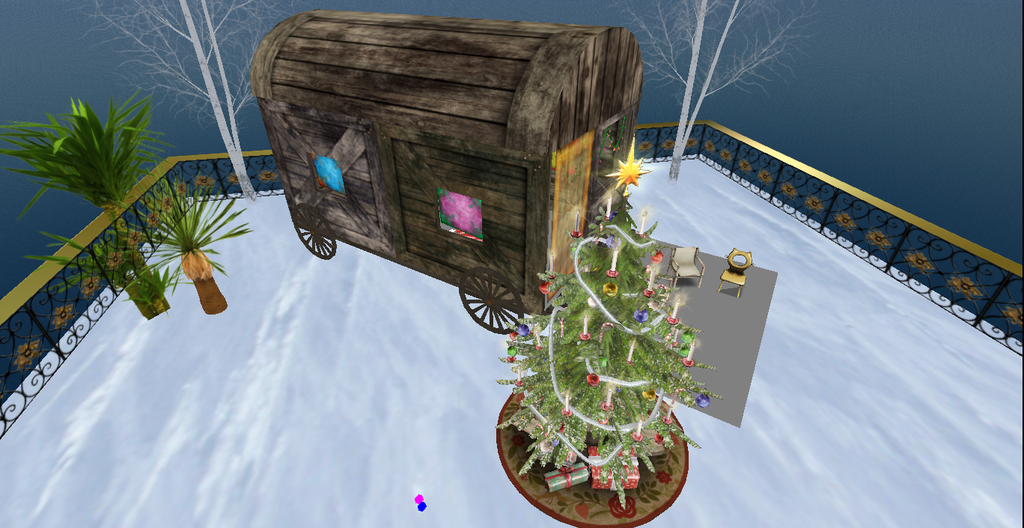 M - From this level we can teleport to teh ballroom. Lets climb up. I think santa is still here.
L - Who designed this room?
M - Well Greta and my sister, Venus. Venus rents this place, so she builds most of the time. And Greta creates textures.
M - We even have fireworks, while Santa comes around.
L - Santa! Take me with you. I was goood!
M - Take the teleporter to Catz and Hartz; normally used to host teh texture Gallery of Greta Scribe. Greta will display teh textures she makes.
L - Thanks for the tour and letting me pick your brain.
M - You so kind also with teh comments. Venus and Greta will be so happy. Hope you enjoyed your visit, as well.

You can support this sim, today, by tipping the bird bath on the Gypsy Lane level.
Thank you for joining us and good luck, everyone! - LF