Sim: Future Dreams
Rating: Moderate
SLurl: 141,62,23
"If I can share what I have, I am happy also"
Interview with alysheea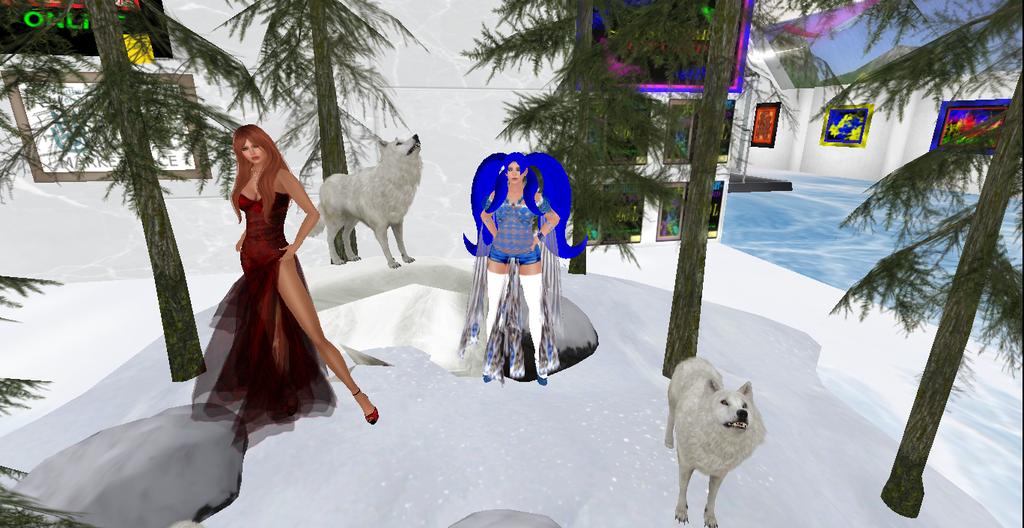 Leighla - I have a lot of fun with Gold Hunt in your land. I really enjoy the hiding places.
Aly - Aw thanks, I enjoy it.
L - Thank you for all your work and hosting so many rushes!
A - I am pulling coins/gems and relocating, this morning. Too many people know the locations.
L - Going to mix it up? I love it!
A - It's no fun, or fair, if you always leave it the same. I loved your blog, also; very nice of you to do.
L - You saw that? Great! I'd love to interview you and post a blog about your sim.
A - Sure, that would be great.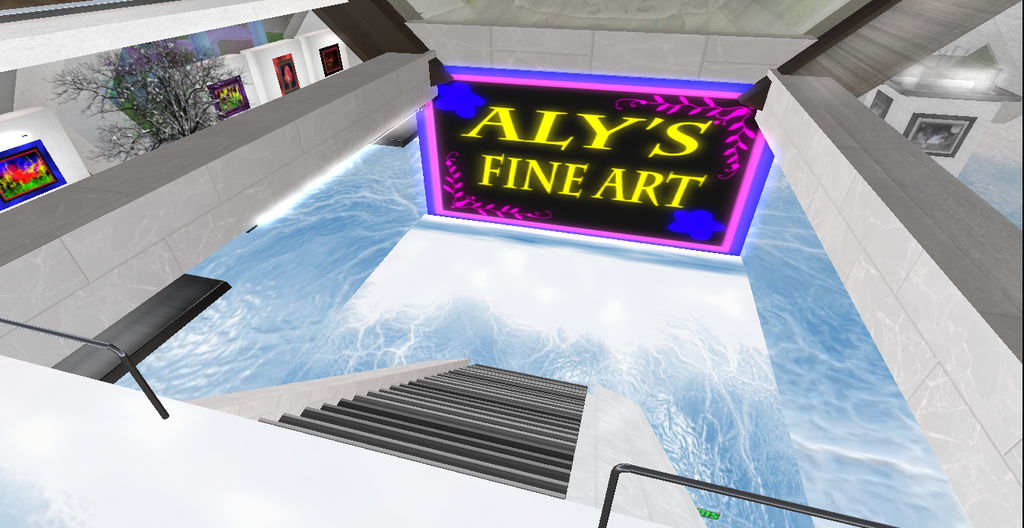 L - I like to know who is hosting the hunts. I think this will boost the community atmosphere.
A - Yes, it's good for people to read about the new sims.
L - I had no clue where to go, or what to do, when I first arrived.
A - I am seeing more new ones at mine, lately (under a week old). Probably, as I climb the ranking charts, I will get more.
L - I'm one of them. Well, I'm a little over a week, now.
A - Yes, I have seen you here.
L - How long has your sim been open to the public?
A - Since mid-November.
L - How long did you work on it, before inviting the public?
A -Less than a week.
L - Wow! Have you built sims, before?
A - Yes, many.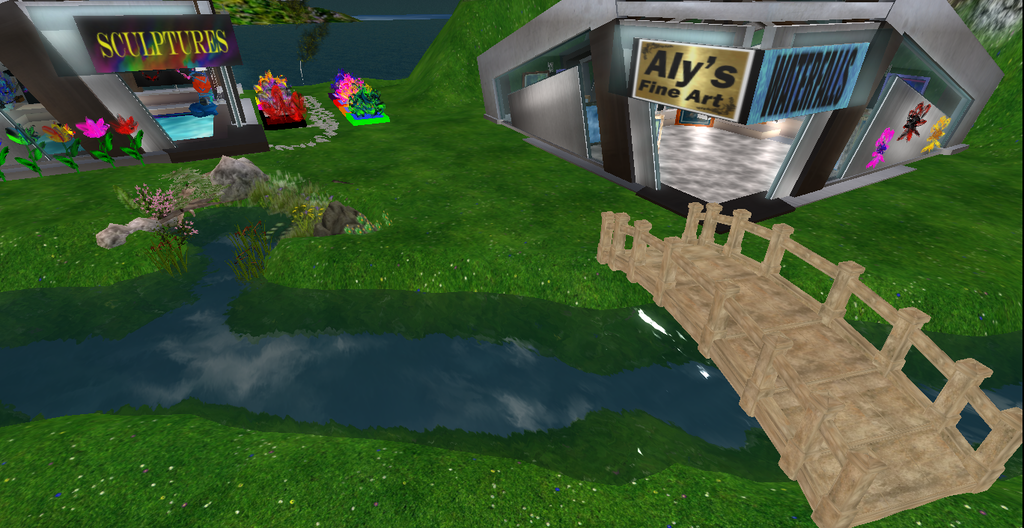 L - What was your driving concept, in this build?
A - I wanted something that was stimulating to see, that would showcase my art; plus, fun and enjoyable for all; not just another art gallery.
L - I'd say you hit that mark. I enjoy the fun park, just outside.
A - I wanted a wide variety of people that can come, relax, play and just enjoy it -- as I do -- with the least amount of drama as possible.
L - On behalf of myself, thank you. I know I'm not alone in that sentiment.
A - I am not a drama fan, and try to keep it at a minimum, here.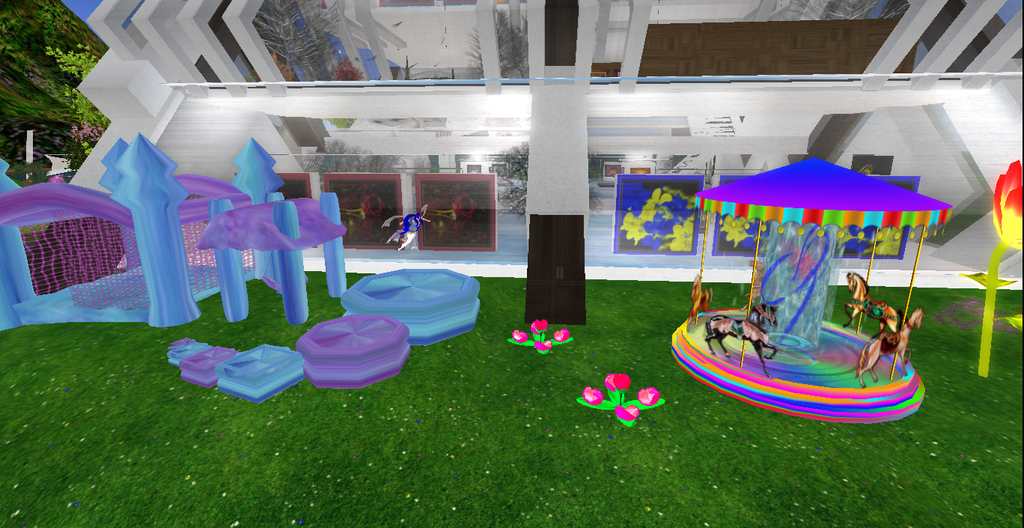 L - As a noob, I seem to keep stumbling into drama. But the GMs have been very patient and given me all the information I could need.
A - Yes, Wili did a wonderful job. And, for me, it has increased my traffic/sales and gave me many new, wonderful friends.
L - I like anything win-win and I think these games fit the definition.
A - Yes and, as you said, Wili and the staff have been very helpful and gave me so much wonderful advice.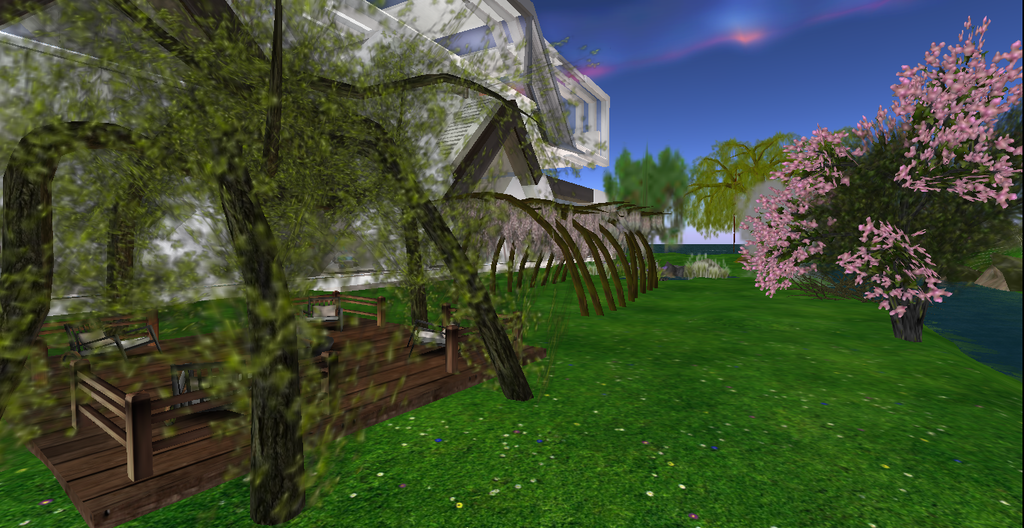 L - What portion of building this sim presented the greatest challenge?
A - Building was not really challenging; it was deciding what to put.
L - That's something I hadn't considered.
A - Yes, if I see something that people are not using as it is meant to be, I will try and change it to things they will.
L - I think that's smart. And I'm glad you do it. This footpath, by the shore, is very relaxing; it looks like a lot of time went into it.
A - Yes, the footpath was one of the last things I added. I wanted a relaxing place.
L - I'm never too far from a peaceful escape, in your land. The zen garden is beautiful. I'm a fan of the water and earth combo.
A - Thank you.
L - There's a cannon over here?
A - Yes, human cannonball. Sit on the ball for a ride.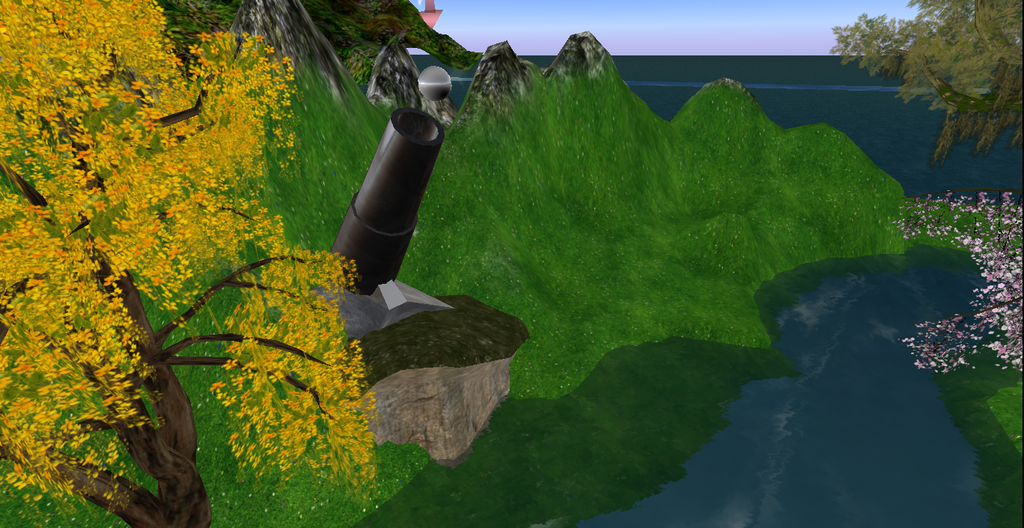 L - Sounds dangerous!
A - Nah, it's okay. I think the dance area in the corner will be changed, soon. No people are dancing, so I will change it to something they will use. They seem to like the hidden picnic blanket. The hardest part is coming up with ideas that are challenging and fun. Honestly, I am playing with the idea of a waterslide there.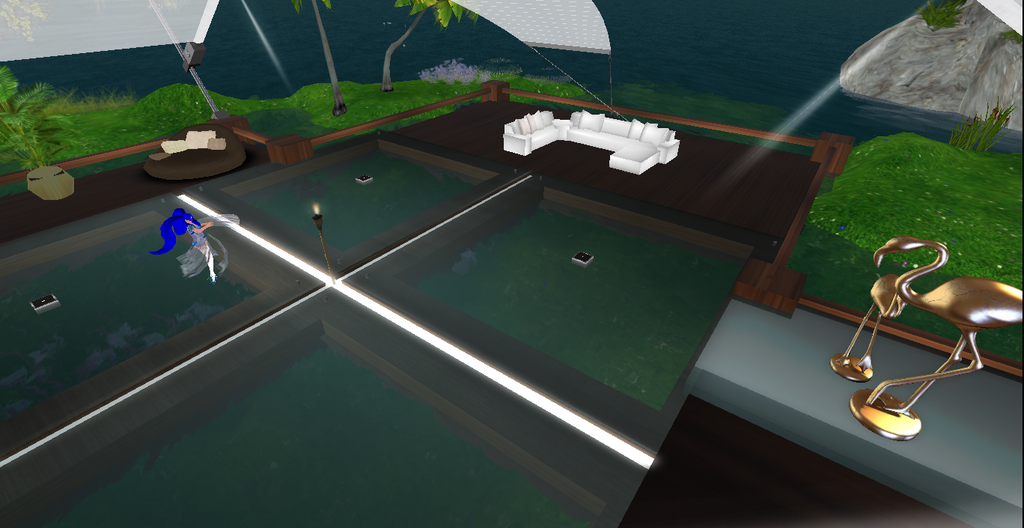 L - Oh, that would be cool!
A - Yes, I just have to figure out how to incorporate it. Looking at them now. I used to have obstacles that the balloon went through, with gems in them, but they made me pull them because the gems could not be protected.
L - Did I see a gem on top of one of the sculptures, before?
A - Yes. Those can be reached; just a puzzle to do so.
L - I got there, eventually. But someone else got there first! I had fun, anyway.
A - There are things that people message me and say, "how do you get that one." I always make them try and discover. Some are a puzzle and take time to work out.
L - That's great!
A - And some want to just walk in a straight line and pick them up. So, something for everyone.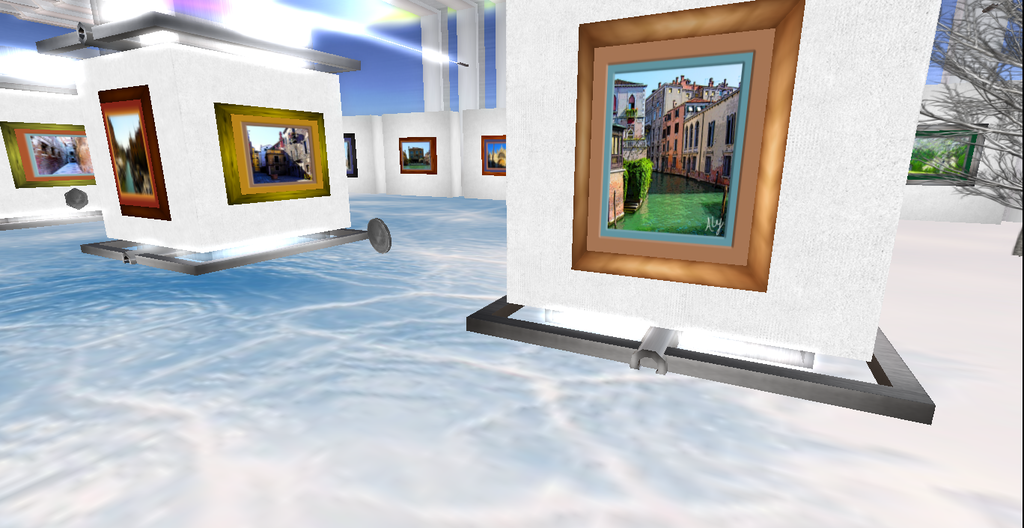 L - That's very considerate of you.
A - It's the way it should be. We have all different ages, and level of intelligence, so you have to make it fun for all.
L - They're spread out very well, also. It doesn't force us all into one area.
A - That way, one person doesn't get them all; it's the reason I also made it a no-fly zone.
L - Personally, I like that a lot.
A - Some actually don't like the puzzles -- say they are too hard -- but, each rush, someone gets them. So, they are able to achieve.
L - We're all going to have our preferences. That's why I'm a fan of your balanced approach.
A - I want all to have a chance. While the more experienced person is jumping and doing the harder ones, the newer person is getting the less challenging ones.
L - Right! It works well that way.
A - Yes, and many thank me for making it fun and challenging; not the regular hunt. Plus, the friendship I have received is amazing. People are very appreciative and kind... the experience is invaluable for many reasons. Only a few challenge my ideas; most applaud them.
L - This is a good community.
A - I see that Wili worked hard to make this successful and rewarding, for hunters and landowners alike. I applaud him for that.
L - The LGH staff are always quick to volunteer and their information is highly educational.
A - They are very patient. People forget, they are all volunteers and Wili has to be behind the scenes more, to program and keep it going. If you have ever talked to him, his drive is pleasing people that I see. Perhaps one of the reasons I am here: Wili asked me to decorate the Art Center at the main HQ. I also want to see the smiles and give those that may not be able to have Lindens the opportunities to.
L - I wouldn't have any Lindens, without the games.
A - Then you understand what I am saying. Many are the same as you. If I can share what I have, I am happy also.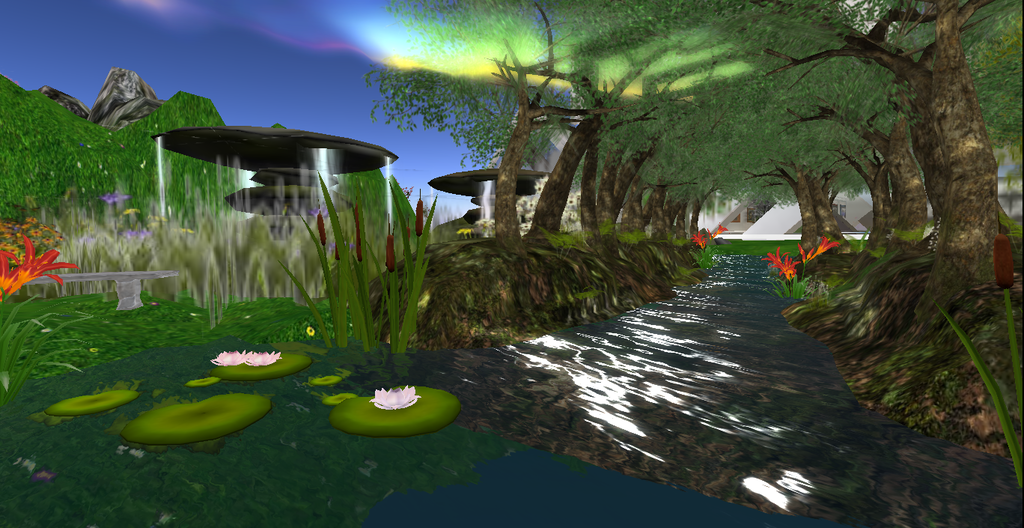 L - One of my favorite quotes, in fact: "happiness is only real when shared."
A - This is very true -- a wonderful quote --; seeing the excitement of the hunters when they conquer a puzzle, or get more Lindens than they expected, makes it special for me.
L - I've seen your logo in a number of places. Besides just the adboards, I also noticed that you've rented a space in TapeWorm's new location. I enjoy meeting the land owners. It feels more welcoming, when I know who put all the work in. I just realized, this blog post will coincide with the release of your coins in all new locations!
A - Yes, should be great. I actually wrote a blog, when I started; just a short one, saying new Gold Hunt landowner.
L - Serendipity is awesome.
My fellow Gold Hunters, let's support the momentum by tipping at the door, so Aly can keep up the good work! Just look for this glittering snowflake.
Thank you and good luck, everyone! - LF