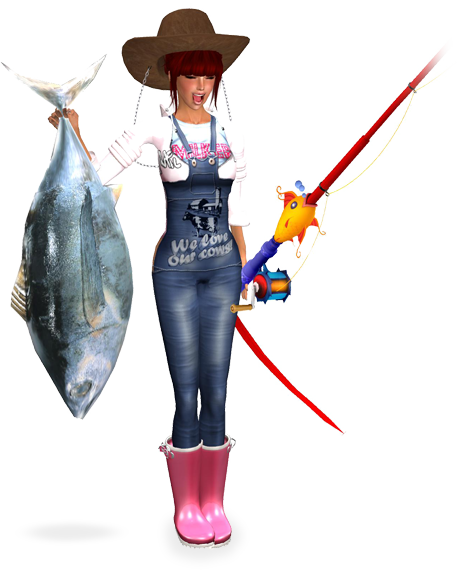 There's a lot of confusion/blame amongst the fishing community about why the "oh dear" message occurs. Today I'm going to explain exactly why it occurs and what it means.
Linden Lab HTTP Limits (and why this screws things up)
Linden Lab place an artificial restriction on how frequently their server can access our server. This limit can be reached at very busy fishing events.
The reason they do this is because otherwise a hacker could launch a very nasty thing called a ddos attack using their servers. There would then be criminal investigations and Linden Lab would be forced to shut down Second Life.
As you can see, these limits aren't placed arbitrarily, or because Linden Lab enjoy placing sufering on fishers.
And they certainly aren't imposed by us!
How exactly an "oh dear" occurs
Essentially when you click our rods they try to go through the following steps:
STEP 1) Rod asks the Linden Lab server to contact our server to tell it you tried to cast
STEP 2) Our server determines what fish you get, adds to your earnings, and deducts a worm if you used one
STEP 3) Our server replies to Linden lab server
STEP 4) Rod tells you the outcome of your fishing cast
Generally if the http limits have been reached then the LL server literally seizes up for a few seconds.
Therefore there are actually four possibilities of what can happen when you cast:
OUTCOME 1) The system fails to even implement STEP 1 (usually because of http limits). In which case you miss a cast but no worms is deducted.
OUTCOME 2) The system implements STEP 1, STEP 2, but fails at STEP 3 (usually because of http limits). In this case your earnings were added to and a worm was deducted as normal. The only problem is the rod doesn't actually know what happened, so it tells you "oh dear" instead. The next time you get a successful cast you should see your updated earnings and worms from the previous cast.
OUTCOME 3) The system suceeds all steps, but for some reason the cast came in much faster than it should have considering the worm you used. In this case the server will reject the cast but you won't have any worms deducted. The rod tells you that your cast came in before the worm countdown could have been completed and you should cast again in a few seconds. This feature protects landowner budgets in case something goes wrong.
OUTCOME 4) The system suceeds all steps. Everything is as expected for a normal fishing cast.
As you can see, in all 4 cases, the fairest thing happened for both the fisher and the landowner. In no cases are worms deducted without earnings being added. If LL limits on http were reached, then we always do the fairest thing possible given the requests landing on our server.
But I bet your server goes down, what happens then???
Yes, very rarely our server might go down for whatever reason. In that case the following will happen:
OUTCOME 1) The system fails to even implement STEP 1 (this time because our server is down). In which case you miss a cast but no worms is deducted.
However, any player can see at any time whether our server has gone down. They simply need to visit www.goldtokens.net to see if the website is up. If the website is up then our servers are working normally and the problem is either at the LL server or between our server and the LL server.
When our server goes down we have staff that work hard to get it back up as quickly as possible. Namely Wili Clip and AmyNevilly Resident. We have some of the best server reliablity now of any Second Life service.
Why "oh dears" tend to happen more often at large events
The reason for this is simple. More people fishing causes the http limits imposed by Linden Lab to be triggered more often. This can cause steps of the communication processs between our server and the LL server to become more frequent.
What you can do to reduce "oh dears"?
Try not to cast all at the same time. Wait for a few extra seconds and find a "gap" in the fishing casting so that you don't trigger the LL limits.