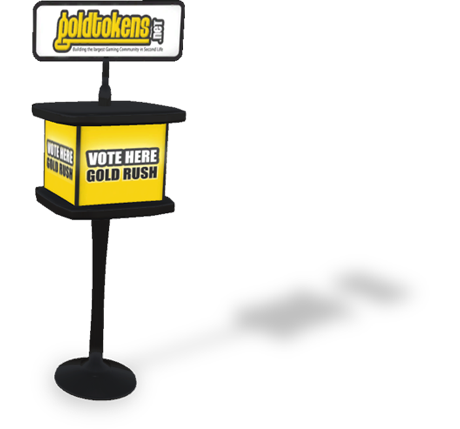 It seems like a long time ago when we invented the Gold Hunt system. It was an innovation that brought fun to Second Life. Since Gold Hunt was born we've had over few thousand of lands using it and tens of thousands of players are still to this day earning their first linden dollars!
From the shadows we've been working to improve Gold Hunt. We've been working hard to implement an automated event system that will let Gold Hunt land owners set scheduled gold rush events.
I'm proud to announce 1st TEST release of the new AUTOMATED GOLD RUSH SYSTEM.
ALPHA TESTING STAGE STARTED
During next few days we will be testing the new Gold Hunt voting station (version 1.6) with Gold Rush event scheduler ability.
New system works with all existing B10 coins and gems.
To start an automated rush a landowner will just touch vote station and select "Rush Time" from the menu then type the number of minutes until your Gold Rush will be automatically triggered. The system will count how many coins and gems you have and publish an automated notice or message to our 15,000 member player group.
It is possible to set it to do a single event after defined time has passed or set it to do events periodically after every set amount of time.
Some examples:
- Perform a gold rush every hour (60 minutes).
- Perform a gold rush every 12 hours (720 minutes).
- Perform a gold rush every 24 hours (1440 minutes).
You can log off and the Gold Rushes schedule you specified will take place without any extra work needed!
Furthermore Gold Hunters will be able to see an online schedule of rushes that are coming up and get ready beforehand to visit you!
Tomorrow we will be ready to hand few Vote Stations version 1.6 to land owners who will be willing to test them in alpha stage while we'll be bringing in few improvements to it if it'll be needed.