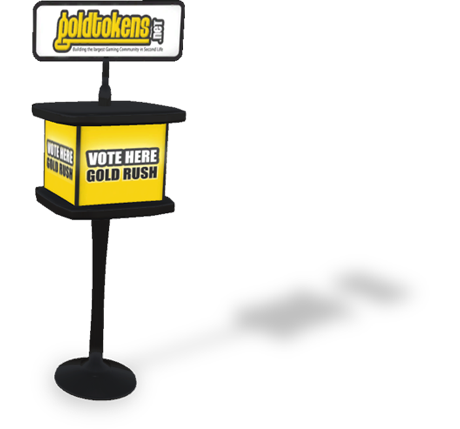 Today we're pleased to announce the release of the amazing new Gold Rush system!
https://marketplace.secondlife.com/p/Linden-Gold-Hunt-Rush-Events-Station-Start-cool-gold-rush-events-Increase-your-traffic/4709976
HOW IT WORKS
Landowners can place the new voting station on their land (replacing the old gold hunt one) and use it to schedule automatic rushes. Scheduled rushes will appear on the Gold Hunt Lands list, with a timer countdown. They can also trigger an instant rush by pressing the RUSH button.
When a rush is triggered all coins they own on the land will be revealed at once. A notice will be sent to our 15,000 player group and the rush to find coins will commence!!
WHY WE INTRODUCED THIS
Fish Hunt has enjoyed the immensely successful multiplier events system for some time now. We wanted to bring some constant events for players of the Gold Hunt as well. This change ensures our Gold Hunt system will continue to be the best hunt game in Second Life for the forseeable future.
MINIMUM REQUIREMENTS
In order to prevent fake rush events from taking place the system has a minimum requirement of 10 Gold Coins and 10 Silver Coins to be revealed in order for a notice to be sent to our group. Note that this might change as we make adjustments to the system.
FREE RUSH STATIONS FOR EXISTING OWNERS
It's Easter, so in the spirit of the hunt we're going to be giving free rush stations to our existing landowners. Just contact Wili Clip, AmyNevily or one of our Game Masters to get your free copy.