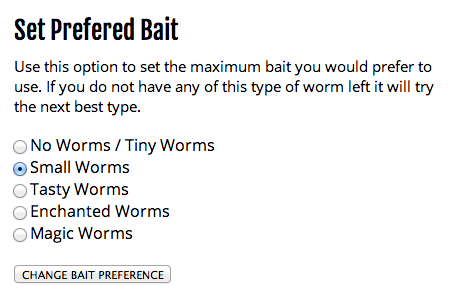 Today we've added a feature to the website that allows players to set what bait they want to use. A feature we've wanted to add for our players for a long time now!
This is the first of a wide range of improvements that Fishers and Landowners can look forward to over the coming days.
HOW IT WORKS
Login to the website and visit your personal settings page. You'll see a form called "bait preferences" that you can use to specify what bait you want to use. If you don't have that type of bait the system will try to use the next one down and so forth.
IMPROVEMENTS TO BE ADDED SOON
We'll be releasing our new modernized HUDs soon which will be a vast improvement on what players currently use. This will include an option to allow you to rapidly change your bait preference without having to log into the website.