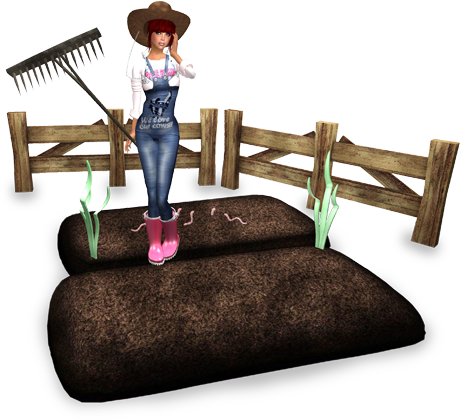 I thought today I would blog about the experiences of women in Second Life - something I don't think is covered anywhere else.
INITIAL INTERFACE AND USABILITY
I think Second Life as a game is definitely not designed for women. When I joined I found the interface very confusing to understand (and that's saying a lot given I've played MMO games since I was little and am a confessed geek). Buttons were confusing and everything seemed very technical, often in a very masculine way.
One of the most confounding things was that I couldn't find other people. I actually spent about 2 days searching for other avatars who were A) not a bot and B) Willing to have a rewarding conversation with me.
However, in defense of the Linden Lab team I have seen improvements over time to the interface that will make it easier for women to enjoy the game. I think this is a trend that will continue.
NO CLEAR GAME GOALS
Ok this might seem like a negative to a lot of people but for me and a lot of other women I think this is a positive. I joined Second Life as a social and intellectual experience and for me it delivered on that. There wasn't enourmous pressure to be competitive when I didn't want to be. The option was there, but it was something I had a choice to sign up to or not.
SEXUAL HARRASEMENT
Ok I know it sounds like a good idea to go up to a female avatar with the first words coming out of your mouth being "s....x?", but come on guys. Just because I can't slap you accross the face in Second Life doesn't make it any more effective than it would be in real life.
I think men should also think about how upsetting this is for women. In a way Second Life is a place where people's true natures come out and so when men behave like this it makes women question what men are really like in real life too.
CLOTHES....GLORIOUS CLOTHES
One awesome thing about Second Life is the clothes. I'm not very wealthy at all in real life so I can't afford to be a fashionista. In Second Life everything is so cheap that I can really experiment with outfits. Some of my friends such as Juicy Littlething really go the extra mile with this and its amazing fun. I think men should also stop complaining about their lack of decent clothes and skins. I find that there's a huge range for men as well.
A PLACE FOR LEARNING
One thing that did surprise me was that Second Life is a place for learning. I've gained a whole plethora of skills as a content creator and I think even amateur builders have a lot to gain. As a creative platform I think Second Life is actually second to none, and with upcoming improvements to the game engine this is a trend I think that is set to continue.
As a woman I think it's wonderful that you can try out content creation and being a designer with no pressure and you can set your own pace. I think for a lot of women the problem is that someone sets back your confidence and you get left behind. This doesn't happen in Second Life.
SPECIAL FRIENDSHIPS
Oddly enough after spending a long time in Second Life I am starting to believe there's some special type of friendships you can't forge so easily in real life. My friendship with Wili Clip is a great example of this. We work together all day every day, just us together, but there's no physical aspects to our relationship whatsoever - were business partners commited to a mutual goal.
However, despite this there's a great deal closeness. We know exactly how each other think and our philosophies on a lot of things. To me that's an amazing sort of friendship that would be hard to make in real life. Second Life is amazing at forging different types of relationships.