HELPDESK
From Goldtokens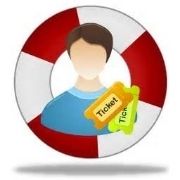 GameMaster Support
Goldtokens has an excellent staff available to assist you with any questions or issues that may arise during your involvement in our community.
They are experienced in the actual play of the games as well as in the needs of the landowners who provide or "host" our games on their land.
To use their friendly assistance simply ask for a Game Master (GM) in the Linden Gold Hunters group (LGH) or in the ADS Support Group.
HelpDesk Support
When you file a ticket, make sure your correct email address is used as ticket confirmation and any responses or requests for more information will be
sent to your email. Be sure to check your spam folder as well, or designate us as not spam to your email filter. It is important to check often for a
response, as we may be waiting for you to give us more information, or have some instructions you need to follow. If we don't get feedback within a 3
day span, we will usually close the ticket. Don't worry if this happens. You can always reopen your ticket and begin the resolution process again.
What You Will Need
Support any claims of missing or lost items with transaction logs from your SL dashboard or local chat. Claims against other players need to be
accompanied by proof - text, pictures, bump logs are some examples of acceptable proof. Providing as much detail as possible about the situations or
issues you submit is the best way to get the quickest and most fair response possible.
Processing Time
While our HelpDesk team are quick and efficient to resolve your ticket issues for you, there may also be other circumstances that cause a delay in
your situation being sorted. For example, a buoy glitch may depend on availability of staff that can navigate the codes for buoy issues and a
process of trouble shooting the possible causes to illuminate each before the cure is discovered. Or the situation may require that staff looks in
to the claims made before resolution can be reached.
Whatever the issue of your ticket may be, please remember that staff is doing their best to get a fair solution in as quick a time as possible.
Ticket Status
You may check the status of your ticket by going to the Helpdesk site and inserting your ticket number in the correct field.