In our Cyber Kingdom of LGH you are
rewarded L$
every week for voting for a person who you think has supported or contributed to the growth of our LGH community the most in last week.
To register for voting pay 900 GOLD by clicking a
yellow registratration button
.
Currently you can still IM Cassie75 to receive 1000 GOLD for registration (the 100 GOLD is for you to keep)
After registering just click on your candidate and vote: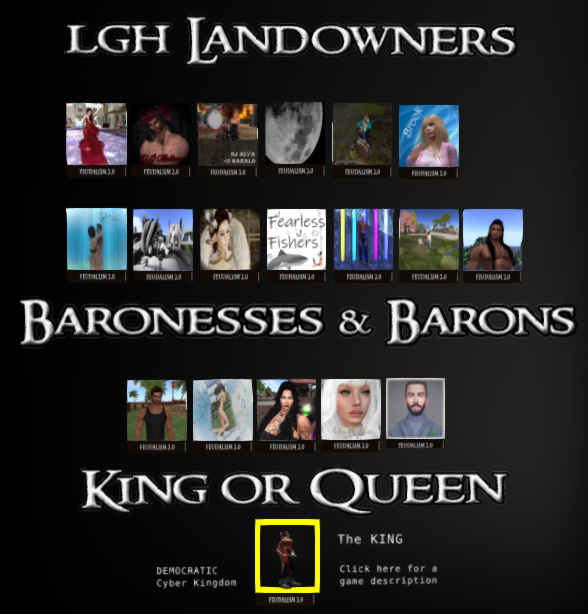 There are 2 ways to vote:
- With
weekly free votes
allocated for everyone to use (when you vote you also gain votes for yourself)
- With
your own GOLD
(you can also vote for yourself; but do you really want to be that person)
Every Sunday L$ are distributed to everyone with votes according to the amount of votes. More votes someone has bigger the share of L$ reward pot they get.
TOP voted person gets a status of cbyer
QUEEN/KING
next 5 people with most gold votes have a status of nobility (Barons/Baronesses) with
veto power
on how the L$ from LGH Treasury are spent.
Treasury is filled with a specific amount of commissions from worms and crafting material sales in all LGH games.
Landowners who are registered cyber kingdom voters are automatically rewarded g-votes when they fill Fish Hunt and Gold Hunt Coins.
The funds from LGH Treasury should be always spent in a way to benefit the LGH community and growth.
Every week there is 10% decay of
gold votes
to make sure only active participants are elected in positions of power.
The ways to
earn gold:
- Buy gold from the gold vendor
- collect coins wearing Ice Shubbie pet (he gives you gold for each coin you collect)
- release the extra duplicate Snuffles with skins that you don't want
- sometimes we run gold fishing event (during that event everyone gains gold with every fish they catch)
ROYAL TREASURY: 38242.37 L$PLAYERS OWNED GOLD: 36,219,492ROYAL GOLD TREASURY: 3371086 GOLDWeekly Voters Reward Pot: 5000.00/5000.00 L$
(each week set by QUEEN or KING from the Royal Treasury)
Remaining time to voters reward payout:
3 days, 5 hours, 32 minutes and 46 seconds
| PLACE | Candidate | Gold votes | Weekly votes | Expected Reward | Reward |
| --- | --- | --- | --- | --- | --- |
| QUEEN/KING | OmniBravo Resident | 2,794,523 | 1528 | 440.46 L$ | 0.00 L$ |
| Baron-ess 1 | Maja Hallison | 2,402,839 | already voted | 378.73 L$ | 0.00 L$ |
| Baron-ess 2 | Saraliz Ravenhurst | 1,270,393 | 5000 | 200.24 L$ | 210.04 L$ |
| Baron-ess 3 | Skar Taurog | 1,077,488 | 1890 | 169.83 L$ | 0.00 L$ |
| Baron-ess 4 | Brietje Munro | 843,827 | already voted | 133 L$ | 0.00 L$ |
| Baron-ess 5 | Mariantonietta Silverfall | 798,767 | already voted | 125.9 L$ | 0.00 L$ |
| Lord/Lady 6 | queensatrasil Resident | 560,559 | already voted | 88.35 L$ | 0.00 L$ |
| Lord/Lady 7 | ocrowe Resident | 469,432 | already voted | 73.99 L$ | 0.00 L$ |
| Lord/Lady 8 | SummerDreams0 Resident | 373,316 | already voted | 58.84 L$ | 0.00 L$ |
| Lord/Lady 9 | Dea Starlight | 330,392 | 135 | 52.08 L$ | 54.96 L$ |
| Lord/Lady 10 | ionatastic Resident | 300,264 | already voted | 47.33 L$ | 49.15 L$ |
| Lord/Lady 11 | Gina Warziders | 295,772 | already voted | 46.62 L$ | 0.00 L$ |
| Lord/Lady 12 | Artimisbleu Resident | 253,952 | 5000 | 40.03 L$ | 37.74 L$ |
| Lord/Lady 13 | sheila64 Resident | 244,856 | already voted | 38.59 L$ | 0.00 L$ |
| Lord/Lady 14 | Paige Cybertar | 239,978 | 5630 | 37.82 L$ | 38.93 L$ |
| Lord/Lady 15 | Thunderchild Allen | 237,753 | 3919 | 37.47 L$ | 35.91 L$ |
| Lord/Lady 16 | B2 Short | 226,758 | 5016 | 35.74 L$ | 37.55 L$ |
| Lord/Lady 17 | Wili Clip | 222,711 | 5404 | 35.1 L$ | 35.17 L$ |
| Lord/Lady 18 | VizierPaimon Resident | 216,500 | 1824 | 34.12 L$ | 0.00 L$ |
| Lord/Lady 19 | alabama777 Resident | 210,298 | already voted | 33.15 L$ | 0.00 L$ |
| Lord/Lady 20 | AlaricEvo Resident | 209,975 | 8 | 33.1 L$ | 0.00 L$ |
| Lord/Lady 21 | Nellie Nemeth | 203,248 | already voted | 32.04 L$ | 0.00 L$ |
| Lord/Lady 22 | JazzFire Resident | 196,222 | already voted | 30.93 L$ | 0.00 L$ |
| Lord/Lady 23 | Kasabian Constantine | 195,004 | 5072 | 30.74 L$ | 32.17 L$ |
| Lord/Lady 24 | sharronxx Resident | 189,223 | already voted | 29.82 L$ | 0.00 L$ |
| Lord/Lady 25 | CutiePie4Play Starlight | 187,260 | already voted | 29.52 L$ | 0.00 L$ |
| Lord/Lady 26 | Sandflea Lorefield | 172,336 | already voted | 27.16 L$ | 0.00 L$ |
| Lord/Lady 27 | Eden1x Resident | 162,542 | 5000 | 25.62 L$ | 26.51 L$ |
| Lord/Lady 28 | loverlyloves Resident | 151,674 | already voted | 23.91 L$ | 0.00 L$ |
| Lord/Lady 29 | yeasin2018 Resident | 151,011 | 5000 | 23.8 L$ | 23.88 L$ |
| Lord/Lady 30 | Nelonis Resident | 149,287 | already voted | 23.53 L$ | 0.00 L$ |
| Lord/Lady 31 | Elina Tigerauge | 147,881 | already voted | 23.31 L$ | 0.00 L$ |
| Lord/Lady 32 | Vittfarne Uggla | 144,083 | already voted | 22.71 L$ | 0.00 L$ |
| Lord/Lady 33 | Cirus Cuddles | 140,888 | already voted | 22.21 L$ | 22.16 L$ |
| Lord/Lady 34 | LovelySteffie Resident | 139,348 | already voted | 21.96 L$ | 0.00 L$ |
| Lord/Lady 35 | Paige Ravenhurst | 138,048 | 5000 | 21.76 L$ | 23.38 L$ |
| Lord/Lady 36 | Cann Fingerpin | 136,866 | already voted | 21.57 L$ | 0.00 L$ |
| Lord/Lady 37 | Parsnip Latzo | 132,275 | already voted | 20.85 L$ | 0.00 L$ |
| Lord/Lady 38 | NixSteven Resident | 129,906 | already voted | 20.48 L$ | 0.00 L$ |
| Lord/Lady 39 | VictoriaDior Resident | 129,650 | 5000 | 20.44 L$ | 21.10 L$ |
| Lord/Lady 40 | Hope Zhong | 127,605 | already voted | 20.11 L$ | 0.00 L$ |
| Lord/Lady 41 | KamaComplex Resident | 125,549 | already voted | 19.79 L$ | 0.00 L$ |
| Lord/Lady 42 | bearofboogie Resident | 124,844 | 700 | 19.68 L$ | 0.00 L$ |
| Lord/Lady 43 | Grace Itano | 124,729 | already voted | 19.66 L$ | 20.27 L$ |
| Lord/Lady 44 | Mystique Desire | 124,665 | already voted | 19.65 L$ | 19.42 L$ |
| Lord/Lady 45 | Varro Ravenhurst | 122,177 | 5000 | 19.26 L$ | 20.69 L$ |
| Lord/Lady 46 | Keumjoo Ahn | 121,497 | already voted | 19.15 L$ | 0.00 L$ |
| Lord/Lady 47 | CeleneHighwater Resident | 119,477 | 5000 | 18.83 L$ | 20.21 L$ |
| Lord/Lady 48 | RomainChelien Resident | 119,263 | 5000 | 18.8 L$ | 20.20 L$ |
| Lord/Lady 49 | JustNStore Resident | 117,268 | 12 | 18.48 L$ | 18.16 L$ |
| Lord/Lady 50 | Knotty Twine | 115,517 | already voted | 18.21 L$ | 0.00 L$ |
| Lord/Lady 51 | GregT Frimon | 115,124 | already voted | 18.15 L$ | 0.00 L$ |
| Lord/Lady 52 | Anaconda Carter | 110,381 | already voted | 17.4 L$ | 0.00 L$ |
| Lord/Lady 53 | Thor Vespucciano | 110,364 | already voted | 17.4 L$ | 0.00 L$ |
| Lord/Lady 54 | Qwibble Resident | 109,360 | already voted | 17.24 L$ | 0.00 L$ |
| Lord/Lady 55 | WickedAndWild Resident | 108,747 | already voted | 17.14 L$ | 0.00 L$ |
| Lord/Lady 56 | karenbrooks Resident | 108,406 | 735 | 17.09 L$ | 16.61 L$ |
| Lord/Lady 57 | Anna Rizzo | 108,047 | already voted | 17.03 L$ | 0.00 L$ |
| Lord/Lady 58 | Kaitlin Rayna | 106,370 | already voted | 16.77 L$ | 0.00 L$ |
| Lord/Lady 59 | Brook Demonia | 103,423 | already voted | 16.3 L$ | 0.00 L$ |
| Lord/Lady 60 | Onekindofstory Resident | 103,379 | already voted | 16.29 L$ | 0.00 L$ |
| citizen 61 | HungarianNaturalHealer Resident | 100,878 | already voted | 15.9 L$ | 0.00 L$ |
| citizen 62 | SydneyMariner Resident | 100,310 | already voted | 15.81 L$ | 0.00 L$ |
| citizen 63 | pksmud Susa | 98,612 | already voted | 15.54 L$ | 0.00 L$ |
| citizen 64 | DavidRobert Jonson | 98,371 | already voted | 15.5 L$ | 0.00 L$ |
| citizen 65 | Reddevilson Resident | 97,501 | 5000 | 15.37 L$ | 16.51 L$ |
| citizen 66 | Thundernick Turbo | 94,795 | 5000 | 14.94 L$ | 15.21 L$ |
| citizen 67 | Alva Swansen | 92,781 | already voted | 14.62 L$ | 0.00 L$ |
| citizen 68 | NerriMariner Resident | 91,158 | already voted | 14.37 L$ | 0.00 L$ |
| citizen 69 | MartinLehmann Resident | 90,396 | already voted | 14.25 L$ | 0.00 L$ |
| citizen 70 | ItsJust Wise | 89,932 | 5000 | 14.17 L$ | 14.38 L$ |
| citizen 71 | Claudia Dereham | 88,693 | already voted | 13.98 L$ | 0.00 L$ |
| citizen 72 | Sunny Cloud | 85,922 | already voted | 13.54 L$ | 0.00 L$ |
| citizen 73 | DeepPurplePeopleEater Resident | 83,974 | already voted | 13.24 L$ | 0.00 L$ |
| citizen 74 | BGvanHolland Resident | 83,858 | 5000 | 13.22 L$ | 14.20 L$ |
| citizen 75 | Spinmaster Voom | 82,135 | already voted | 12.95 L$ | 0.00 L$ |
| citizen 76 | digitalpplus Resident | 79,236 | already voted | 12.49 L$ | 0.00 L$ |
| citizen 77 | Dida Skytower | 78,378 | already voted | 12.35 L$ | 0.00 L$ |
| citizen 78 | RedFeverWolf Resident | 78,007 | already voted | 12.3 L$ | 12.36 L$ |
| citizen 79 | Baby Visage | 75,035 | 5000 | 11.83 L$ | 12.71 L$ |
| citizen 80 | EustaceSeven Resident | 73,244 | already voted | 11.54 L$ | 0.00 L$ |
| citizen 81 | Revan007 Resident | 72,658 | already voted | 11.45 L$ | 0.00 L$ |
| citizen 82 | Freedom981 Resident | 72,551 | already voted | 11.44 L$ | 0.00 L$ |
| citizen 83 | BS4M Resident | 72,520 | 5000 | 11.43 L$ | 11.43 L$ |
| citizen 84 | Robotshaz Resident | 71,920 | already voted | 11.34 L$ | 0.00 L$ |
| citizen 85 | Lena Mercury | 70,959 | 5000 | 11.18 L$ | 12.02 L$ |
| citizen 86 | Frank1056 Resident | 69,767 | 20 | 11 L$ | 0.00 L$ |
| citizen 87 | MEDHAV Resident | 68,434 | 5000 | 10.79 L$ | 11.59 L$ |
| citizen 88 | MajikVixen Lorefield | 68,105 | already voted | 10.73 L$ | 0.00 L$ |
| citizen 89 | tommyhaha Resident | 67,236 | already voted | 10.6 L$ | 9.69 L$ |
| citizen 90 | SirJohnLuc Resident | 66,907 | already voted | 10.55 L$ | 10.48 L$ |
| citizen 91 | IXISTARXIXI Resident | 65,467 | 5118 | 10.32 L$ | 9.38 L$ |
| citizen 92 | jbc71 Resident | 64,543 | 20 | 10.17 L$ | 0.00 L$ |
| citizen 93 | imnotreallyhere Resident | 64,414 | 35 | 10.15 L$ | 0.00 L$ |
| citizen 94 | AL121981 Resident | 63,993 | already voted | 10.09 L$ | 0.00 L$ |
| citizen 95 | Solklem66 Resident | 63,523 | already voted | 10.01 L$ | 0.00 L$ |
| citizen 96 | Athadu Resident | 63,384 | already voted | 9.99 L$ | 0.00 L$ |
| citizen 97 | LadyBlackDiamond2013 Resident | 63,380 | already voted | 9.99 L$ | 9.89 L$ |
| citizen 98 | smirkingdevil Resident | 63,300 | already voted | 9.98 L$ | 0.00 L$ |
| citizen 99 | BrendaLee Fredriksson | 62,977 | already voted | 9.93 L$ | 0.00 L$ |
| citizen 100 | Cassie75 Resident | 62,835 | already voted | 9.9 L$ | 0.00 L$ |
| citizen 101 | Eevel Resident | 62,244 | already voted | 9.81 L$ | 0.00 L$ |
| citizen 102 | Recklis Resident | 61,819 | already voted | 9.74 L$ | 0.00 L$ |
| citizen 103 | Mocca Viper | 61,726 | already voted | 9.73 L$ | 0.00 L$ |
| citizen 104 | Spontaner49 Resident | 61,290 | already voted | 9.66 L$ | 0.00 L$ |
| citizen 105 | synee014 Resident | 61,249 | already voted | 9.65 L$ | 9.52 L$ |
| citizen 106 | Anabelle Kuhn | 60,995 | already voted | 9.61 L$ | 0.00 L$ |
| citizen 107 | nicopolo59 Resident | 60,990 | already voted | 9.61 L$ | 0.00 L$ |
| citizen 108 | Lindxs Resident | 60,990 | already voted | 9.61 L$ | 0.00 L$ |
| citizen 109 | RoxxiLeah Resident | 60,984 | already voted | 9.61 L$ | 0.00 L$ |
| citizen 110 | Kathryn Granville | 60,975 | already voted | 9.61 L$ | 0.00 L$ |
| citizen 111 | Strange Release | 60,974 | already voted | 9.61 L$ | 0.00 L$ |
| citizen 112 | Rainbow Zulaman | 60,971 | already voted | 9.61 L$ | 0.00 L$ |
| citizen 113 | HarryDP Resident | 60,932 | already voted | 9.6 L$ | 0.00 L$ |
| citizen 114 | AntiSandy Resident | 60,915 | already voted | 9.6 L$ | 0.00 L$ |
| citizen 115 | joeey Bombastic | 60,886 | already voted | 9.6 L$ | 0.00 L$ |
| citizen 116 | gerrit Arad | 60,880 | already voted | 9.6 L$ | 0.00 L$ |
| citizen 117 | Andreas Coleslaw | 60,863 | already voted | 9.59 L$ | 0.00 L$ |
| citizen 118 | Karemoli Beaumont | 60,753 | already voted | 9.58 L$ | 0.00 L$ |
| citizen 119 | Sweetpea Braveheart | 60,697 | already voted | 9.57 L$ | 0.00 L$ |
| citizen 120 | Caden Warden | 60,373 | already voted | 9.52 L$ | 0.00 L$ |
| citizen 121 | Enchante Resident | 60,264 | already voted | 9.5 L$ | 0.00 L$ |
| citizen 122 | ptimex Resident | 60,240 | already voted | 9.49 L$ | 9.35 L$ |
| citizen 123 | Misty788 Resident | 60,197 | already voted | 9.49 L$ | 0.00 L$ |
| citizen 124 | nezhnajan Resident | 60,121 | already voted | 9.48 L$ | 0.00 L$ |
| citizen 125 | testboizzz Resident | 60,088 | already voted | 9.47 L$ | 0.00 L$ |
| citizen 126 | Poetic Enchantment | 60,083 | already voted | 9.47 L$ | 0.00 L$ |
| citizen 127 | EJPaynter Resident | 60,047 | already voted | 9.46 L$ | 9.32 L$ |
| citizen 128 | Neexa Resident | 59,537 | already voted | 9.38 L$ | 0.00 L$ |
| citizen 129 | Sunlight Lisle | 59,333 | already voted | 9.35 L$ | 0.00 L$ |
| citizen 130 | ElenaWatersong Resident | 59,321 | already voted | 9.35 L$ | 0.00 L$ |
| citizen 131 | Equestrian85 Resident | 59,269 | already voted | 9.34 L$ | 0.00 L$ |
| citizen 132 | DeeAB78 Resident | 59,202 | already voted | 9.33 L$ | 0.00 L$ |
| citizen 133 | aenie Resident | 58,806 | already voted | 9.27 L$ | 0.00 L$ |
| citizen 134 | Zen Swords | 58,795 | 5000 | 9.27 L$ | 9.94 L$ |
| citizen 135 | Sarilpom Resident | 58,777 | already voted | 9.26 L$ | 0.00 L$ |
| citizen 136 | DutchBlueDragon Resident | 58,528 | already voted | 9.22 L$ | 0.00 L$ |
| citizen 137 | adhuna95 Resident | 58,445 | already voted | 9.21 L$ | 0.00 L$ |
| citizen 138 | slSunny Resident | 58,438 | already voted | 9.21 L$ | 0.00 L$ |
| citizen 139 | Dreamer42000 Resident | 58,370 | already voted | 9.2 L$ | 8.85 L$ |
| citizen 140 | Thomas3189 Resident | 58,361 | 5000 | 9.2 L$ | 9.88 L$ |
| citizen 141 | Vankai Resident | 58,250 | 5000 | 9.18 L$ | 9.86 L$ |
| citizen 142 | BrianaCove Resident | 57,906 | 5000 | 9.13 L$ | 9.81 L$ |
| citizen 143 | DanLeJoes Resident | 57,836 | 5000 | 9.12 L$ | 9.79 L$ |
| citizen 144 | DigitalUlip Resident | 57,713 | 5000 | 9.1 L$ | 9.77 L$ |
| citizen 145 | KawaiiBambi Resident | 57,688 | already voted | 9.09 L$ | 0.00 L$ |
| citizen 146 | ExFasm Resident | 57,677 | 5000 | 9.09 L$ | 9.77 L$ |
| citizen 147 | GaryCdok Resident | 57,660 | 5000 | 9.09 L$ | 9.76 L$ |
| citizen 148 | PaulinaKooy Resident | 57,594 | 5000 | 9.08 L$ | 9.75 L$ |
| citizen 149 | Hadaway Broadway | 57,495 | already voted | 9.06 L$ | 0.00 L$ |
| citizen 150 | JordanAxl Resident | 57,236 | 5000 | 9.02 L$ | 9.69 L$ |
| citizen 151 | mellow1man Merryman | 57,162 | 5000 | 9.01 L$ | 9.68 L$ |
| citizen 152 | yywyy Resident | 57,085 | already voted | 9 L$ | 0.00 L$ |
| citizen 153 | JustChoosey Resident | 56,953 | already voted | 8.98 L$ | 0.00 L$ |
| citizen 154 | Chris Rowley | 56,805 | 5000 | 8.95 L$ | 9.62 L$ |
| citizen 155 | katherineblacke Resident | 56,366 | already voted | 8.88 L$ | 0.00 L$ |
| citizen 156 | Yatoula Jewell | 56,296 | already voted | 8.87 L$ | 0.00 L$ |
| citizen 157 | Pari Neox | 56,276 | already voted | 8.87 L$ | 0.00 L$ |
| citizen 158 | TonyLuke42 Resident | 55,990 | 5000 | 8.82 L$ | 9.48 L$ |
| citizen 159 | nisambitna Resident | 55,916 | 5000 | 8.81 L$ | 8.62 L$ |
| citizen 160 | FullMetalUnicorn Resident | 55,875 | 5000 | 8.81 L$ | 9.46 L$ |
| citizen 161 | TronThelegacy Resident | 55,853 | 5000 | 8.8 L$ | 9.46 L$ |
| citizen 162 | Latexhexer Resident | 55,769 | 5000 | 8.79 L$ | 9.44 L$ |
| citizen 163 | UlaFaery Resident | 55,320 | 5000 | 8.72 L$ | 9.37 L$ |
| citizen 164 | Suri Cassady | 55,261 | already voted | 8.71 L$ | 0.00 L$ |
| citizen 165 | Danerator Resident | 54,873 | 5000 | 8.65 L$ | 9.29 L$ |
| citizen 166 | narelle Hennah | 54,725 | already voted | 8.63 L$ | 0.00 L$ |
| citizen 167 | Emma2000J Resident | 54,472 | already voted | 8.59 L$ | 0.00 L$ |
| citizen 168 | Oqaab Resident | 54,212 | 5000 | 8.54 L$ | 9.18 L$ |
| citizen 169 | SirThomasBonnechance Resident | 53,688 | already voted | 8.46 L$ | 0.00 L$ |
| citizen 170 | Crazyfox Vaher | 53,252 | already voted | 8.39 L$ | 0.00 L$ |
| citizen 171 | Butterf1y1234 Resident | 53,040 | 5000 | 8.36 L$ | 8.98 L$ |
| citizen 172 | Roomeoo Resident | 52,922 | 5000 | 8.34 L$ | 8.96 L$ |
| citizen 173 | SkydiverArt Resident | 52,896 | already voted | 8.34 L$ | 0.00 L$ |
| citizen 174 | Spring Eiren | 52,824 | 5000 | 8.33 L$ | 8.94 L$ |
| citizen 175 | RoffleLa Mayo | 52,488 | 5000 | 8.27 L$ | 8.89 L$ |
| citizen 176 | galaxie59 Resident | 52,257 | 5000 | 8.24 L$ | 8.85 L$ |
| citizen 177 | mel01lys Resident | 51,709 | 5000 | 8.15 L$ | 8.76 L$ |
| citizen 178 | LynAnnStar Resident | 51,314 | 5000 | 8.09 L$ | 8.69 L$ |
| citizen 179 | Eden Waffle | 51,267 | already voted | 8.08 L$ | 0.00 L$ |
| citizen 180 | fabry Sparta | 51,130 | 5090 | 8.06 L$ | 8.66 L$ |
| citizen 181 | Cramonsen Resident | 50,976 | 5000 | 8.03 L$ | 8.63 L$ |
| citizen 182 | Sue Tryce | 50,745 | already voted | 8 L$ | 0.00 L$ |
| citizen 183 | hater Aie | 50,722 | already voted | 7.99 L$ | 0.00 L$ |
| citizen 184 | angellisa Chun | 50,594 | already voted | 7.97 L$ | 0.00 L$ |
| citizen 185 | Balldrick Resident | 50,281 | already voted | 7.93 L$ | 0.00 L$ |
| citizen 186 | Sunreet Resident | 50,160 | already voted | 7.91 L$ | 0.00 L$ |
| citizen 187 | aloneDrifter Resident | 50,011 | already voted | 7.88 L$ | 7.62 L$ |
| citizen 188 | Fukuju Amaterasu | 49,915 | already voted | 7.87 L$ | 7.61 L$ |
| citizen 189 | pedroesloco Resident | 49,630 | already voted | 7.82 L$ | 0.00 L$ |
| citizen 190 | AnastasyjaLorna Resident | 49,207 | already voted | 7.76 L$ | 0.00 L$ |
| citizen 191 | Rokugal Resident | 49,204 | 5000 | 7.76 L$ | 8.33 L$ |
| citizen 192 | 123zeena Resident | 47,930 | 5000 | 7.55 L$ | 8.12 L$ |
| citizen 193 | Stiglitzer Resident | 47,046 | already voted | 7.42 L$ | 7.12 L$ |
| citizen 194 | CaptX Resident | 47,046 | already voted | 7.42 L$ | 7.12 L$ |
| citizen 195 | ai Mayr | 46,908 | 5000 | 7.39 L$ | 7.94 L$ |
| citizen 196 | Pixie Dover | 46,748 | already voted | 7.37 L$ | 0.00 L$ |
| citizen 197 | Tasos Gregan | 46,589 | 5000 | 7.34 L$ | 7.89 L$ |
| citizen 198 | DieKindlicheKaiserin Resident | 46,494 | 5000 | 7.33 L$ | 7.87 L$ |
| citizen 199 | DanteGabriel Resident | 46,268 | 5000 | 7.29 L$ | 7.83 L$ |
| citizen 200 | Loic Chaffe | 46,197 | already voted | 7.28 L$ | 6.98 L$ |
| citizen 201 | Halo Mighty | 46,110 | 5000 | 7.27 L$ | 7.81 L$ |
| citizen 202 | InterstellarStarcruiser Resident | 45,949 | 5000 | 7.24 L$ | 7.78 L$ |
| citizen 203 | KolMachado Resident | 45,226 | already voted | 7.13 L$ | 0.00 L$ |
| citizen 204 | Wunderful Resident | 45,226 | already voted | 7.13 L$ | 0.00 L$ |
| citizen 205 | soulorcell Resident | 44,872 | already voted | 7.07 L$ | 6.75 L$ |
| citizen 206 | mark80 Bracula | 43,475 | already voted | 6.85 L$ | 6.52 L$ |
| citizen 207 | Likoer Bailey | 43,209 | 5000 | 6.81 L$ | 7.32 L$ |
| citizen 208 | Reterik Resident | 42,860 | already voted | 6.76 L$ | 6.39 L$ |
| citizen 209 | Rainer2202 Resident | 42,530 | 5000 | 6.7 L$ | 7.20 L$ |
| citizen 210 | Corby Rasmuson | 42,512 | already voted | 6.7 L$ | 0.00 L$ |
| citizen 211 | MaximumPowerBr Resident | 41,818 | already voted | 6.59 L$ | 6.23 L$ |
| citizen 212 | Pelvis666 Resident | 41,350 | 5000 | 6.52 L$ | 7.00 L$ |
| citizen 213 | CrayDiver Resident | 41,329 | 90 | 6.51 L$ | 6.12 L$ |
| citizen 214 | JRoth433 Resident | 41,162 | 5000 | 6.49 L$ | 6.97 L$ |
| citizen 215 | Qu33nToni Resident | 40,528 | 5000 | 6.39 L$ | 6.86 L$ |
| citizen 216 | amanda2710 Dumpling | 40,328 | already voted | 6.36 L$ | 0.00 L$ |
| citizen 217 | Cutyhera Resident | 40,287 | already voted | 6.35 L$ | 5.64 L$ |
| citizen 218 | Cheryl7Sage Resident | 40,226 | 5000 | 6.34 L$ | 6.81 L$ |
| citizen 219 | SirRedLights Resident | 40,025 | 5000 | 6.31 L$ | 5.93 L$ |
| citizen 220 | ElisabethSmiths Resident | 39,796 | already voted | 6.27 L$ | 0.00 L$ |
| citizen 221 | Priest Carnell | 39,504 | 5000 | 6.23 L$ | 6.69 L$ |
| citizen 222 | Chairman Kingmaker | 39,184 | 5000 | 6.18 L$ | 6.64 L$ |
| citizen 223 | Maliora Resident | 39,156 | 5000 | 6.17 L$ | 6.63 L$ |
| citizen 224 | evelynblossom Resident | 38,915 | already voted | 6.13 L$ | 4.90 L$ |
| citizen 225 | Sky Buccaneer | 38,742 | already voted | 6.11 L$ | 5.71 L$ |
| citizen 226 | awsomeaussie Resident | 38,169 | 5000 | 6.02 L$ | 6.46 L$ |
| citizen 227 | babe Toxx | 38,133 | 5000 | 6.01 L$ | 6.46 L$ |
| citizen 228 | VlasProfil Resident | 37,867 | already voted | 5.97 L$ | 5.57 L$ |
| citizen 229 | RiderInTheStorm Resident | 37,781 | already voted | 5.95 L$ | 5.55 L$ |
| citizen 230 | PatriciaKelley Resident | 37,276 | already voted | 5.88 L$ | 0.00 L$ |
| citizen 231 | Vynk Boccaccio | 37,000 | already voted | 5.83 L$ | 5.42 L$ |
| citizen 232 | Irbis Snowpaw | 36,808 | already voted | 5.8 L$ | 4.54 L$ |
| citizen 233 | speritofthesnow66 Resident | 36,773 | 5000 | 5.8 L$ | 6.23 L$ |
| citizen 234 | GaeMalaparte Resident | 36,562 | 5000 | 5.76 L$ | 6.19 L$ |
| citizen 235 | morgana Ishelwood | 36,410 | already voted | 5.74 L$ | 0.00 L$ |
| citizen 236 | particlespectre Resident | 36,410 | already voted | 5.74 L$ | 0.00 L$ |
| citizen 237 | CloeConcy Resident | 36,410 | already voted | 5.74 L$ | 5.32 L$ |
| citizen 238 | OffWhiteMage Resident | 35,726 | 5000 | 5.63 L$ | 6.05 L$ |
| citizen 239 | IXDrifterXI Resident | 35,419 | 5000 | 5.58 L$ | 6.00 L$ |
| citizen 240 | ZiggyZagged Resident | 34,962 | already voted | 5.51 L$ | 5.07 L$ |
| citizen 241 | BitterSweet Ophelia | 34,079 | already voted | 5.37 L$ | 4.08 L$ |
| citizen 242 | Albertostrife Resident | 33,554 | already voted | 5.29 L$ | 0.00 L$ |
| citizen 243 | XxNIBBYxX Resident | 32,517 | 5000 | 5.13 L$ | 5.51 L$ |
| citizen 244 | marymagdalene7 Resident | 32,018 | already voted | 5.05 L$ | 4.58 L$ |
| citizen 245 | Ryhios Resident | 31,523 | 5000 | 4.97 L$ | 5.34 L$ |
| citizen 246 | brokenpoodle Resident | 31,410 | 5000 | 4.95 L$ | 5.32 L$ |
| citizen 247 | JustCallMeRexy Resident | 31,255 | 5000 | 4.93 L$ | 5.29 L$ |
| citizen 248 | IrisLeona Resident | 30,970 | already voted | 4.88 L$ | 0.00 L$ |
| citizen 249 | Kaline Lycia | 30,603 | 5000 | 4.82 L$ | 5.18 L$ |
| citizen 250 | BookShardlake Resident | 30,216 | 5000 | 4.76 L$ | 5.12 L$ |
| citizen 251 | Amonfox Resident | 29,714 | 5000 | 4.68 L$ | 5.03 L$ |
| citizen 252 | JohnMcBeth Resident | 29,626 | 5000 | 4.67 L$ | 5.02 L$ |
| citizen 253 | HarleyB13 Resident | 29,504 | 5000 | 4.65 L$ | 5.00 L$ |
| citizen 254 | dkraclo Resident | 29,233 | 5000 | 4.61 L$ | 4.95 L$ |
| citizen 255 | R6D3 Resident | 28,775 | already voted | 4.54 L$ | 0.00 L$ |
| citizen 256 | BijanNow Resident | 28,546 | 5000 | 4.5 L$ | 4.83 L$ |
| citizen 257 | JBStone Resident | 28,389 | 5000 | 4.47 L$ | 4.81 L$ |
| citizen 258 | queenonthenile Resident | 28,387 | 5000 | 4.47 L$ | 4.81 L$ |
| citizen 259 | eldrethsievier Resident | 27,733 | 5000 | 4.37 L$ | 4.70 L$ |
| citizen 260 | derick Yoshikawa | 27,566 | 5000 | 4.34 L$ | 4.67 L$ |
| citizen 261 | AkashaCoyote Resident | 27,378 | 5000 | 4.32 L$ | 4.64 L$ |
| citizen 262 | Prate Burner | 26,238 | already voted | 4.14 L$ | 3.60 L$ |
| citizen 263 | Jeremy Hexem | 25,930 | already voted | 4.09 L$ | 0.00 L$ |
| citizen 264 | hubert58 Resident | 25,563 | already voted | 4.03 L$ | 3.48 L$ |
| citizen 265 | Lapis Lykin | 25,276 | 5000 | 3.98 L$ | 4.28 L$ |
| citizen 266 | ProHuman Resident | 24,834 | 5000 | 3.91 L$ | 4.21 L$ |
| citizen 267 | RoseAndThorn82 Resident | 24,755 | 5000 | 3.9 L$ | 4.19 L$ |
| citizen 268 | KittenLola Resident | 24,302 | 5000 | 3.83 L$ | 4.12 L$ |
| citizen 269 | myzdd Resident | 24,297 | already voted | 3.83 L$ | 0.00 L$ |
| citizen 270 | immiaz Resident | 23,715 | 5000 | 3.74 L$ | 4.02 L$ |
| citizen 271 | Kim8berly Resident | 23,704 | 24 | 3.74 L$ | 3.12 L$ |
| citizen 272 | skulls87 Resident | 23,440 | already voted | 3.69 L$ | 0.00 L$ |
| citizen 273 | Joylene Resident | 22,981 | 5000 | 3.62 L$ | 3.89 L$ |
| citizen 274 | BlueEyedDevil777 Resident | 22,951 | 5000 | 3.62 L$ | 3.89 L$ |
| citizen 275 | IsabellavonGlanstein Resident | 21,332 | 5000 | 3.36 L$ | 3.61 L$ |
| citizen 276 | snake89pl Resident | 19,944 | 5000 | 3.14 L$ | 3.38 L$ |
| citizen 277 | BlueJadeFox Resident | 19,850 | 5000 | 3.13 L$ | 3.36 L$ |
| citizen 278 | Zero Dagostino | 19,733 | 5000 | 3.11 L$ | 3.34 L$ |
| citizen 279 | genghisbeer Resident | 19,247 | 5000 | 3.03 L$ | 3.26 L$ |
| citizen 280 | willyjackson Resident | 19,163 | already voted | 3.02 L$ | 0.00 L$ |
| citizen 281 | RobynRedhead Resident | 18,701 | 5000 | 2.95 L$ | 3.17 L$ |
| citizen 282 | Grayvie Resident | 18,669 | 5000 | 2.94 L$ | 3.16 L$ |
| citizen 283 | Tuvok Dingson | 18,666 | 5000 | 2.94 L$ | 3.16 L$ |
| citizen 284 | Turhiya Resident | 18,513 | 5000 | 2.92 L$ | 3.13 L$ |
| citizen 285 | lilike1981 Resident | 18,320 | 5000 | 2.89 L$ | 2.26 L$ |
| citizen 286 | Miranda Freenote | 18,257 | already voted | 2.88 L$ | 0.00 L$ |
| citizen 287 | Travisthe1 Resident | 17,908 | already voted | 2.82 L$ | 0.00 L$ |
| citizen 288 | ArtisanCrafter Resident | 17,717 | 5000 | 2.79 L$ | 3.00 L$ |
| citizen 289 | Bunny Pancake | 17,402 | 5000 | 2.74 L$ | 2.95 L$ |
| citizen 290 | dx61005 Resident | 17,294 | 5000 | 2.73 L$ | 2.93 L$ |
| citizen 291 | 7Bagira7 Resident | 17,254 | 5000 | 2.72 L$ | 0.37 L$ |
| citizen 292 | Azkaria Resident | 16,979 | 5000 | 2.68 L$ | 2.88 L$ |
| citizen 293 | Mandy Vortex | 15,782 | 5166 | 2.49 L$ | 2.57 L$ |
| citizen 294 | tomfewz Resident | 15,737 | already voted | 2.48 L$ | 0.00 L$ |
| citizen 295 | TildaDobson Resident | 15,737 | already voted | 2.48 L$ | 1.82 L$ |
| citizen 296 | Okie Heartsong | 15,518 | already voted | 2.45 L$ | 0.00 L$ |
| citizen 297 | BrookEve Resident | 14,999 | 5000 | 2.36 L$ | 2.54 L$ |
| citizen 298 | Elie Yalin | 14,958 | 5000 | 2.36 L$ | 2.53 L$ |
| citizen 299 | Hoangtram0110 Resident | 14,831 | 5000 | 2.34 L$ | 2.51 L$ |
| citizen 300 | MaryLovys Resident | 14,751 | 5000 | 2.33 L$ | 2.50 L$ |
| citizen 301 | LosAngelesGraff Resident | 14,604 | 5000 | 2.3 L$ | 2.47 L$ |
| citizen 302 | CKRVA Resident | 14,371 | already voted | 2.27 L$ | 0.00 L$ |
| citizen 303 | Sheringa Resident | 14,297 | already voted | 2.25 L$ | 1.57 L$ |
| citizen 304 | Federica Yoshikawa | 14,279 | already voted | 2.25 L$ | 1.57 L$ |
| citizen 305 | oFemkeO Resident | 14,162 | 5000 | 2.23 L$ | 2.40 L$ |
| citizen 306 | HestiaMiaXenia Resident | 14,129 | already voted | 2.23 L$ | 1.55 L$ |
| citizen 307 | Strong Galaxy | 13,868 | 5000 | 2.19 L$ | 2.35 L$ |
| citizen 308 | SamyraDakota Resident | 13,025 | already voted | 2.05 L$ | 1.36 L$ |
| citizen 309 | Clein50 Resident | 12,995 | 5000 | 2.05 L$ | 2.20 L$ |
| citizen 310 | skyebluefall Resident | 12,965 | 5000 | 2.04 L$ | 2.20 L$ |
| citizen 311 | ROYALKING19913 Resident | 12,678 | 5000 | 2 L$ | 2.15 L$ |
| citizen 312 | Jad3daj3w3l Resident | 12,575 | 5000 | 1.98 L$ | 2.10 L$ |
| citizen 313 | StrawberryWhine Resident | 12,535 | 5000 | 1.98 L$ | 2.12 L$ |
| citizen 314 | Darius Wilberg | 12,381 | 5000 | 1.95 L$ | 2.10 L$ |
| citizen 315 | QueenBVendetta Resident | 12,189 | already voted | 1.92 L$ | 1.21 L$ |
| citizen 316 | ShiroYanagi Yoshikawa | 11,930 | already voted | 1.88 L$ | 1.17 L$ |
| citizen 317 | AliceSilverlight Resident | 11,677 | 5000 | 1.84 L$ | 1.98 L$ |
| citizen 318 | loecifer Sporg | 11,586 | 5000 | 1.83 L$ | 1.96 L$ |
| citizen 319 | zaakio Resident | 11,571 | 5000 | 1.82 L$ | 1.96 L$ |
| citizen 320 | jay1990x Resident | 11,389 | 5000 | 1.8 L$ | 1.93 L$ |
| citizen 321 | Tesheta Resident | 10,887 | 5000 | 1.72 L$ | 1.84 L$ |
| citizen 322 | AvalonSama Resident | 10,670 | 5000 | 1.68 L$ | 1.81 L$ |
| citizen 323 | Button Covfefe | 10,658 | 5000 | 1.68 L$ | 1.80 L$ |
| citizen 324 | MaxSilverDragon Resident | 10,310 | already voted | 1.63 L$ | 0.90 L$ |
| citizen 325 | Seirin Resident | 9,939 | already voted | 1.57 L$ | 0.84 L$ |
| citizen 326 | BabyBee54322 Resident | 9,860 | already voted | 1.55 L$ | 0.82 L$ |
| citizen 327 | AnnaMeer Resident | 9,587 | 5000 | 1.51 L$ | 1.59 L$ |
| citizen 328 | MarusiaMinx Resident | 9,558 | 5000 | 1.51 L$ | 1.62 L$ |
| citizen 329 | Katiceres Resident | 9,556 | 5000 | 1.51 L$ | 1.62 L$ |
| citizen 330 | StariNite Resident | 9,545 | 5000 | 1.5 L$ | 1.62 L$ |
| citizen 331 | Shelarl Resident | 9,352 | 5000 | 1.47 L$ | 1.58 L$ |
| citizen 332 | priskab Resident | 9,277 | already voted | 1.46 L$ | 0.72 L$ |
| citizen 333 | Goodwrench Resident | 9,086 | 5000 | 1.43 L$ | 1.54 L$ |
| citizen 334 | Holly Patrick | 8,935 | 5000 | 1.41 L$ | 1.51 L$ |
| citizen 335 | Nexus Tremor | 8,891 | 5000 | 1.4 L$ | 1.51 L$ |
| citizen 336 | FoxxyGaz Resident | 8,833 | 5000 | 1.39 L$ | 1.50 L$ |
| citizen 337 | Sheepy Bailey | 8,543 | 5000 | 1.35 L$ | 1.45 L$ |
| citizen 338 | RTHK123 Resident | 8,402 | 5000 | 1.32 L$ | 1.42 L$ |
| citizen 339 | Annalisa Bellic | 8,332 | 5000 | 1.31 L$ | 1.41 L$ |
| citizen 340 | Mariella Timeless | 8,155 | 5000 | 1.29 L$ | 1.38 L$ |
| citizen 341 | Jules1979 Resident | 8,082 | 5000 | 1.27 L$ | 1.37 L$ |
| citizen 342 | Stefaneea Resident | 8,000 | already voted | 1.26 L$ | 0.00 L$ |
| citizen 343 | TeenCandy Resident | 7,996 | 5000 | 1.26 L$ | 1.35 L$ |
| citizen 344 | Ninaca Jun | 7,806 | 5000 | 1.23 L$ | 1.32 L$ |
| citizen 345 | Peter01 Nagy | 7,800 | already voted | 1.23 L$ | 0.00 L$ |
| citizen 346 | DemonVixen Resident | 7,769 | 5000 | 1.22 L$ | 1.32 L$ |
| citizen 347 | ShaneStorm Pumpkins | 7,700 | already voted | 1.21 L$ | 0.00 L$ |
| citizen 348 | nausikaa Hannu | 7,700 | already voted | 1.21 L$ | 0.00 L$ |
| citizen 349 | MicajahCresswell Resident | 7,700 | already voted | 1.21 L$ | 0.46 L$ |
| citizen 350 | PammyRenee Resident | 7,686 | 5000 | 1.21 L$ | 1.30 L$ |
| citizen 351 | Toy Cheng | 7,579 | 5000 | 1.19 L$ | 1.28 L$ |
| citizen 352 | GothMetalBarbie Resident | 7,430 | already voted | 1.17 L$ | 0.41 L$ |
| citizen 353 | 2ensie Resident | 7,375 | 5000 | 1.16 L$ | 1.25 L$ |
| citizen 354 | Vivian Klees | 7,364 | 5000 | 1.16 L$ | 1.25 L$ |
| citizen 355 | karlabadgirl Resident | 7,239 | 5000 | 1.14 L$ | 1.23 L$ |
| citizen 356 | Brian Rowley | 7,187 | already voted | 1.13 L$ | 0.37 L$ |
| citizen 357 | YummySarra Genesis | 7,114 | 5000 | 1.12 L$ | 1.20 L$ |
| citizen 358 | MisterCaveMaster Resident | 7,039 | 5000 | 1.11 L$ | 1.19 L$ |
| citizen 359 | Dalzius Resident | 6,930 | 5000 | 1.09 L$ | 1.17 L$ |
| citizen 360 | Sbecky Kidd | 6,885 | 5000 | 1.09 L$ | 0.06 L$ |
| citizen 361 | gryffoni Resident | 6,866 | 5000 | 1.08 L$ | 1.16 L$ |
| citizen 362 | Lienangelo Resident | 6,843 | 5000 | 1.08 L$ | 1.16 L$ |
| citizen 363 | dayz Short | 6,710 | 5000 | 1.06 L$ | 1.14 L$ |
| citizen 364 | celestialgrace278 Resident | 6,533 | 5000 | 1.03 L$ | 1.11 L$ |
| citizen 365 | Amidaliah Resident | 6,391 | 5000 | 1.01 L$ | 1.08 L$ |
| citizen 366 | RAYYWOLF Resident | 6,271 | 5000 | 0.99 L$ | 1.06 L$ |
| citizen 367 | Joycelyn Ohmai | 6,242 | 5000 | 0.98 L$ | 1.06 L$ |
| citizen 368 | qudex Coronet | 6,188 | 5000 | 0.98 L$ | 1.05 L$ |
| citizen 369 | NikVoelz Resident | 6,187 | 5000 | 0.98 L$ | 1.05 L$ |
| citizen 370 | Sabrina Absinthe | 6,074 | 5000 | 0.96 L$ | 1.03 L$ |
| citizen 371 | BleuJJ Resident | 5,935 | 5000 | 0.94 L$ | 1.01 L$ |
| citizen 372 | JonCernunnos Resident | 5,816 | 5000 | 0.92 L$ | 0.98 L$ |
| citizen 373 | Euthvil Resident | 5,810 | already voted | 0.92 L$ | 0.14 L$ |
| citizen 374 | Rita Sunkiller | 5,792 | 5000 | 0.91 L$ | 0.98 L$ |
| citizen 375 | RaeLynn Ravenhurst | 5,745 | 5000 | 0.91 L$ | 0.97 L$ |
| citizen 376 | Ribodan Resident | 5,669 | 5000 | 0.89 L$ | 0.96 L$ |
| citizen 377 | AramintaLeRouge Resident | 5,656 | already voted | 0.89 L$ | 0.11 L$ |
| citizen 378 | Zayden2020 Resident | 5,613 | 5000 | 0.88 L$ | 0.95 L$ |
| citizen 379 | WiccanSeductress Resident | 5,596 | 5000 | 0.88 L$ | 0.95 L$ |
| citizen 380 | emberjayne Resident | 5,561 | 5000 | 0.88 L$ | 0.94 L$ |
| citizen 381 | kaylae307 Resident | 5,541 | 5000 | 0.87 L$ | 0.94 L$ |
| citizen 382 | Tye Hoax | 5,387 | already voted | 0.85 L$ | 0.07 L$ |
| citizen 383 | mrSprut Resident | 5,372 | 5000 | 0.85 L$ | 0.06 L$ |
| citizen 384 | Becky Darkheart | 5,365 | 5000 | 0.85 L$ | 0.06 L$ |
| citizen 385 | Vilria Resident | 5,310 | 5000 | 0.84 L$ | 0.90 L$ |
| citizen 386 | DilanDante Resident | 5,310 | 5000 | 0.84 L$ | 0.90 L$ |
| citizen 387 | Noldeas Resident | 5,237 | 5000 | 0.83 L$ | 0.89 L$ |
| citizen 388 | XhanthiaJinx Resident | 5,160 | 5000 | 0.81 L$ | 0.87 L$ |
| citizen 389 | AnnaBellaRegn Resident | 5,058 | 5000 | 0.8 L$ | 0.86 L$ |
| citizen 390 | Dred1985 Resident | 5,010 | 5000 | 0.79 L$ | 0.85 L$ |
| citizen 391 | HaileyHay Resident | 4,865 | 5000 | 0.77 L$ | 0.82 L$ |
| citizen 392 | Kimmiana Andel | 4,865 | 5000 | 0.77 L$ | 0.82 L$ |
| citizen 393 | AlexandrieDeveraux Resident | 4,532 | 5000 | 0.71 L$ | 0.77 L$ |
| citizen 394 | MaxDick69 Resident | 4,390 | 5000 | 0.69 L$ | 0.74 L$ |
| citizen 395 | Lynnetx Resident | 4,381 | 5000 | 0.69 L$ | 0.74 L$ |
| citizen 396 | Yasmin Rae | 4,373 | 5000 | 0.69 L$ | 0.74 L$ |
| citizen 397 | Elliena Bulmer | 4,230 | 5000 | 0.67 L$ | 0.72 L$ |
| citizen 398 | Yukimitsu Shinn | 4,184 | 5000 | 0.66 L$ | 0.71 L$ |
| citizen 399 | CraigKnight Resident | 4,160 | 5000 | 0.66 L$ | 0.70 L$ |
| citizen 400 | HalenaMikaelson Resident | 4,160 | 5000 | 0.66 L$ | 0.70 L$ |
| citizen 401 | LadyInvincible Resident | 4,132 | 5000 | 0.65 L$ | 0.70 L$ |
| citizen 402 | Cherri McKeenan | 4,079 | 5000 | 0.64 L$ | 0.69 L$ |
| citizen 403 | Galaksia Resident | 3,974 | 5000 | 0.63 L$ | 0.67 L$ |
| citizen 404 | AmyHeartfilia Resident | 3,962 | 5000 | 0.62 L$ | 0.67 L$ |
| citizen 405 | DreeMeDee Psaltery | 3,762 | 5000 | 0.59 L$ | 0.64 L$ |
| citizen 406 | serena Seminario | 3,386 | 5000 | 0.53 L$ | 0.57 L$ |
| citizen 407 | Mindy2021 Resident | 3,299 | 5000 | 0.52 L$ | 0.56 L$ |
| citizen 408 | PAPERINO Messinez | 3,071 | 5000 | 0.48 L$ | 0.52 L$ |
| citizen 409 | Yodel1262 Resident | 3,000 | already voted | 0.47 L$ | 0.00 L$ |
| citizen 410 | G1ggleMachineBri Resident | 3,000 | already voted | 0.47 L$ | 0.00 L$ |
| citizen 411 | scooter Michalski | 3,000 | already voted | 0.47 L$ | 0.00 L$ |
| citizen 412 | SarahDuvall Resident | 3,000 | already voted | 0.47 L$ | 0.00 L$ |
| citizen 413 | demonia Rae | 2,899 | 5000 | 0.46 L$ | 0.49 L$ |
| citizen 414 | Darkzero69 Resident | 2,889 | 5000 | 0.46 L$ | 0.49 L$ |
| citizen 415 | Kitty Mosellen | 2,788 | 5000 | 0.44 L$ | 0.47 L$ |
| citizen 416 | MissGigilove Resident | 2,771 | 5000 | 0.44 L$ | 0.47 L$ |
| citizen 417 | Yves Kronfeld | 2,700 | 5000 | 0.43 L$ | 0.46 L$ |
| citizen 418 | NiweOfWind Resident | 2,700 | 5000 | 0.43 L$ | 0.46 L$ |
| citizen 419 | kerrygan Resident | 2,700 | 5000 | 0.43 L$ | 0.46 L$ |
| citizen 420 | QwadiraSilver Resident | 2,686 | 5000 | 0.42 L$ | 0.45 L$ |
| citizen 421 | Galvestonbay Resident | 2,686 | 5000 | 0.42 L$ | 0.45 L$ |
| citizen 422 | brokendoll28 Resident | 2,430 | 5000 | 0.38 L$ | 0.41 L$ |
| citizen 423 | VictoriaRavencroft Resident | 2,430 | 5000 | 0.38 L$ | 0.41 L$ |
| citizen 424 | asunda1 Resident | 2,421 | 5000 | 0.38 L$ | 0.41 L$ |
| citizen 425 | genoveva72 Resident | 2,380 | 5000 | 0.38 L$ | 0.40 L$ |
| citizen 426 | Bagira888 Resident | 2,368 | 5000 | 0.37 L$ | 0.40 L$ |
| citizen 427 | Bionic007 Resident | 2,211 | 5000 | 0.35 L$ | 0.37 L$ |
| citizen 428 | LeQuire Resident | 2,194 | 5000 | 0.35 L$ | 0.37 L$ |
| citizen 429 | Zakflange Resident | 2,187 | 5000 | 0.34 L$ | 0.37 L$ |
| citizen 430 | SebastienBeaulieu1976 Resident | 2,187 | 5000 | 0.34 L$ | 0.37 L$ |
| citizen 431 | NoaMellow Resident | 2,187 | 5000 | 0.34 L$ | 0.37 L$ |
| citizen 432 | Furskidoodle Resident | 2,026 | 5000 | 0.32 L$ | 0.34 L$ |
| citizen 433 | Willie Frangilli | 2,000 | 5000 | 0.32 L$ | 0.34 L$ |
| citizen 434 | Kerhop Seattle | 1,968 | 5000 | 0.31 L$ | 0.33 L$ |
| citizen 435 | weegeefan91 Resident | 1,968 | 5000 | 0.31 L$ | 0.33 L$ |
| citizen 436 | XALEXANDRX Resident | 1,968 | 5000 | 0.31 L$ | 0.33 L$ |
| citizen 437 | tswap Resident | 1,778 | 5000 | 0.28 L$ | 0.30 L$ |
| citizen 438 | justadrii Resident | 1,771 | 5000 | 0.28 L$ | 0.30 L$ |
| citizen 439 | Angel Daffodil | 1,771 | 5000 | 0.28 L$ | 0.30 L$ |
| citizen 440 | empressvybz Resident | 1,771 | 5000 | 0.28 L$ | 0.30 L$ |
| citizen 441 | Irakllia Alecto | 1,754 | 5000 | 0.28 L$ | 0.30 L$ |
| citizen 442 | Ribben Snowpaw | 1,659 | 5000 | 0.26 L$ | 0.28 L$ |
| citizen 443 | Rickyyyyyy Xue | 1,598 | 5000 | 0.25 L$ | 0.27 L$ |
| citizen 444 | Hernystar Resident | 1,594 | 5000 | 0.25 L$ | 0.27 L$ |
| citizen 445 | StillaSunsetNoir Resident | 1,594 | 5000 | 0.25 L$ | 0.27 L$ |
| citizen 446 | WrathDragon Resident | 1,594 | 5000 | 0.25 L$ | 0.27 L$ |
| citizen 447 | Jennifer Perhaps | 1,568 | 5000 | 0.25 L$ | 0.27 L$ |
| citizen 448 | TaraDayz Resident | 1,539 | 5000 | 0.24 L$ | 0.26 L$ |
| citizen 449 | Tasha Taurus | 1,455 | 5000 | 0.23 L$ | 0.25 L$ |
| citizen 450 | EconaWolf Resident | 1,435 | 5000 | 0.23 L$ | 0.24 L$ |
| citizen 451 | XxAnnabelLeexX Resident | 1,435 | 5000 | 0.23 L$ | 0.24 L$ |
| citizen 452 | Gillie Loring | 1,435 | 5000 | 0.23 L$ | 0.24 L$ |
| citizen 453 | MsChanelOberlin Resident | 1,435 | 5000 | 0.23 L$ | 0.24 L$ |
| citizen 454 | LordDarckgon Resident | 1,435 | 5000 | 0.23 L$ | 0.24 L$ |
| citizen 455 | JesusFernandes Resident | 1,400 | 5000 | 0.22 L$ | 0.15 L$ |
| citizen 456 | FabiniDC Resident | 1,340 | 5000 | 0.21 L$ | 0.23 L$ |
| citizen 457 | YASUMORI Resident | 1,310 | 5000 | 0.21 L$ | 0.22 L$ |
| citizen 458 | zivaah Resident | 1,193 | 5000 | 0.19 L$ | 0.20 L$ |
| citizen 459 | Skyblue Flores | 1,179 | 5000 | 0.19 L$ | 0.20 L$ |
| citizen 460 | Tenderheartglow Resident | 1,163 | 5000 | 0.18 L$ | 0.20 L$ |
| citizen 461 | AlHunt Resident | 1,163 | 5000 | 0.18 L$ | 0.20 L$ |
| citizen 462 | acaciamonshadow Resident | 1,163 | 5000 | 0.18 L$ | 0.20 L$ |
| citizen 463 | LisavonGlanstein Resident | 1,156 | 5000 | 0.18 L$ | 0.20 L$ |
| citizen 464 | vonBlankenstein Resident | 1,156 | 5000 | 0.18 L$ | 0.20 L$ |
| citizen 465 | Jeqoo Resident | 1,152 | 5000 | 0.18 L$ | 0.20 L$ |
| citizen 466 | XxDarkTemptressxX Resident | 1,127 | 5000 | 0.18 L$ | 0.19 L$ |
| citizen 467 | JacobHGL Resident | 1,122 | 5000 | 0.18 L$ | 0.19 L$ |
| citizen 468 | S1mpleSarah Resident | 1,106 | 5000 | 0.17 L$ | 0.19 L$ |
| citizen 469 | Alexa Broome | 1,093 | 5000 | 0.17 L$ | 0.19 L$ |
| citizen 470 | Paipere Resident | 1,061 | 5000 | 0.17 L$ | 0.18 L$ |
| citizen 471 | jayphils Resident | 1,000 | 2000 | 0.16 L$ | 0.00 L$ |
| citizen 472 | Maribella Arabello | 1,000 | 2000 | 0.16 L$ | 0.00 L$ |
| citizen 473 | Rockoutwithyourcokout Resident | 1,000 | 2000 | 0.16 L$ | 0.00 L$ |
| citizen 474 | juliasalvatore19 Resident | 1,000 | 2000 | 0.16 L$ | 0.00 L$ |
| citizen 475 | Neyvn Kenzo | 1,000 | 2000 | 0.16 L$ | 0.00 L$ |
| citizen 476 | Savanah Helendale | 1,000 | 2000 | 0.16 L$ | 0.00 L$ |
| citizen 477 | Jaycinda Resident | 990 | 5000 | 0.16 L$ | 0.17 L$ |
| citizen 478 | cyborgSL Resident | 984 | 5000 | 0.16 L$ | 0.17 L$ |
| citizen 479 | Semiramis1 Resident | 972 | 5000 | 0.15 L$ | 0.16 L$ |
| citizen 480 | AliciaStoneK18 Resident | 941 | 5000 | 0.15 L$ | 0.16 L$ |
| citizen 481 | buchhalter Zeitman | 900 | 5000 | 0.14 L$ | 0.15 L$ |
| citizen 482 | Coll Blaylock | 900 | 5000 | 0.14 L$ | 0.15 L$ |
| citizen 483 | JumbaDeJux Resident | 897 | 5000 | 0.14 L$ | 0.15 L$ |
| citizen 484 | Sherridon Mercury | 894 | 5000 | 0.14 L$ | 0.15 L$ |
| citizen 485 | MistyFishEyes Resident | 880 | 5000 | 0.14 L$ | 0.15 L$ |
| citizen 486 | Luther Nestler | 850 | 5000 | 0.13 L$ | 0.14 L$ |
| citizen 487 | FrancescawulfFirethorn Resident | 848 | 5000 | 0.13 L$ | 0.14 L$ |
| citizen 488 | LEILANIDaphne Resident | 847 | 5000 | 0.13 L$ | 0.14 L$ |
| citizen 489 | luanamae Heartsong | 810 | 5000 | 0.13 L$ | 0.14 L$ |
| citizen 490 | AzarniTsa Resident | 810 | 5000 | 0.13 L$ | 0.14 L$ |
| citizen 491 | Kittopia Resident | 810 | 5000 | 0.13 L$ | 0.14 L$ |
| citizen 492 | Delilah Querilo | 797 | 5000 | 0.13 L$ | 0.13 L$ |
| citizen 493 | Mariyaha Resident | 797 | 5000 | 0.13 L$ | 0.13 L$ |
| citizen 494 | Jane Loordes | 794 | 5000 | 0.13 L$ | 0.13 L$ |
| citizen 495 | Yulia Lysette | 778 | 5000 | 0.12 L$ | 0.13 L$ |
| citizen 496 | SirBlood Resident | 778 | 5000 | 0.12 L$ | 0.13 L$ |
| citizen 497 | Clint Snowfall | 770 | 5000 | 0.12 L$ | 0.13 L$ |
| citizen 498 | TPHoarder Resident | 763 | 5000 | 0.12 L$ | 0.13 L$ |
| citizen 499 | marcel Trapdoor | 763 | 5000 | 0.12 L$ | 0.13 L$ |
| citizen 500 | Georgia Munster | 758 | 5000 | 0.12 L$ | 0.13 L$ |
| citizen 501 | Plebian75 Resident | 750 | 5000 | 0.12 L$ | 0.13 L$ |
| citizen 502 | 1DayIWill Resident | 745 | 5000 | 0.12 L$ | 0.13 L$ |
| citizen 503 | AlienLover2 Resident | 734 | 5000 | 0.12 L$ | 0.12 L$ |
| citizen 504 | misstyeyes Resident | 726 | 5000 | 0.11 L$ | 0.12 L$ |
| citizen 505 | JillRenee Resident | 718 | 5000 | 0.11 L$ | 0.12 L$ |
| citizen 506 | Roberto Roubodoo | 712 | 5000 | 0.11 L$ | 0.12 L$ |
| citizen 507 | EthanVyer Resident | 706 | 5000 | 0.11 L$ | 0.12 L$ |
| citizen 508 | KingdomCat32 Resident | 700 | 5000 | 0.11 L$ | 0.12 L$ |
| citizen 509 | kaigon Resident | 699 | 5000 | 0.11 L$ | 0.12 L$ |
| citizen 510 | Gorgud Avro | 699 | 5000 | 0.11 L$ | 0.12 L$ |
| citizen 511 | Belladonna Bunderfeld | 697 | 5495 | 0.11 L$ | 0.12 L$ |
| citizen 512 | sandylove2019 Resident | 687 | 5000 | 0.11 L$ | 0.12 L$ |
| citizen 513 | KoWoTo Resident | 687 | 5000 | 0.11 L$ | 0.12 L$ |
| citizen 514 | scruffydelroughe Resident | 687 | 5000 | 0.11 L$ | 0.12 L$ |
| citizen 515 | Bellatrix Edwardstone | 665 | 5000 | 0.1 L$ | 0.11 L$ |
| citizen 516 | Eros Dorben | 656 | 5000 | 0.1 L$ | 0.11 L$ |
| citizen 517 | Viktor Corvinus | 656 | 5000 | 0.1 L$ | 0.11 L$ |
| citizen 518 | ByeByeFacebook Resident | 656 | 5000 | 0.1 L$ | 0.11 L$ |
| citizen 519 | gallishia Resident | 656 | 5000 | 0.1 L$ | 0.11 L$ |
| citizen 520 | 3EvaRosaline Resident | 653 | 5000 | 0.1 L$ | 0.11 L$ |
| citizen 521 | 1truboss Resident | 630 | 5000 | 0.1 L$ | 0.11 L$ |
| citizen 522 | TiffanyTD Resident | 599 | 5000 | 0.09 L$ | 0.10 L$ |
| citizen 523 | airickuh Resident | 596 | 5000 | 0.09 L$ | 0.10 L$ |
| citizen 524 | AliciaBCullen Resident | 590 | 5000 | 0.09 L$ | 0.10 L$ |
| citizen 525 | HornajRoza Resident | 590 | 5000 | 0.09 L$ | 0.10 L$ |
| citizen 526 | Tabby2Tone Ghost | 590 | 5000 | 0.09 L$ | 0.10 L$ |
| citizen 527 | DieChaotin Resident | 531 | 5000 | 0.08 L$ | 0.09 L$ |
| citizen 528 | Paynter Francis | 531 | 5000 | 0.08 L$ | 0.09 L$ |
| citizen 529 | HUKON Resident | 531 | 5000 | 0.08 L$ | 0.09 L$ |
| citizen 530 | Natalie Loxtonian | 523 | 5000 | 0.08 L$ | 0.09 L$ |
| citizen 531 | Chelsea Brandes | 510 | 5000 | 0.08 L$ | 0.09 L$ |
| citizen 532 | Weiyu Chun | 504 | 5000 | 0.08 L$ | 0.09 L$ |
| citizen 533 | Mariana Chiuh | 504 | 5000 | 0.08 L$ | 0.09 L$ |
| citizen 534 | lstob Resident | 482 | 5000 | 0.08 L$ | 0.08 L$ |
| citizen 535 | paullehat Resident | 478 | 5000 | 0.08 L$ | 0.08 L$ |
| citizen 536 | RitaMartin Resident | 470 | 5000 | 0.07 L$ | 0.08 L$ |
| citizen 537 | Narcissa Macalroy | 465 | 5000 | 0.07 L$ | 0.08 L$ |
| citizen 538 | Kagrra Resident | 465 | 5000 | 0.07 L$ | 0.08 L$ |
| citizen 539 | pixiecathy Resident | 465 | 5000 | 0.07 L$ | 0.08 L$ |
| citizen 540 | Amaunet99 Resident | 454 | 5000 | 0.07 L$ | 0.08 L$ |
| citizen 541 | LadyNightsong Resident | 450 | 5000 | 0.07 L$ | 0.08 L$ |
| citizen 542 | zarlicfisher Resident | 439 | 5000 | 0.07 L$ | 0.07 L$ |
| citizen 543 | ialopezg Resident | 430 | 5000 | 0.07 L$ | 0.07 L$ |
| citizen 544 | CelticBlaze Resident | 430 | 5000 | 0.07 L$ | 0.07 L$ |
| citizen 545 | Jerri67 Resident | 430 | 5000 | 0.07 L$ | 0.07 L$ |
| citizen 546 | kostas8813 Resident | 430 | 5000 | 0.07 L$ | 0.07 L$ |
| citizen 547 | Trip Somerset | 430 | 5000 | 0.07 L$ | 0.07 L$ |
| citizen 548 | Majoliy Resident | 430 | 5000 | 0.07 L$ | 0.07 L$ |
| citizen 549 | Vance Siamendes | 428 | 5000 | 0.07 L$ | 0.07 L$ |
| citizen 550 | CelineTwilight Resident | 423 | 5000 | 0.07 L$ | 0.07 L$ |
| citizen 551 | John Gavilan | 410 | 5000 | 0.06 L$ | 0.07 L$ |
| citizen 552 | qAdrienne Resident | 393 | 5000 | 0.06 L$ | 0.07 L$ |
| citizen 553 | EowynAnn Resident | 393 | 5000 | 0.06 L$ | 0.07 L$ |
| citizen 554 | Perchitaydonramon Resident | 387 | 5000 | 0.06 L$ | 0.07 L$ |
| citizen 555 | Luna Darkheart | 387 | 5000 | 0.06 L$ | 0.07 L$ |
| citizen 556 | bobbiedragonwolf Resident | 387 | 5000 | 0.06 L$ | 0.07 L$ |
| citizen 557 | Brinsel Resident | 373 | 5000 | 0.06 L$ | 0.06 L$ |
| citizen 558 | Bloodfang Dagger | 373 | 5000 | 0.06 L$ | 0.06 L$ |