Get a share of L$ reward pot every week! The more Gold Points you have bigger the L$ you get!
Earn
Gold Points (GP)
:
1) By
voting
for a person who you think has supported the growth and wellbeing of Cyber Kingdom RPG & LGH Community the most in last week. When you vote for someone you both gain Gold Points.
2) Work the different
jobs in the society
.
To register for voting pay 900 GOLD by clicking a
yellow registratration button
.
Currently you can IM one of our MOD to receive 1000 GOLD for registration (and keep the 100 GOLD)
After registering just click on your candidate and vote: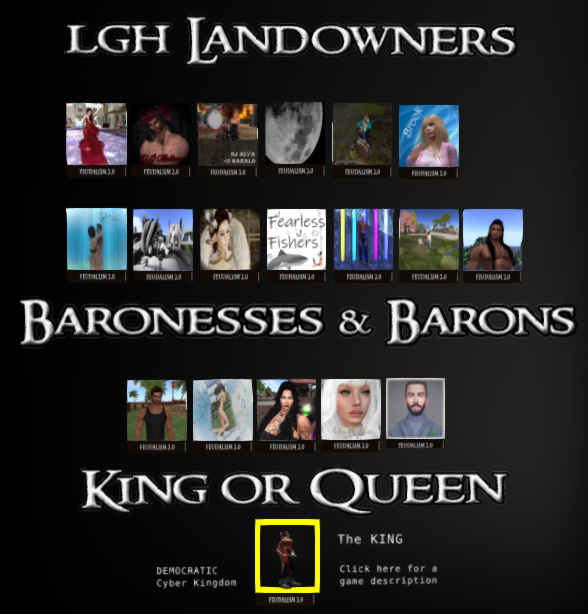 There are 3 ways to vote:
- With
weekly free votes
. Every registered voter gets this weekly to vote with (when you vote you also gain GP (gold points) for yourself)
- With
your own GOLD
. You can also turn your GOLD into GP (gold points) through your own vote board by voting for yourself (this uses your gold). - You can sue your free weekly votes, gold points or gold to tip other players through the Heart Of Society (shoulder pet)
There are 3 ways to get GOLD:
- From Gold Hunt game (get gold when hunting for coins wearing an
Ice Shubbie shoulder Pet
).
- From Snuffles game (you get gold every time you release a Snuffle pet that you have extra or don't need. The more rare pet is the more gold it gives).
- Buy Gold from the Gold Vendor. This adds commission from your paymetn in L$ to the Cyber Kingdom Treasury which means more L$ rewards for all the role players.
Every Sunday L$ are distributed to everyone with GP (gold points) according to the amount you have. More GP you have the bigger the share of L$ reward you collect.
The elites of the Society
(How it works)
The PLAYER with biggest amount of GP (gold points) has the highest status, fame and responsibilites of a cyber society
QUEEN/KING
next 5 people with most GP (gold points) have a status of nobility (Barons/Baronesses) with
power of VETO
. Nobility with VETO power are part of a
Royal Senate
.
They decide on what amounts of L$ from the Cyber Kingdom Treasury are spent weekly for Royal Competitions (Gold & Fish Hunt) and how much L$ are shared among all the Cyber Kingdom Role Players who work for GP (gold points) or are voted by for other players
.
Treasury is filled with a specific amount of commissions from worms and crafting material sales in all LGH games.
Landowners who are registered cyber kingdom voters are automatically rewarded g-votes when they fill Fish Hunt and Gold Hunt Coins.
The funds from Cyber Kingdom Treasury are always recycled and used in proportions decided by the
Royal Senate (Barons & Baronesses with King or Queen)
back to players and for growth of Cyber Kingdom Role playing & LGH community.
****Every week there is 10% decay of
gold points
. This means everyone loses 10% of their total GP (gold points). This is by design and ensures that always most active players who add the most value to the community are rewarded the most.
ROYAL TREASURY: 6516.65 L$PLAYERS OWNED GOLD: 55,345,892ROYAL GOLD TREASURY: 4027859 GOLDWeekly Reward Pot shared to all with GP (gold points): 5000.00/5000.00 L$
Remaining time to voters reward payout:
4 days, 22 hours, 18 minutes and 23 seconds
Join the weekly Society Contest
to earn even more L$ as you earn GP (gold points)!
| PLACE | Candidate | Gold Points | Total Earned | g-votes | Expected Reward | Reward |
| --- | --- | --- | --- | --- | --- | --- |
| QUEEN/KING | Brietje Munro | 3,693,420 | 6,721 L$ | voted | 229.02 L$ | 0.00 L$ |
| Baron-ess 1 | Nellie Nemeth | 2,855,571 | 2,647 L$ | voted | 177.06 L$ | 0.00 L$ |
| Baron-ess 2 | Artimisbleu Resident | 2,464,634 | 3,500 L$ | voted | 152.82 L$ | 0.00 L$ |
| Baron-ess 3 | Mariantonietta Silverfall | 2,326,283 | 14,011 L$ | voted | 144.24 L$ | 0.00 L$ |
| Baron-ess 4 | Sophina Starchild | 2,306,276 | 2,009 L$ | voted | 143 L$ | 0.00 L$ |
| Baron-ess 5 | Kasabian Constantine | 2,127,060 | 7,850 L$ | 210 | 131.89 L$ | 0.00 L$ |
| Lord/Lady 6 | Wili Clip | 1,551,684 | 13,576 L$ | 10250 | 96.21 L$ | 92.91 L$ |
| Lord/Lady 7 | Brook Demonia | 1,435,657 | 3,640 L$ | 6750 | 89.02 L$ | 0.00 L$ |
| Lord/Lady 8 | OmniBravo Resident | 1,310,596 | 26,056 L$ | 7900 | 81.27 L$ | 0.00 L$ |
| Lord/Lady 9 | bearofboogie Resident | 1,291,652 | 1,952 L$ | 18429 | 80.09 L$ | 0.00 L$ |
| Lord/Lady 10 | Norbe Parx | 1,260,937 | 1,456 L$ | 331 | 78.19 L$ | 0.00 L$ |
| Lord/Lady 11 | Zen Swords | 1,184,694 | 183 L$ | 31850 | 73.46 L$ | 75.38 L$ |
| Lord/Lady 12 | KamaComplex Resident | 1,093,700 | 3,080 L$ | 510 | 67.82 L$ | 0.00 L$ |
| Lord/Lady 13 | queensatrasil Resident | 1,063,972 | 11,221 L$ | voted | 65.97 L$ | 0.00 L$ |
| Lord/Lady 14 | Guyot Habana | 1,055,315 | 1,239 L$ | 750 | 65.44 L$ | 0.00 L$ |
| Lord/Lady 15 | CloeConcy Resident | 998,003 | 1,167 L$ | 3000 | 61.88 L$ | 61.81 L$ |
| Lord/Lady 16 | SummerDreams0 Resident | 985,125 | 5,025 L$ | 5000 | 61.08 L$ | 63.80 L$ |
| Lord/Lady 17 | ElisabethSmiths Resident | 946,838 | 1,825 L$ | voted | 58.71 L$ | 0.00 L$ |
| Lord/Lady 18 | particlespectre Resident | 939,907 | 1,383 L$ | voted | 58.28 L$ | 0.00 L$ |
| Lord/Lady 19 | Thunderchild Allen | 911,557 | 220 L$ | 21100 | 56.52 L$ | 0.00 L$ |
| Lord/Lady 20 | Sue Tryce | 885,197 | 1,471 L$ | voted | 54.89 L$ | 0.00 L$ |
| Lord/Lady 21 | XxNIBBYxX Resident | 845,470 | 463 L$ | 39200 | 52.42 L$ | 54.52 L$ |
| Lord/Lady 22 | Skar Taurog | 796,936 | 8,709 L$ | 5000 | 49.42 L$ | 50.84 L$ |
| Lord/Lady 23 | synee014 Resident | 782,414 | 1,371 L$ | voted | 48.51 L$ | 0.00 L$ |
| Lord/Lady 24 | GregT Frimon | 749,573 | 1,232 L$ | 1500 | 46.48 L$ | 0.00 L$ |
| Lord/Lady 25 | HeavenMortica Resident | 719,516 | 127 L$ | 3515 | 44.61 L$ | 46.45 L$ |
| Lord/Lady 26 | BrendaLee Fredriksson | 673,781 | 1,052 L$ | 3750 | 41.78 L$ | 0.00 L$ |
| Lord/Lady 27 | loverlyloves Resident | 669,986 | 12,716 L$ | voted | 41.54 L$ | 0.00 L$ |
| Lord/Lady 28 | kerrygan Resident | 667,611 | 669 L$ | 136 | 41.4 L$ | 0.00 L$ |
| Lord/Lady 29 | tommyhaha Resident | 593,358 | 2,379 L$ | voted | 36.79 L$ | 38.21 L$ |
| Lord/Lady 30 | Vittfarne Uggla | 590,926 | 2,003 L$ | voted | 36.64 L$ | 0.00 L$ |
| Lord/Lady 31 | ocrowe Resident | 563,730 | 3,409 L$ | 10400 | 34.95 L$ | 35.09 L$ |
| Lord/Lady 32 | Prate Burner | 534,760 | 958 L$ | 150 | 33.16 L$ | 0.00 L$ |
| Lord/Lady 33 | Freedom981 Resident | 513,911 | 2,091 L$ | voted | 31.87 L$ | 0.00 L$ |
| Lord/Lady 34 | morgana Ishelwood | 507,159 | 595 L$ | 100 | 31.45 L$ | 0.00 L$ |
| Lord/Lady 35 | Cinnamon Lohner | 501,368 | 768 L$ | 5000 | 31.09 L$ | 32.76 L$ |
| Lord/Lady 36 | Cassie75 Resident | 500,172 | 1,499 L$ | 5000 | 31.01 L$ | 31.52 L$ |
| Lord/Lady 37 | WangShuNaTing Resident | 476,964 | 57 L$ | 5000 | 29.57 L$ | 31.15 L$ |
| Lord/Lady 38 | Sunny Cloud | 476,035 | 3,219 L$ | voted | 29.52 L$ | 0.00 L$ |
| Lord/Lady 39 | AL121981 Resident | 466,229 | 1,798 L$ | voted | 28.91 L$ | 0.00 L$ |
| Lord/Lady 40 | Kanboriko Resident | 442,264 | 301 L$ | voted | 27.42 L$ | 0.00 L$ |
| Lord/Lady 41 | QueenBVendetta Resident | 438,419 | 673 L$ | 4550 | 27.18 L$ | 0.00 L$ |
| Lord/Lady 42 | CrimBaby777 Resident | 436,492 | 508 L$ | 650 | 27.07 L$ | 0.00 L$ |
| Lord/Lady 43 | AlaricEvo Resident | 433,007 | 2,928 L$ | 130 | 26.85 L$ | 0.00 L$ |
| Lord/Lady 44 | Travisthe1 Resident | 417,454 | 462 L$ | 616 | 25.88 L$ | 0.00 L$ |
| Lord/Lady 45 | narelle Hennah | 394,045 | 1,126 L$ | 50 | 24.43 L$ | 0.00 L$ |
| Lord/Lady 46 | pedroesloco Resident | 387,591 | 293 L$ | voted | 24.03 L$ | 0.00 L$ |
| Lord/Lady 47 | gerrit Arad | 361,308 | 887 L$ | voted | 22.4 L$ | 0.00 L$ |
| Lord/Lady 48 | BrittanyDawson Resident | 361,001 | 81 L$ | voted | 22.38 L$ | 0.00 L$ |
| Lord/Lady 49 | DanteGabriel Resident | 359,634 | 536 L$ | voted | 22.3 L$ | 0.00 L$ |
| Lord/Lady 50 | PaulyQ Resident | 354,930 | 163 L$ | 407 | 22.01 L$ | 0.00 L$ |
| Lord/Lady 51 | ptimex Resident | 347,376 | 600 L$ | voted | 21.54 L$ | 0.00 L$ |
| Lord/Lady 52 | HungarianNaturalHealer Resident | 339,722 | 1,329 L$ | voted | 21.07 L$ | 0.00 L$ |
| Lord/Lady 53 | justness1265 Resident | 317,854 | 280 L$ | voted | 19.71 L$ | 0.00 L$ |
| Lord/Lady 54 | Tye Hoax | 316,512 | 460 L$ | 15559 | 19.63 L$ | 20.56 L$ |
| Lord/Lady 55 | smirkingdevil Resident | 300,532 | 1,018 L$ | voted | 18.63 L$ | 0.00 L$ |
| Lord/Lady 56 | dickinhandmandamn Resident | 299,456 | 154 L$ | voted | 18.57 L$ | 0.00 L$ |
| Lord/Lady 57 | sheila64 Resident | 296,593 | 3,010 L$ | voted | 18.39 L$ | 0.00 L$ |
| Lord/Lady 58 | pyrography Resident | 295,754 | 140 L$ | voted | 18.34 L$ | 0.00 L$ |
| Lord/Lady 59 | Paige Nebula | 295,599 | 0 L$ | 9580 | 18.33 L$ | 18.49 L$ |
| Lord/Lady 60 | Thundernick Turbo | 290,008 | 790 L$ | voted | 17.98 L$ | 0.00 L$ |
| Lord/Lady 61 | TildaDobson Resident | 276,507 | 374 L$ | 3800 | 17.15 L$ | 17.47 L$ |
| Lord/Lady 62 | PaescheFoxie Resident | 265,692 | 38 L$ | 150 | 16.47 L$ | 0.00 L$ |
| Lord/Lady 63 | HumanSafe Resident | 246,782 | 160 L$ | voted | 15.3 L$ | 0.00 L$ |
| Lord/Lady 64 | Leinha56 Resident | 246,551 | 177 L$ | 2750 | 15.29 L$ | 15.12 L$ |
| Lord/Lady 65 | DiE4u3333 Mysterious | 246,233 | 74 L$ | 50 | 15.27 L$ | 0.00 L$ |
| Lord/Lady 66 | Bohny Spad | 241,743 | 283 L$ | voted | 14.99 L$ | 15.11 L$ |
| Lord/Lady 67 | Eden Waffle | 241,163 | 1,001 L$ | 5000 | 14.95 L$ | 15.80 L$ |
| Lord/Lady 68 | DaveD80 Resident | 234,215 | 39 L$ | 5500 | 14.52 L$ | 15.08 L$ |
| Lord/Lady 69 | Nelonis Resident | 233,404 | 6,805 L$ | voted | 14.47 L$ | 0.00 L$ |
| Lord/Lady 70 | mark80 Bracula | 229,411 | 282 L$ | 1300 | 14.23 L$ | 14.43 L$ |
| Lord/Lady 71 | JaytheFox69 Resident | 226,634 | 2 L$ | 5000 | 14.05 L$ | 14.85 L$ |
| Lord/Lady 72 | Alva Swansen | 226,150 | 1,413 L$ | 5000 | 14.02 L$ | 14.81 L$ |
| Lord/Lady 73 | Onekindofstory Resident | 226,023 | 1,341 L$ | voted | 14.01 L$ | 13.78 L$ |
| Lord/Lady 74 | Spontaner49 Resident | 214,588 | 788 L$ | voted | 13.31 L$ | 0.00 L$ |
| Lord/Lady 75 | kristeen Aura | 214,293 | 13 L$ | voted | 13.29 L$ | 0.00 L$ |
| Lord/Lady 76 | Kaline Lycia | 212,196 | 442 L$ | 5000 | 13.16 L$ | 13.44 L$ |
| Lord/Lady 77 | nezhnajan Resident | 203,568 | 442 L$ | voted | 12.62 L$ | 0.00 L$ |
| Lord/Lady 78 | IrisLeona Resident | 201,128 | 608 L$ | 5000 | 12.47 L$ | 13.18 L$ |
| Lord/Lady 79 | priskab Resident | 200,667 | 533 L$ | 310 | 12.44 L$ | 0.00 L$ |
| Lord/Lady 80 | ShiroYanagi Yoshikawa | 196,383 | 295 L$ | 3400 | 12.18 L$ | 12.40 L$ |
| Lord/Lady 81 | Dida Skytower | 192,023 | 517 L$ | voted | 11.91 L$ | 0.00 L$ |
| Lord/Lady 82 | Elie Yalin | 191,088 | 177 L$ | voted | 11.85 L$ | 0.00 L$ |
| Lord/Lady 83 | Hope Zhong | 185,477 | 1,665 L$ | 86 | 11.5 L$ | 0.00 L$ |
| Lord/Lady 84 | Claudia Dereham | 184,020 | 549 L$ | voted | 11.41 L$ | 0.00 L$ |
| Lord/Lady 85 | RoxxiLeah Resident | 183,063 | 871 L$ | voted | 11.35 L$ | 0.00 L$ |
| Lord/Lady 86 | Gina Warziders | 178,236 | 5,728 L$ | voted | 11.05 L$ | 0.00 L$ |
| Lord/Lady 87 | loecifer Sporg | 178,068 | 6 L$ | 4500 | 11.04 L$ | 11.58 L$ |
| Lord/Lady 88 | Icamat Resident | 171,782 | 104 L$ | 5000 | 10.65 L$ | 11.25 L$ |
| Lord/Lady 89 | Yves Kronfeld | 171,427 | 230 L$ | 5000 | 10.63 L$ | 11.19 L$ |
| Lord/Lady 90 | joeey Bombastic | 168,605 | 679 L$ | 70 | 10.45 L$ | 0.00 L$ |
| Lord/Lady 91 | Parsnip Latzo | 168,344 | 2,616 L$ | voted | 10.44 L$ | 10.31 L$ |
| Lord/Lady 92 | Mousey288 Resident | 168,034 | 110 L$ | 900 | 10.42 L$ | 10.61 L$ |
| Lord/Lady 93 | SirMilesOne Resident | 167,593 | 27 L$ | 5000 | 10.39 L$ | 10.98 L$ |
| Lord/Lady 94 | Maja Hallison | 165,788 | 57 L$ | voted | 10.28 L$ | 0.00 L$ |
| Lord/Lady 95 | jbc71 Resident | 165,698 | 1,119 L$ | voted | 10.27 L$ | 0.00 L$ |
| Lord/Lady 96 | Azurettes Resident | 163,370 | 152 L$ | voted | 10.13 L$ | 0.00 L$ |
| Lord/Lady 97 | Thor Vespucciano | 162,630 | 525 L$ | voted | 10.08 L$ | 9.65 L$ |
| Lord/Lady 98 | Ronja Planer | 162,062 | 372 L$ | voted | 10.05 L$ | 0.00 L$ |
| Lord/Lady 99 | JazzFire Resident | 161,477 | 2,499 L$ | 250 | 10.01 L$ | 10.24 L$ |
| Lord/Lady 100 | mellow1man Merryman | 159,769 | 380 L$ | voted | 9.91 L$ | 0.00 L$ |
| Lord/Lady 101 | RickDeckard27 Resident | 159,727 | 206 L$ | 50 | 9.9 L$ | 0.00 L$ |
| Lord/Lady 102 | DeeAB78 Resident | 158,761 | 499 L$ | voted | 9.84 L$ | 0.00 L$ |
| Lord/Lady 103 | DiamondDazz Resident | 157,811 | 291 L$ | voted | 9.79 L$ | 0.00 L$ |
| Lord/Lady 104 | loflux616 Resident | 156,553 | 77 L$ | voted | 9.71 L$ | 0.00 L$ |
| Lord/Lady 105 | rab Ansar | 156,515 | 24 L$ | 1900 | 9.7 L$ | 9.21 L$ |
| Lord/Lady 106 | asunda1 Resident | 152,862 | 252 L$ | 5000 | 9.48 L$ | 10.01 L$ |
| Lord/Lady 107 | LordSuccubus Resident | 151,903 | 176 L$ | 48 | 9.42 L$ | 0.00 L$ |
| Lord/Lady 108 | Kumiko Hema | 148,965 | 142 L$ | voted | 9.24 L$ | 0.00 L$ |
| Lord/Lady 109 | sandgrounder2022 Resident | 148,266 | 82 L$ | 126 | 9.19 L$ | 0.00 L$ |
| Lord/Lady 110 | RachelS Ravenhurst | 147,239 | 187 L$ | voted | 9.13 L$ | 0.00 L$ |
| Lord/Lady 111 | ThierryAnn Resident | 146,532 | 49 L$ | 2300 | 9.09 L$ | 8.85 L$ |
| Lord/Lady 112 | sharronxx Resident | 146,345 | 2,233 L$ | voted | 9.07 L$ | 0.00 L$ |
| Lord/Lady 113 | Karemoli Beaumont | 144,556 | 413 L$ | voted | 8.96 L$ | 0.00 L$ |
| Lord/Lady 114 | WickedAndWild Resident | 143,970 | 599 L$ | voted | 8.93 L$ | 0.00 L$ |
| Lord/Lady 115 | belabena123 Resident | 143,773 | 80 L$ | 5000 | 8.91 L$ | 9.39 L$ |
| Lord/Lady 116 | Shortypwns Resident | 142,030 | 174 L$ | 150 | 8.81 L$ | 0.00 L$ |
| Lord/Lady 117 | slSunny Resident | 136,042 | 490 L$ | voted | 8.44 L$ | 0.00 L$ |
| Lord/Lady 118 | Jennaa Jennings | 135,417 | 92 L$ | 500 | 8.4 L$ | 0.00 L$ |
| Lord/Lady 119 | mirolana Resident | 134,430 | 126 L$ | voted | 8.34 L$ | 0.00 L$ |
| Lord/Lady 120 | TarynNaomi Resident | 133,908 | 101 L$ | voted | 8.3 L$ | 0.00 L$ |
| Lord/Lady 121 | Nina2007 Beck | 133,597 | 155 L$ | voted | 8.28 L$ | 0.00 L$ |
| Lord/Lady 122 | Myriena Resident | 133,272 | 0 L$ | 5000 | 8.26 L$ | 8.71 L$ |
| Lord/Lady 123 | Misty788 Resident | 132,405 | 775 L$ | voted | 8.21 L$ | 0.00 L$ |
| Lord/Lady 124 | MajikVixen Lorefield | 131,939 | 780 L$ | voted | 8.18 L$ | 8.28 L$ |
| Lord/Lady 125 | Lindxs Resident | 131,763 | 865 L$ | voted | 8.17 L$ | 0.00 L$ |
| Lord/Lady 126 | Kathryn Granville | 128,935 | 807 L$ | 398 | 7.99 L$ | 0.00 L$ |
| Lord/Lady 127 | CutiePie4Play Starlight | 128,754 | 3,011 L$ | voted | 7.98 L$ | 0.00 L$ |
| Lord/Lady 128 | Recklis Resident | 126,543 | 479 L$ | 5000 | 7.85 L$ | 8.29 L$ |
| Lord/Lady 129 | SirJohnLuc Resident | 125,684 | 510 L$ | 4300 | 7.79 L$ | 8.13 L$ |
| Lord/Lady 130 | AliceSilverlight Resident | 124,942 | 453 L$ | voted | 7.75 L$ | 0.00 L$ |
| Lord/Lady 131 | Knotty Twine | 124,768 | 1,174 L$ | voted | 7.74 L$ | 0.00 L$ |
| Lord/Lady 132 | DavidRobert Jonson | 124,275 | 825 L$ | voted | 7.71 L$ | 7.77 L$ |
| Lord/Lady 133 | Cirus Cuddles | 123,665 | 5,490 L$ | voted | 7.67 L$ | 0.00 L$ |
| Lord/Lady 134 | Equestrian85 Resident | 123,534 | 391 L$ | 59 | 7.66 L$ | 0.00 L$ |
| Lord/Lady 135 | Mystique Desire | 123,191 | 1,089 L$ | voted | 7.64 L$ | 0.00 L$ |
| citizen 136 | DeepPurplePeopleEater Resident | 119,479 | 1,302 L$ | voted | 7.41 L$ | 0.00 L$ |
| citizen 137 | Gusia Seetan | 119,075 | 227 L$ | 1067 | 7.38 L$ | 0.00 L$ |
| citizen 138 | NixSteven Resident | 118,815 | 601 L$ | 5000 | 7.37 L$ | 7.78 L$ |
| citizen 139 | Priest Carnell | 117,318 | 507 L$ | voted | 7.27 L$ | 0.00 L$ |
| citizen 140 | marymagdalene7 Resident | 114,984 | 348 L$ | voted | 7.13 L$ | 7.15 L$ |
| citizen 141 | HestiaMiaXenia Resident | 114,359 | 396 L$ | 5000 | 7.09 L$ | 7.49 L$ |
| citizen 142 | Keumjoo Ahn | 113,257 | 1,309 L$ | 350 | 7.02 L$ | 0.00 L$ |
| citizen 143 | VizierPaimon Resident | 112,733 | 689 L$ | 5000 | 6.99 L$ | 7.38 L$ |
| citizen 144 | Anaconda Carter | 109,520 | 1,218 L$ | voted | 6.79 L$ | 0.00 L$ |
| citizen 145 | Reikthyr Resident | 105,032 | 0 L$ | 2916 | 6.51 L$ | 6.35 L$ |
| citizen 146 | Jayster1988 Resident | 104,988 | 21 L$ | voted | 6.51 L$ | 0.00 L$ |
| citizen 147 | Saraliz Ravenhurst | 104,876 | 10,451 L$ | 5000 | 6.5 L$ | 6.86 L$ |
| citizen 148 | Reddevilson Resident | 103,846 | 361 L$ | voted | 6.44 L$ | 6.05 L$ |
| citizen 149 | Elina Tigerauge | 103,532 | 645 L$ | 500 | 6.42 L$ | 0.00 L$ |
| citizen 150 | Krista Jestyr | 102,571 | 23 L$ | 250 | 6.36 L$ | 5.92 L$ |
| citizen 151 | MartinLehmann Resident | 101,689 | 742 L$ | 3500 | 6.31 L$ | 0.00 L$ |
| citizen 152 | Perchitaydonramon Resident | 101,584 | 0 L$ | 2700 | 6.3 L$ | 6.04 L$ |
| citizen 153 | Eden Dismantled | 100,969 | 9 L$ | 150 | 6.26 L$ | 0.00 L$ |
| citizen 154 | Cann Fingerpin | 99,540 | 1,347 L$ | voted | 6.17 L$ | 0.00 L$ |
| citizen 155 | aenie Resident | 96,149 | 480 L$ | voted | 5.96 L$ | 0.00 L$ |
| citizen 156 | JonCernunnos Resident | 92,761 | 189 L$ | 5000 | 5.75 L$ | 5.72 L$ |
| citizen 157 | Mocca Viper | 92,756 | 1,004 L$ | 4200 | 5.75 L$ | 5.94 L$ |
| citizen 158 | soulorcell Resident | 92,613 | 6 L$ | 100 | 5.74 L$ | 5.67 L$ |
| citizen 159 | Athadu Resident | 92,446 | 924 L$ | voted | 5.73 L$ | 0.00 L$ |
| citizen 160 | Tasos Gregan | 91,368 | 316 L$ | 152 | 5.67 L$ | 0.00 L$ |
| citizen 161 | Articf Resident | 90,694 | 44 L$ | voted | 5.62 L$ | 0.00 L$ |
| citizen 162 | Balldrick Resident | 90,194 | 276 L$ | 300 | 5.59 L$ | 0.00 L$ |
| citizen 163 | Fukuju Amaterasu | 89,444 | 0 L$ | 5000 | 5.55 L$ | 5.86 L$ |
| citizen 164 | amyrrr22 Resident | 89,162 | 71 L$ | 478 | 5.53 L$ | 0.00 L$ |
| citizen 165 | SirThomasBonnechance Resident | 88,553 | 355 L$ | voted | 5.49 L$ | 0.00 L$ |
| citizen 166 | KawaiiBambi Resident | 86,553 | 434 L$ | voted | 5.37 L$ | 0.00 L$ |
| citizen 167 | Bagira888 Resident | 86,370 | 61 L$ | 422 | 5.36 L$ | 0.00 L$ |
| citizen 168 | yeasin2018 Resident | 85,867 | 990 L$ | 5000 | 5.32 L$ | 5.29 L$ |
| citizen 169 | skulls87 Resident | 85,759 | 234 L$ | voted | 5.32 L$ | 0.00 L$ |
| citizen 170 | Caden Warden | 85,630 | 794 L$ | voted | 5.31 L$ | 0.00 L$ |
| citizen 171 | lilike1981 Resident | 84,868 | 175 L$ | 40 | 5.26 L$ | 0.00 L$ |
| citizen 172 | Jenellea Resident | 83,854 | 15 L$ | 68 | 5.2 L$ | 0.00 L$ |
| citizen 173 | demonia Rae | 83,644 | 456 L$ | 5000 | 5.19 L$ | 5.48 L$ |
| citizen 174 | AnnaMeer Resident | 82,883 | 190 L$ | 5000 | 5.14 L$ | 4.77 L$ |
| citizen 175 | Aka Mata | 82,345 | 5 L$ | voted | 5.11 L$ | 0.00 L$ |
| citizen 176 | Qwibble Resident | 82,175 | 593 L$ | 5000 | 5.1 L$ | 5.05 L$ |
| citizen 177 | jayphils Resident | 81,771 | 121 L$ | 5000 | 5.07 L$ | 5.36 L$ |
| citizen 178 | Poetic Enchantment | 81,162 | 608 L$ | voted | 5.03 L$ | 0.00 L$ |
| citizen 179 | B2 Short | 80,924 | 4,304 L$ | 5450 | 5.02 L$ | 4.97 L$ |
| citizen 180 | CrayDiver Resident | 79,324 | 320 L$ | 5000 | 4.92 L$ | 5.20 L$ |
| citizen 181 | NiweOfWind Resident | 78,898 | 156 L$ | voted | 4.89 L$ | 0.00 L$ |
| citizen 182 | hater Aie | 78,393 | 302 L$ | voted | 4.86 L$ | 0.00 L$ |
| citizen 183 | SimiRusso Resident | 78,149 | 75 L$ | 66 | 4.85 L$ | 0.00 L$ |
| citizen 184 | Vizigoth Resident | 76,280 | 14 L$ | 6576 | 4.73 L$ | 4.82 L$ |
| citizen 185 | Manas01 Resident | 75,395 | 16 L$ | voted | 4.67 L$ | 0.00 L$ |
| citizen 186 | Latexhexer Resident | 75,382 | 721 L$ | voted | 4.67 L$ | 0.00 L$ |
| citizen 187 | Eudialyt Resident | 75,105 | 20 L$ | 5000 | 4.66 L$ | 4.92 L$ |
| citizen 188 | Enchante Resident | 75,029 | 554 L$ | voted | 4.65 L$ | 0.00 L$ |
| citizen 189 | galaxie59 Resident | 74,823 | 653 L$ | voted | 4.64 L$ | 0.00 L$ |
| citizen 190 | Lucindae Resident | 72,924 | 40 L$ | voted | 4.52 L$ | 4.12 L$ |
| citizen 191 | Andreas Coleslaw | 72,301 | 702 L$ | voted | 4.48 L$ | 0.00 L$ |
| citizen 192 | DieKindlicheKaiserin Resident | 72,283 | 0 L$ | 500 | 4.48 L$ | 4.04 L$ |
| citizen 193 | immiaz Resident | 70,267 | 22 L$ | voted | 4.36 L$ | 0.00 L$ |
| citizen 194 | InterstellarStarcruiser Resident | 69,690 | 343 L$ | 2300 | 4.32 L$ | 4.17 L$ |
| citizen 195 | katherineblacke Resident | 68,958 | 291 L$ | 5000 | 4.28 L$ | 4.51 L$ |
| citizen 196 | IXISTARXIXI Resident | 68,472 | 367 L$ | 5000 | 4.25 L$ | 4.49 L$ |
| citizen 197 | KolMachado Resident | 68,210 | 200 L$ | voted | 4.23 L$ | 0.00 L$ |
| citizen 198 | HarryDP Resident | 68,188 | 641 L$ | voted | 4.23 L$ | 0.00 L$ |
| citizen 199 | Erika Elcano | 68,184 | 50 L$ | voted | 4.23 L$ | 0.00 L$ |
| citizen 200 | wolfisme Caiben | 68,044 | 3 L$ | 5000 | 4.22 L$ | 4.46 L$ |
| citizen 201 | Solklem66 Resident | 67,891 | 587 L$ | voted | 4.21 L$ | 0.00 L$ |
| citizen 202 | july Turbo | 67,626 | 22 L$ | 5000 | 4.19 L$ | 4.43 L$ |
| citizen 203 | aries638588 Resident | 66,256 | 1 L$ | voted | 4.11 L$ | 3.85 L$ |
| citizen 204 | Adram Blackwood | 65,581 | 153 L$ | 5000 | 4.07 L$ | 3.97 L$ |
| citizen 205 | Bogatyeishii Resident | 65,078 | 400 L$ | 5000 | 4.04 L$ | 4.26 L$ |
| citizen 206 | Nexus Tremor | 64,054 | 160 L$ | 5000 | 3.97 L$ | 4.20 L$ |
| citizen 207 | DieKindlicheKaiserin Resident | 63,699 | 85 L$ | voted | 3.95 L$ | 0.00 L$ |
| citizen 208 | Frank1056 Resident | 62,654 | 749 L$ | 5700 | 3.88 L$ | 4.02 L$ |
| citizen 209 | Strange Release | 62,462 | 585 L$ | voted | 3.87 L$ | 0.00 L$ |
| citizen 210 | MaximumPowerBr Resident | 61,695 | 209 L$ | voted | 3.83 L$ | 0.00 L$ |
| citizen 211 | s2000gtr Resident | 61,476 | 5 L$ | 150 | 3.81 L$ | 0.00 L$ |
| citizen 212 | Pari Neox | 60,960 | 767 L$ | voted | 3.78 L$ | 0.00 L$ |
| citizen 213 | LightningTH1 Resident | 59,764 | 0 L$ | 5000 | 3.71 L$ | 3.76 L$ |
| citizen 214 | caballero5k Resident | 59,036 | 2 L$ | 5000 | 3.66 L$ | 3.87 L$ |
| citizen 215 | SerialRook Resident | 58,299 | 22 L$ | 5000 | 3.61 L$ | 3.82 L$ |
| citizen 216 | Debtee Resident | 58,264 | 165 L$ | 5000 | 3.61 L$ | 3.82 L$ |
| citizen 217 | Danerator Resident | 57,506 | 295 L$ | 5000 | 3.57 L$ | 3.77 L$ |
| citizen 218 | Lucky168 Resident | 57,492 | 0 L$ | 4900 | 3.56 L$ | 3.51 L$ |
| citizen 219 | xZeidaNx Resident | 57,330 | 32 L$ | voted | 3.55 L$ | 0.00 L$ |
| citizen 220 | Mariella Timeless | 57,290 | 23 L$ | 1700 | 3.55 L$ | 3.38 L$ |
| citizen 221 | KaraASwizzle Resident | 57,183 | 6 L$ | voted | 3.55 L$ | 0.00 L$ |
| citizen 222 | Anne Addams | 57,079 | 900 L$ | 500 | 3.54 L$ | 0.00 L$ |
| citizen 223 | Cramonsen Resident | 56,877 | 577 L$ | voted | 3.53 L$ | 0.00 L$ |
| citizen 224 | VlasProfil Resident | 56,744 | 211 L$ | voted | 3.52 L$ | 0.00 L$ |
| citizen 225 | KVAKI Resident | 56,430 | 0 L$ | 5020 | 3.5 L$ | 3.60 L$ |
| citizen 226 | renacabot Resident | 56,404 | 0 L$ | 5031 | 3.5 L$ | 3.10 L$ |
| citizen 227 | Jerri67 Resident | 55,879 | 0 L$ | 3965 | 3.46 L$ | 3.20 L$ |
| citizen 228 | Misslaurel Resident | 55,878 | 51 L$ | 25 | 3.46 L$ | 0.00 L$ |
| citizen 229 | Strong Galaxy | 55,835 | 745 L$ | 5000 | 3.46 L$ | 3.66 L$ |
| citizen 230 | ElenaWatersong Resident | 55,746 | 443 L$ | 5000 | 3.46 L$ | 3.54 L$ |
| citizen 231 | Kaitlin Rayna | 55,707 | 1,007 L$ | voted | 3.45 L$ | 0.00 L$ |
| citizen 232 | Suri Cassady | 55,515 | 231 L$ | voted | 3.44 L$ | 0.00 L$ |
| citizen 233 | Trithi Resident | 55,202 | 0 L$ | 5000 | 3.42 L$ | 3.62 L$ |
| citizen 234 | MarieF61 Resident | 55,137 | 0 L$ | 494 | 3.42 L$ | 3.09 L$ |
| citizen 235 | Lylian Bellic | 55,110 | 23 L$ | voted | 3.42 L$ | 3.26 L$ |
| citizen 236 | angellisa Chun | 54,832 | 619 L$ | 5000 | 3.4 L$ | 3.59 L$ |
| citizen 237 | Talonda Resident | 53,729 | 0 L$ | 5000 | 3.33 L$ | 3.51 L$ |
| citizen 238 | karissa Sleydon | 53,612 | 0 L$ | voted | 3.32 L$ | 2.66 L$ |
| citizen 239 | boenkerop Resident | 53,550 | 0 L$ | voted | 3.32 L$ | 1.39 L$ |
| citizen 240 | CaptX Resident | 53,443 | 117 L$ | voted | 3.31 L$ | 0.00 L$ |
| citizen 241 | Pixie Dover | 53,318 | 273 L$ | 5000 | 3.31 L$ | 3.49 L$ |
| citizen 242 | testboizzz Resident | 52,896 | 390 L$ | voted | 3.28 L$ | 0.00 L$ |
| citizen 243 | Anabelle Kuhn | 52,771 | 722 L$ | voted | 3.27 L$ | 0.00 L$ |
| citizen 244 | StillaSunsetNoir Resident | 50,032 | 0 L$ | 5000 | 3.1 L$ | 3.19 L$ |
| citizen 245 | Sunreet Resident | 49,762 | 207 L$ | voted | 3.09 L$ | 0.00 L$ |
| citizen 246 | RoseliaStyle Resident | 49,751 | 17 L$ | voted | 3.08 L$ | 0.00 L$ |
| citizen 247 | Sarilpom Resident | 49,484 | 363 L$ | voted | 3.07 L$ | 0.00 L$ |
| citizen 248 | WiccanSeductress Resident | 49,388 | 0 L$ | 5000 | 3.06 L$ | 2.86 L$ |
| citizen 249 | JustChoosey Resident | 49,385 | 459 L$ | 5000 | 3.06 L$ | 3.21 L$ |
| citizen 250 | Sandflea Lorefield | 49,122 | 1,628 L$ | 5000 | 3.05 L$ | 3.22 L$ |
| citizen 251 | 11Krew11 Resident | 49,012 | 0 L$ | 4150 | 3.04 L$ | 3.00 L$ |
| citizen 252 | SamyraDakota Resident | 48,421 | 405 L$ | 5000 | 3 L$ | 3.17 L$ |
| citizen 253 | JordanAxl Resident | 47,623 | 783 L$ | voted | 2.95 L$ | 0.00 L$ |
| citizen 254 | yywyy Resident | 47,378 | 277 L$ | voted | 2.94 L$ | 0.00 L$ |
| citizen 255 | HaileyHay Resident | 47,188 | 28 L$ | 5000 | 2.93 L$ | 3.09 L$ |
| citizen 256 | MEDHAV Resident | 46,648 | 806 L$ | 5000 | 2.89 L$ | 3.06 L$ |
| citizen 257 | GaryCdok Resident | 46,294 | 677 L$ | 5000 | 2.87 L$ | 3.03 L$ |
| citizen 258 | Spring Eiren | 45,973 | 160 L$ | voted | 2.85 L$ | 0.00 L$ |
| citizen 259 | al Jeansia | 45,958 | 83 L$ | voted | 2.85 L$ | 0.00 L$ |
| citizen 260 | ThorRagnarokOdinson Resident | 45,939 | 37 L$ | 5000 | 2.85 L$ | 3.01 L$ |
| citizen 261 | Chris Rowley | 45,455 | 448 L$ | voted | 2.82 L$ | 0.00 L$ |
| citizen 262 | Neexa Resident | 45,274 | 393 L$ | voted | 2.81 L$ | 0.00 L$ |
| citizen 263 | SydneyMariner Resident | 45,261 | 332 L$ | 250 | 2.81 L$ | 0.00 L$ |
| citizen 264 | RashidX Resident | 45,177 | 0 L$ | 5000 | 2.8 L$ | 2.93 L$ |
| citizen 265 | amanda2710 Dumpling | 44,926 | 224 L$ | 5000 | 2.79 L$ | 2.94 L$ |
| citizen 266 | azdrac Resident | 44,784 | 1 L$ | voted | 2.78 L$ | 2.54 L$ |
| citizen 267 | babe Toxx | 44,475 | 218 L$ | voted | 2.76 L$ | 2.59 L$ |
| citizen 268 | RAYYWOLF Resident | 43,613 | 9 L$ | 4630 | 2.7 L$ | 2.78 L$ |
| citizen 269 | BingLiuYuan Resident | 43,053 | 0 L$ | 1500 | 2.67 L$ | 2.37 L$ |
| citizen 270 | HMiku Resident | 42,888 | 0 L$ | 1321 | 2.66 L$ | 2.02 L$ |
| citizen 271 | romero1980 Resident | 42,609 | 0 L$ | 4050 | 2.64 L$ | 2.60 L$ |
| citizen 272 | celestialgrace278 Resident | 42,533 | 31 L$ | voted | 2.64 L$ | 0.00 L$ |
| citizen 273 | Thomas3189 Resident | 42,282 | 747 L$ | 5000 | 2.62 L$ | 2.77 L$ |
| citizen 274 | TonyLuke42 Resident | 42,097 | 707 L$ | 5000 | 2.61 L$ | 2.76 L$ |
| citizen 275 | Vankai Resident | 42,043 | 714 L$ | 5000 | 2.61 L$ | 2.75 L$ |
| citizen 276 | DigitalUlip Resident | 42,037 | 738 L$ | 5000 | 2.61 L$ | 2.75 L$ |
| citizen 277 | DanLeJoes Resident | 42,027 | 806 L$ | 5000 | 2.61 L$ | 2.75 L$ |
| citizen 278 | BrianaCove Resident | 42,027 | 819 L$ | 5000 | 2.61 L$ | 2.75 L$ |
| citizen 279 | ExFasm Resident | 42,024 | 674 L$ | 5000 | 2.61 L$ | 2.75 L$ |
| citizen 280 | UlaFaery Resident | 41,918 | 394 L$ | 5000 | 2.6 L$ | 2.75 L$ |
| citizen 281 | Oqaab Resident | 41,891 | 364 L$ | 5000 | 2.6 L$ | 2.74 L$ |
| citizen 282 | WL0D Resident | 41,799 | 0 L$ | 5000 | 2.59 L$ | 2.57 L$ |
| citizen 283 | Grace Itano | 41,341 | 1,087 L$ | voted | 2.56 L$ | 2.38 L$ |
| citizen 284 | heartandstars Resident | 40,990 | 0 L$ | 3394 | 2.54 L$ | 2.39 L$ |
| citizen 285 | Joylene Resident | 40,764 | 53 L$ | 5000 | 2.53 L$ | 2.67 L$ |
| citizen 286 | Jebons Resident | 40,085 | 2 L$ | voted | 2.49 L$ | 0.00 L$ |
| citizen 287 | DilanDante Resident | 39,893 | 0 L$ | 4900 | 2.47 L$ | 2.61 L$ |
| citizen 288 | evelynblossom Resident | 39,726 | 144 L$ | 5000 | 2.46 L$ | 2.60 L$ |
| citizen 289 | HarleyB13 Resident | 39,679 | 24 L$ | 5000 | 2.46 L$ | 2.49 L$ |
| citizen 290 | TipTopsee Resident | 39,469 | 38 L$ | 5000 | 2.45 L$ | 2.59 L$ |
| citizen 291 | VivaCiousAnGeL Resident | 39,365 | 42 L$ | 5000 | 2.44 L$ | 2.57 L$ |
| citizen 292 | hubert58 Resident | 39,003 | 27 L$ | 5000 | 2.42 L$ | 2.55 L$ |
| citizen 293 | Kim8berly Resident | 38,986 | 34 L$ | 5000 | 2.42 L$ | 2.52 L$ |
| citizen 294 | Cool Driver | 38,640 | 1 L$ | 4800 | 2.4 L$ | 2.48 L$ |
| citizen 295 | StrawberryWhine Resident | 38,309 | 546 L$ | 5000 | 2.38 L$ | 2.51 L$ |
| citizen 296 | imnotreallyhere Resident | 38,039 | 360 L$ | 5000 | 2.36 L$ | 2.49 L$ |
| citizen 297 | genghisbeer Resident | 37,615 | 27 L$ | 5000 | 2.33 L$ | 2.46 L$ |
| citizen 298 | LunaKital Resident | 36,989 | 0 L$ | 5000 | 2.29 L$ | 2.42 L$ |
| citizen 299 | Stiglitzer Resident | 36,888 | 0 L$ | voted | 2.29 L$ | 2.09 L$ |
| citizen 300 | Dea Starlight | 36,852 | 547 L$ | 8150 | 2.29 L$ | 2.39 L$ |
| citizen 301 | Sunlight Lisle | 36,832 | 609 L$ | 5000 | 2.28 L$ | 2.41 L$ |
| citizen 302 | GaeMalaparte Resident | 36,730 | 78 L$ | voted | 2.28 L$ | 0.00 L$ |
| citizen 303 | alabama777 Resident | 36,554 | 1,610 L$ | 5000 | 2.27 L$ | 2.39 L$ |
| citizen 304 | Kerhop Seattle | 36,045 | 0 L$ | 7470 | 2.24 L$ | 2.31 L$ |
| citizen 305 | dkraclo Resident | 35,995 | 31 L$ | 5000 | 2.23 L$ | 2.36 L$ |
| citizen 306 | Lyric Tapia | 35,472 | 1 L$ | voted | 2.2 L$ | 1.97 L$ |
| citizen 307 | Alestra Vollmar | 35,292 | 20 L$ | 5000 | 2.19 L$ | 2.31 L$ |
| citizen 308 | lunaswain Resident | 35,053 | 19 L$ | voted | 2.17 L$ | 0.00 L$ |
| citizen 309 | zaakio Resident | 34,860 | 41 L$ | 5000 | 2.16 L$ | 2.28 L$ |
| citizen 310 | BitterSweet Ophelia | 34,849 | 3 L$ | 5000 | 2.16 L$ | 1.96 L$ |
| citizen 311 | fameng Resident | 34,249 | 0 L$ | 5000 | 2.12 L$ | 2.20 L$ |
| citizen 312 | Amber Dallas | 34,114 | 17 L$ | 5000 | 2.12 L$ | 2.23 L$ |
| citizen 313 | Albertostrife Resident | 34,049 | 287 L$ | 5000 | 2.11 L$ | 2.18 L$ |
| citizen 314 | JustNStore Resident | 33,783 | 971 L$ | 495 | 2.09 L$ | 0.00 L$ |
| citizen 315 | idhunita81 Xenno | 33,741 | 0 L$ | voted | 2.09 L$ | 1.88 L$ |
| citizen 316 | Brinsel Resident | 33,386 | 22 L$ | 5000 | 2.07 L$ | 2.03 L$ |
| citizen 317 | Eevel Resident | 33,352 | 390 L$ | voted | 2.07 L$ | 0.00 L$ |
| citizen 318 | FOMOnoob Resident | 33,047 | 1 L$ | 5000 | 2.05 L$ | 2.16 L$ |
| citizen 319 | Tzooki Resident | 33,012 | 56 L$ | 5000 | 2.05 L$ | 2.16 L$ |
| citizen 320 | darikari Resident | 32,680 | 1 L$ | voted | 2.03 L$ | 1.81 L$ |
| citizen 321 | JillSumner Resident | 32,461 | 0 L$ | 5000 | 2.01 L$ | 1.98 L$ |
| citizen 322 | Annalisa Bellic | 31,643 | 14 L$ | 98 | 1.96 L$ | 0.00 L$ |
| citizen 323 | ChristiInnis Resident | 31,631 | 0 L$ | 5000 | 1.96 L$ | 2.07 L$ |
| citizen 324 | SilkieSadie Resident | 31,244 | 17 L$ | 5000 | 1.94 L$ | 2.05 L$ |
| citizen 325 | Candy1 Tigerpaw | 31,207 | 0 L$ | 4800 | 1.94 L$ | 1.95 L$ |
| citizen 326 | KaTi Benusconi | 31,200 | 0 L$ | 5000 | 1.93 L$ | 2.03 L$ |
| citizen 327 | TaftWolf Resident | 31,149 | 7 L$ | 5000 | 1.93 L$ | 2.04 L$ |
| citizen 328 | Dred1985 Resident | 30,804 | 74 L$ | 5000 | 1.91 L$ | 2.00 L$ |
| citizen 329 | Azgalia Resident | 30,374 | 0 L$ | 5000 | 1.88 L$ | 1.99 L$ |
| citizen 330 | Herb Dailey | 30,264 | 59 L$ | 5000 | 1.88 L$ | 1.98 L$ |
| citizen 331 | BrieMaria Resident | 30,099 | 6 L$ | 5000 | 1.87 L$ | 1.97 L$ |
| citizen 332 | devilicioussa Resident | 30,006 | 130 L$ | 5000 | 1.86 L$ | 1.96 L$ |
| citizen 333 | VictoriaDior Resident | 29,400 | 242 L$ | 5000 | 1.82 L$ | 1.93 L$ |
| citizen 334 | Wunderful Resident | 29,246 | 155 L$ | 5000 | 1.81 L$ | 1.92 L$ |
| citizen 335 | Crazyfox Vaher | 29,170 | 246 L$ | 5000 | 1.81 L$ | 1.91 L$ |
| citizen 336 | Corby Rasmuson | 29,073 | 133 L$ | 5000 | 1.8 L$ | 1.90 L$ |
| citizen 337 | Deb Aristocarnas | 28,986 | 9 L$ | 5529 | 1.8 L$ | 1.90 L$ |
| citizen 338 | FrankieAnne Mercury | 28,809 | 2 L$ | 127 | 1.79 L$ | 0.00 L$ |
| citizen 339 | Vynk Boccaccio | 28,760 | 30 L$ | 5000 | 1.78 L$ | 1.88 L$ |
| citizen 340 | Irbis Snowpaw | 28,649 | 101 L$ | 5000 | 1.78 L$ | 1.88 L$ |
| citizen 341 | patatol Resident | 28,452 | 0 L$ | voted | 1.76 L$ | 1.50 L$ |
| citizen 342 | adhuna95 Resident | 28,353 | 549 L$ | 5000 | 1.76 L$ | 1.86 L$ |
| citizen 343 | AmRiita1 Resident | 28,027 | 0 L$ | 4800 | 1.74 L$ | 1.80 L$ |
| citizen 344 | Qu33nToni Resident | 27,138 | 52 L$ | 4900 | 1.68 L$ | 1.77 L$ |
| citizen 345 | Rokugal Resident | 27,010 | 409 L$ | 5000 | 1.67 L$ | 1.77 L$ |
| citizen 346 | karlabadgirl Resident | 26,982 | 87 L$ | 5000 | 1.67 L$ | 1.76 L$ |
| citizen 347 | OMARCHALLENGER Resident | 26,833 | 1 L$ | 5000 | 1.66 L$ | 1.76 L$ |
| citizen 348 | DanCioara Resident | 26,817 | 0 L$ | voted | 1.66 L$ | 0.89 L$ |
| citizen 349 | MizVirginia Resident | 26,668 | 16 L$ | voted | 1.65 L$ | 0.00 L$ |
| citizen 350 | Goomba Putzo | 26,526 | 0 L$ | 4600 | 1.64 L$ | 1.61 L$ |
| citizen 351 | BGvanHolland Resident | 26,494 | 374 L$ | 5000 | 1.64 L$ | 1.73 L$ |
| citizen 352 | AramintaLeRouge Resident | 25,676 | 28 L$ | 5000 | 1.59 L$ | 1.68 L$ |
| citizen 353 | Andrejenny Resident | 25,548 | 3 L$ | 5000 | 1.58 L$ | 1.67 L$ |
| citizen 354 | Deslara Resident | 25,185 | 0 L$ | 5000 | 1.56 L$ | 1.65 L$ |
| citizen 355 | Rockoutwithyourcokout Resident | 25,117 | 85 L$ | 5000 | 1.56 L$ | 1.65 L$ |
| citizen 356 | Wolfie557 Resident | 24,865 | 1 L$ | 5000 | 1.54 L$ | 1.63 L$ |
| citizen 357 | RuaNrJ22 Resident | 24,479 | 7 L$ | 5000 | 1.52 L$ | 1.60 L$ |
| citizen 358 | XenaSue Resident | 24,222 | 0 L$ | 5000 | 1.5 L$ | 0.18 L$ |
| citizen 359 | PartyGirl Twine | 24,145 | 6 L$ | 5000 | 1.5 L$ | 1.58 L$ |
| citizen 360 | Lillyaau Resident | 24,093 | 0 L$ | 5000 | 1.49 L$ | 1.58 L$ |
| citizen 361 | EustaceSeven Resident | 23,993 | 381 L$ | voted | 1.49 L$ | 1.21 L$ |
| citizen 362 | Sloane Starchild | 23,872 | 0 L$ | 5000 | 1.48 L$ | 1.56 L$ |
| citizen 363 | YASUMORI Resident | 23,597 | 5 L$ | 5000 | 1.46 L$ | 1.55 L$ |
| citizen 364 | Roseamenelle Resident | 23,225 | 0 L$ | 5030 | 1.44 L$ | 1.50 L$ |
| citizen 365 | HeartOfPoetry Resident | 23,181 | 0 L$ | 4100 | 1.44 L$ | 1.43 L$ |
| citizen 366 | RoseTigressFrostBite Resident | 23,061 | 0 L$ | 5000 | 1.43 L$ | 1.51 L$ |
| citizen 367 | Aidan Rosenberg | 23,045 | 1 L$ | voted | 1.43 L$ | 0.00 L$ |
| citizen 368 | Maliora Resident | 22,907 | 370 L$ | 8500 | 1.42 L$ | 1.50 L$ |
| citizen 369 | Devlove2020 Resident | 22,775 | 0 L$ | 5000 | 1.41 L$ | 1.50 L$ |
| citizen 370 | al Violet | 22,757 | 26 L$ | voted | 1.41 L$ | 1.14 L$ |
| citizen 371 | zarlicfisher Resident | 22,135 | 70 L$ | voted | 1.37 L$ | 1.12 L$ |
| citizen 372 | unefilledusoleil Resident | 21,601 | 33 L$ | 900 | 1.34 L$ | 1.11 L$ |
| citizen 373 | Gyummii Resident | 21,589 | 3 L$ | 5000 | 1.34 L$ | 1.41 L$ |
| citizen 374 | Seirin Resident | 21,440 | 4 L$ | 1739 | 1.33 L$ | 1.07 L$ |
| citizen 375 | Yatoula Jewell | 21,219 | 191 L$ | 5000 | 1.32 L$ | 1.39 L$ |
| citizen 376 | Pickcie Resident | 21,198 | 0 L$ | 5000 | 1.31 L$ | 1.36 L$ |
| citizen 377 | willyjackson Resident | 20,447 | 9 L$ | 5000 | 1.27 L$ | 1.34 L$ |
| citizen 378 | Antony Rayna | 19,985 | 0 L$ | voted | 1.24 L$ | 0.93 L$ |
| citizen 379 | ZiggyTops Resident | 19,850 | 0 L$ | 4000 | 1.23 L$ | 1.18 L$ |
| citizen 380 | BleuJJ Resident | 19,785 | 9 L$ | 4000 | 1.23 L$ | 1.21 L$ |
| citizen 381 | JohnTheCreator Resident | 19,622 | 3 L$ | 5000 | 1.22 L$ | 1.29 L$ |
| citizen 382 | ClintRancher Resident | 19,577 | 0 L$ | 5000 | 1.21 L$ | 1.28 L$ |
| citizen 383 | amaij Cosmos | 19,492 | 0 L$ | 5000 | 1.21 L$ | 1.28 L$ |
| citizen 384 | Roni Markstein | 19,370 | 0 L$ | 5000 | 1.2 L$ | 1.27 L$ |
| citizen 385 | Baby Visage | 19,077 | 133 L$ | 5000 | 1.18 L$ | 1.24 L$ |
| citizen 386 | awsomeaussie Resident | 19,069 | 2,098 L$ | 5000 | 1.18 L$ | 1.25 L$ |
| citizen 387 | RoffleLa Mayo | 19,040 | 195 L$ | 5000 | 1.18 L$ | 1.25 L$ |
| citizen 388 | Gabriella8159 Resident | 19,012 | 0 L$ | 5000 | 1.18 L$ | 0.98 L$ |
| citizen 389 | annymarieta Resident | 18,923 | 3 L$ | 5000 | 1.17 L$ | 1.24 L$ |
| citizen 390 | Shelarl Resident | 18,736 | 45 L$ | 5000 | 1.16 L$ | 1.23 L$ |
| citizen 391 | MicajahCresswell Resident | 18,708 | 5 L$ | 5000 | 1.16 L$ | 1.22 L$ |
| citizen 392 | PiaSpirelli Resident | 18,703 | 0 L$ | 5000 | 1.16 L$ | 1.23 L$ |
| citizen 393 | Verena Scribe | 18,564 | 4 L$ | 5000 | 1.15 L$ | 1.22 L$ |
| citizen 394 | EV1LEYE666 Resident | 18,458 | 0 L$ | 4700 | 1.14 L$ | 1.10 L$ |
| citizen 395 | AthenaWilkes Resident | 18,411 | 3 L$ | 5000 | 1.14 L$ | 1.21 L$ |
| citizen 396 | mel01lys Resident | 18,356 | 294 L$ | 5000 | 1.14 L$ | 1.20 L$ |
| citizen 397 | crazyBelka Resident | 18,163 | 0 L$ | 5250 | 1.13 L$ | 1.15 L$ |
| citizen 398 | Sheringa Resident | 18,068 | 432 L$ | 5000 | 1.12 L$ | 1.18 L$ |
| citizen 399 | Cutyhera Resident | 17,921 | 55 L$ | voted | 1.11 L$ | 0.85 L$ |
| citizen 400 | Maribella Arabello | 17,802 | 0 L$ | 5000 | 1.1 L$ | 1.17 L$ |
| citizen 401 | corebore Resident | 17,588 | 0 L$ | 5000 | 1.09 L$ | 1.08 L$ |
| citizen 402 | Reterik Resident | 17,477 | 186 L$ | 5000 | 1.08 L$ | 1.14 L$ |
| citizen 403 | CeleneHighwater Resident | 16,915 | 435 L$ | 5000 | 1.05 L$ | 1.11 L$ |
| citizen 404 | Yasmin Rae | 16,693 | 193 L$ | 5000 | 1.04 L$ | 1.09 L$ |
| citizen 405 | SoundwaveKun Resident | 16,521 | 3 L$ | 5000 | 1.02 L$ | 1.08 L$ |
| citizen 406 | PopeyesChickenSandwich Resident | 16,517 | 0 L$ | 5000 | 1.02 L$ | 1.08 L$ |
| citizen 407 | Willie Frangilli | 16,014 | 3 L$ | 5000 | 0.99 L$ | 1.05 L$ |
| citizen 408 | itsEllieee Resident | 15,905 | 4 L$ | 5000 | 0.99 L$ | 1.04 L$ |
| citizen 409 | Chewy Fae | 15,892 | 0 L$ | 5000 | 0.99 L$ | 1.04 L$ |
| citizen 410 | LynAnnStar Resident | 15,764 | 408 L$ | 5000 | 0.98 L$ | 1.03 L$ |
| citizen 411 | Highmuk Resident | 15,636 | 0 L$ | 5000 | 0.97 L$ | 1.02 L$ |
| citizen 412 | SkydiverArt Resident | 15,336 | 353 L$ | 5000 | 0.95 L$ | 1.00 L$ |
| citizen 413 | Audio Gottfried | 15,280 | 1 L$ | 5000 | 0.95 L$ | 1.00 L$ |
| citizen 414 | Sweetpea Braveheart | 15,155 | 382 L$ | voted | 0.94 L$ | 0.66 L$ |
| citizen 415 | sheepfile Resident | 15,150 | 0 L$ | 5000 | 0.94 L$ | 0.94 L$ |
| citizen 416 | SamiraCeline Resident | 15,049 | 0 L$ | 5000 | 0.93 L$ | 0.92 L$ |
| citizen 417 | Coll Blaylock | 14,864 | 52 L$ | 5000 | 0.92 L$ | 0.97 L$ |
| citizen 418 | Simulatedpixledust Resident | 14,819 | 13 L$ | 5000 | 0.92 L$ | 0.89 L$ |
| citizen 419 | EJPaynter Resident | 14,818 | 3 L$ | 5000 | 0.92 L$ | 0.97 L$ |
| citizen 420 | silverxenos Resident | 14,648 | 0 L$ | 5000 | 0.91 L$ | 0.96 L$ |
| citizen 421 | ptmd423 Resident | 14,582 | 0 L$ | 5000 | 0.9 L$ | 0.96 L$ |
| citizen 422 | TronThelegacy Resident | 14,565 | 9 L$ | 5000 | 0.9 L$ | 0.95 L$ |
| citizen 423 | Kimmiana Andel | 14,463 | 5 L$ | 5000 | 0.9 L$ | 0.95 L$ |
| citizen 424 | luanamae Heartsong | 14,362 | 0 L$ | 5000 | 0.89 L$ | 0.94 L$ |
| citizen 425 | devonwest1 Resident | 13,674 | 0 L$ | 5000 | 0.85 L$ | 0.90 L$ |
| citizen 426 | speritofthesnow66 Resident | 13,618 | 55 L$ | 524 | 0.84 L$ | 0.46 L$ |
| citizen 427 | Revan007 Resident | 13,476 | 618 L$ | 5000 | 0.84 L$ | 0.13 L$ |
| citizen 428 | DutchBlueDragon Resident | 13,343 | 428 L$ | 5000 | 0.83 L$ | 0.87 L$ |
| citizen 429 | Jules1979 Resident | 13,182 | 157 L$ | 5000 | 0.82 L$ | 0.86 L$ |
| citizen 430 | Loverman Remex | 13,143 | 0 L$ | 5000 | 0.81 L$ | 0.86 L$ |
| citizen 431 | Paige Ravenhurst | 13,055 | 301 L$ | 5000 | 0.81 L$ | 0.86 L$ |
| citizen 432 | Butterf1y1234 Resident | 12,849 | 374 L$ | 5000 | 0.8 L$ | 0.84 L$ |
| citizen 433 | Ton Silvercloud | 12,839 | 0 L$ | 5000 | 0.8 L$ | 0.84 L$ |
| citizen 434 | Blane Yalin | 12,770 | 0 L$ | 5016 | 0.79 L$ | 0.78 L$ |
| citizen 435 | Ryurikovna Resident | 12,748 | 0 L$ | 5000 | 0.79 L$ | 0.84 L$ |
| citizen 436 | sue Verne | 12,639 | 0 L$ | voted | 0.78 L$ | 0.45 L$ |
| citizen 437 | Peter01 Nagy | 12,494 | 30 L$ | 5000 | 0.77 L$ | 0.82 L$ |
| citizen 438 | BS4M Resident | 12,448 | 13 L$ | 5000 | 0.77 L$ | 0.81 L$ |
| citizen 439 | Erinarhen Vaniva | 12,362 | 0 L$ | 5000 | 0.77 L$ | 0.81 L$ |
| citizen 440 | GomezAddams46 Resident | 12,338 | 0 L$ | voted | 0.77 L$ | 0.33 L$ |
| citizen 441 | LadyBlackDiamond2013 Resident | 12,231 | 1,198 L$ | 5000 | 0.76 L$ | 0.79 L$ |
| citizen 442 | RedFeverWolf Resident | 12,195 | 741 L$ | 5000 | 0.76 L$ | 0.80 L$ |
| citizen 443 | yvainelux Resident | 12,186 | 33 L$ | 5000 | 0.76 L$ | 0.47 L$ |
| citizen 444 | Wendyflower90 Resident | 11,968 | 0 L$ | 5000 | 0.74 L$ | 0.78 L$ |
| citizen 445 | DUVELINE Resident | 11,957 | 0 L$ | voted | 0.74 L$ | 0.06 L$ |
| citizen 446 | hunter02041982 Resident | 11,890 | 2 L$ | 5000 | 0.74 L$ | 0.78 L$ |
| citizen 447 | CelticBlaze Resident | 11,874 | 0 L$ | 5000 | 0.74 L$ | 0.78 L$ |
| citizen 448 | qudex Coronet | 11,648 | 3 L$ | 5000 | 0.72 L$ | 0.76 L$ |
| citizen 449 | KittyWyld Resident | 11,583 | 0 L$ | 5000 | 0.72 L$ | 0.76 L$ |
| citizen 450 | MisMarcy Resident | 11,549 | 0 L$ | 5000 | 0.72 L$ | 0.74 L$ |
| citizen 451 | ChubbyAquaman Resident | 11,434 | 28 L$ | 5000 | 0.71 L$ | 0.75 L$ |
| citizen 452 | Georgs64 Resident | 11,433 | 0 L$ | 5000 | 0.71 L$ | 0.69 L$ |
| citizen 453 | OliviaMcLovin Resident | 11,372 | 36 L$ | 5000 | 0.71 L$ | 0.74 L$ |
| citizen 454 | Tuvok Dingson | 11,239 | 156 L$ | 5000 | 0.7 L$ | 0.74 L$ |
| citizen 455 | Robotshaz Resident | 11,173 | 1,707 L$ | 5000 | 0.69 L$ | 0.73 L$ |
| citizen 456 | SebastienBeaulieu1976 Resident | 11,168 | 0 L$ | 5000 | 0.69 L$ | 0.40 L$ |
| citizen 457 | sparklelovely Resident | 11,124 | 0 L$ | 5000 | 0.69 L$ | 0.73 L$ |
| citizen 458 | Vila19 Resident | 11,114 | 15 L$ | 5000 | 0.69 L$ | 0.73 L$ |
| citizen 459 | LiontheBeave Resident | 11,075 | 1 L$ | 5000 | 0.69 L$ | 0.73 L$ |
| citizen 460 | zoeyfegte Resident | 11,067 | 0 L$ | 4900 | 0.69 L$ | 0.71 L$ |
| citizen 461 | YumiPepper Resident | 11,009 | 0 L$ | 12900 | 0.68 L$ | 0.44 L$ |
| citizen 462 | RoseAndThorn82 Resident | 10,862 | 191 L$ | voted | 0.67 L$ | 0.38 L$ |
| citizen 463 | Blisst Resident | 10,823 | 11 L$ | 5000 | 0.67 L$ | 0.71 L$ |
| citizen 464 | nisambitna Resident | 10,736 | 132 L$ | 5000 | 0.67 L$ | 0.70 L$ |
| citizen 465 | Star Morgath | 10,729 | 0 L$ | 5000 | 0.67 L$ | 0.70 L$ |
| citizen 466 | KittenRains Resident | 10,687 | 0 L$ | 5000 | 0.66 L$ | 0.70 L$ |
| citizen 467 | Zareth Lycia | 10,322 | 2 L$ | 5000 | 0.64 L$ | 0.66 L$ |
| citizen 468 | Klaraj Dinzel | 10,273 | 0 L$ | 5000 | 0.64 L$ | 0.61 L$ |
| citizen 469 | Tasha Taurus | 10,256 | 0 L$ | 5000 | 0.64 L$ | 0.57 L$ |
| citizen 470 | AmbreCarter Resident | 10,166 | 0 L$ | 5000 | 0.63 L$ | 0.67 L$ |
| citizen 471 | ARAGOM30 Resident | 10,154 | 0 L$ | 5000 | 0.63 L$ | 0.67 L$ |
| citizen 472 | fastaxe Resident | 10,154 | 0 L$ | 5000 | 0.63 L$ | 0.67 L$ |
| citizen 473 | aiur2 Resident | 10,136 | 0 L$ | 5184 | 0.63 L$ | 0.63 L$ |
| citizen 474 | Ralleia Resident | 10,115 | 0 L$ | 5000 | 0.63 L$ | 0.66 L$ |
| citizen 475 | pksmud Susa | 9,988 | 744 L$ | 5000 | 0.62 L$ | 0.65 L$ |
| citizen 476 | Sky Buccaneer | 9,877 | 73 L$ | 5000 | 0.61 L$ | 0.65 L$ |
| citizen 477 | karenbrooks Resident | 9,742 | 122 L$ | 5000 | 0.6 L$ | 0.63 L$ |
| citizen 478 | tswap Resident | 9,709 | 433 L$ | 5000 | 0.6 L$ | 0.64 L$ |
| citizen 479 | SummerStorm99 Resident | 9,630 | 0 L$ | 5000 | 0.6 L$ | 0.63 L$ |
| citizen 480 | shayla2010 Resident | 9,587 | 0 L$ | 5000 | 0.59 L$ | 0.63 L$ |
| citizen 481 | Ella636 Resident | 9,583 | 0 L$ | 4800 | 0.59 L$ | 0.61 L$ |
| citizen 482 | ThunderBlade Outlander | 9,550 | 0 L$ | 5000 | 0.59 L$ | 0.63 L$ |
| citizen 483 | MaryMary2022 Resident | 9,515 | 0 L$ | 5000 | 0.59 L$ | 0.62 L$ |
| citizen 484 | Dreamer42000 Resident | 9,466 | 154 L$ | voted | 0.59 L$ | 0.24 L$ |
| citizen 485 | Riiena Resident | 9,027 | 0 L$ | 5000 | 0.56 L$ | 0.59 L$ |
| citizen 486 | LoonaLovebad Resident | 9,012 | 0 L$ | 5000 | 0.56 L$ | 0.59 L$ |
| citizen 487 | AnastasyjaLorna Resident | 8,898 | 532 L$ | 5000 | 0.55 L$ | 0.26 L$ |
| citizen 488 | Tlffanys2 Resident | 8,890 | 0 L$ | 5000 | 0.55 L$ | 0.01 L$ |
| citizen 489 | Sweet2L Resident | 8,842 | 22 L$ | 5000 | 0.55 L$ | 0.78 L$ |
| citizen 490 | Mirrabellah Resident | 8,821 | 0 L$ | 5000 | 0.55 L$ | 0.58 L$ |
| citizen 491 | foxikiradoll Resident | 8,792 | 0 L$ | 5000 | 0.55 L$ | 0.58 L$ |
| citizen 492 | JL Zinner | 8,770 | 0 L$ | 9300 | 0.54 L$ | 0.54 L$ |
| citizen 493 | MystiqueAngel666 Resident | 8,744 | 0 L$ | 5000 | 0.54 L$ | 0.57 L$ |
| citizen 494 | Belladonna Bunderfeld | 8,741 | 0 L$ | 5000 | 0.54 L$ | 0.57 L$ |
| citizen 495 | KatieWolfFrostbite Resident | 8,717 | 0 L$ | 5000 | 0.54 L$ | 0.57 L$ |
| citizen 496 | Federica Yoshikawa | 8,672 | 21 L$ | 5000 | 0.54 L$ | 0.57 L$ |
| citizen 497 | Daisy Starchild | 8,645 | 43 L$ | 5000 | 0.54 L$ | 0.57 L$ |
| citizen 498 | soniatv1971 Resident | 8,620 | 0 L$ | 5000 | 0.53 L$ | 0.51 L$ |
| citizen 499 | BeeBeeVillaRosa Resident | 8,496 | 0 L$ | 5000 | 0.53 L$ | 0.56 L$ |
| citizen 500 | Ryhios Resident | 8,359 | 162 L$ | 5000 | 0.52 L$ | 0.55 L$ |
| citizen 501 | displaced1too Resident | 8,344 | 0 L$ | 60 | 0.52 L$ | 0.43 L$ |
| citizen 502 | Retlaw Underwood | 8,243 | 0 L$ | 5000 | 0.51 L$ | 0.54 L$ |
| citizen 503 | Tomarow Resident | 8,060 | 0 L$ | 5000 | 0.5 L$ | 0.50 L$ |
| citizen 504 | Furskidoodle Resident | 8,031 | 0 L$ | 5210 | 0.5 L$ | 0.41 L$ |
| citizen 505 | saphiremyst8817 Resident | 8,007 | 0 L$ | 5000 | 0.5 L$ | 0.41 L$ |
| citizen 506 | Mariyah Arabello | 7,916 | 19 L$ | 5000 | 0.49 L$ | 0.52 L$ |
| citizen 507 | Karin Demonista | 7,907 | 0 L$ | 5000 | 0.49 L$ | 0.52 L$ |
| citizen 508 | Emma2000J Resident | 7,881 | 76 L$ | 5000 | 0.49 L$ | 0.52 L$ |
| citizen 509 | Darkzero69 Resident | 7,691 | 6 L$ | 5000 | 0.48 L$ | 0.50 L$ |
| citizen 510 | Linneah Resident | 7,668 | 0 L$ | 5000 | 0.48 L$ | 0.50 L$ |
| citizen 511 | LeahCastori Resident | 7,640 | 0 L$ | 5650 | 0.47 L$ | 0.40 L$ |
| citizen 512 | Lindsay Kocherigin | 7,635 | 0 L$ | 5150 | 0.47 L$ | 0.50 L$ |
| citizen 513 | Eden1x Resident | 7,613 | 858 L$ | 5000 | 0.47 L$ | 0.49 L$ |
| citizen 514 | KramDam Resident | 7,550 | 0 L$ | 5000 | 0.47 L$ | 0.49 L$ |
| citizen 515 | para3321 Resident | 7,493 | 0 L$ | 5000 | 0.46 L$ | 0.49 L$ |
| citizen 516 | ClaraHua Resident | 7,480 | 3 L$ | voted | 0.46 L$ | 0.16 L$ |
| citizen 517 | Mike Skydancer | 7,380 | 0 L$ | 5000 | 0.46 L$ | 0.12 L$ |
| citizen 518 | 123zeena Resident | 7,352 | 188 L$ | 5000 | 0.46 L$ | 0.48 L$ |
| citizen 519 | BabyBee54322 Resident | 7,316 | 0 L$ | 5000 | 0.45 L$ | 0.48 L$ |
| citizen 520 | Biekela Resident | 7,313 | 0 L$ | 5000 | 0.45 L$ | 0.48 L$ |
| citizen 521 | Dinna Bailey | 7,251 | 5 L$ | 5000 | 0.45 L$ | 0.46 L$ |
| citizen 522 | kainwolfenstien Resident | 7,238 | 23 L$ | 5000 | 0.45 L$ | 0.47 L$ |
| citizen 523 | ZiggyZagged Resident | 7,155 | 13 L$ | 5000 | 0.44 L$ | 0.47 L$ |
| citizen 524 | surimaribo Resident | 7,153 | 0 L$ | 5000 | 0.44 L$ | 0.47 L$ |
| citizen 525 | TomRedJack Resident | 7,090 | 0 L$ | 5000 | 0.44 L$ | 0.46 L$ |
| citizen 526 | 0dilia Resident | 7,072 | 0 L$ | 5000 | 0.44 L$ | 0.46 L$ |
| citizen 527 | WillowsWhispering Resident | 7,044 | 0 L$ | 5000 | 0.44 L$ | 0.46 L$ |
| citizen 528 | Arucard1980 Resident | 6,980 | 0 L$ | 5000 | 0.43 L$ | 0.46 L$ |
| citizen 529 | Venevank1 Resident | 6,979 | 0 L$ | 5000 | 0.43 L$ | 0.46 L$ |
| citizen 530 | Attis Venus | 6,947 | 0 L$ | 5000 | 0.43 L$ | 0.46 L$ |
| citizen 531 | ILeeI Resident | 6,917 | 0 L$ | 5000 | 0.43 L$ | 0.45 L$ |
| citizen 532 | Amaunet99 Resident | 6,903 | 16 L$ | 5000 | 0.43 L$ | 0.45 L$ |
| citizen 533 | RickSanchez101 Resident | 6,869 | 0 L$ | 5000 | 0.43 L$ | 0.45 L$ |
| citizen 534 | gotoxy Resident | 6,746 | 0 L$ | 5000 | 0.42 L$ | 0.44 L$ |
| citizen 535 | IGarrett Resident | 6,725 | 0 L$ | 5000 | 0.42 L$ | 0.18 L$ |
| citizen 536 | Rainer2202 Resident | 6,719 | 115 L$ | 5000 | 0.42 L$ | 0.44 L$ |
| citizen 537 | TheOtherHuman Dreadlow | 6,699 | 4 L$ | 5000 | 0.42 L$ | 0.44 L$ |
| citizen 538 | Kitten Kiyori | 6,680 | 0 L$ | 5000 | 0.41 L$ | 0.44 L$ |
| citizen 539 | xoSunKissesxo Resident | 6,660 | 0 L$ | 5000 | 0.41 L$ | 0.44 L$ |
| citizen 540 | RickAC Resident | 6,570 | 0 L$ | voted | 0.41 L$ | 0.15 L$ |
| citizen 541 | KristalPaige Resident | 6,557 | 1 L$ | 5000 | 0.41 L$ | 0.43 L$ |
| citizen 542 | Austyn Mercury | 6,503 | 41 L$ | voted | 0.4 L$ | 0.05 L$ |
| citizen 543 | digitalpplus Resident | 6,501 | 153 L$ | 5000 | 0.4 L$ | 0.43 L$ |
| citizen 544 | BloodyJynx Resident | 6,491 | 0 L$ | 5000 | 0.4 L$ | 0.43 L$ |
| citizen 545 | lstob Resident | 6,458 | 134 L$ | 5000 | 0.4 L$ | 0.42 L$ |
| citizen 546 | sarahleedandara Resident | 6,458 | 0 L$ | 5000 | 0.4 L$ | 0.42 L$ |
| citizen 547 | mitico Blister | 6,412 | 0 L$ | 5000 | 0.4 L$ | 0.42 L$ |
| citizen 548 | SirRedLights Resident | 6,373 | 12 L$ | 5000 | 0.4 L$ | 0.42 L$ |
| citizen 549 | Janette2001 Resident | 6,371 | 0 L$ | 5000 | 0.4 L$ | 0.42 L$ |
| citizen 550 | AriannaMor Resident | 6,308 | 0 L$ | 5000 | 0.39 L$ | 0.41 L$ |
| citizen 551 | Burningashwood Resident | 6,282 | 0 L$ | 5000 | 0.39 L$ | 0.41 L$ |
| citizen 552 | Especiallly Clip | 6,143 | 0 L$ | 5000 | 0.38 L$ | 0.34 L$ |
| citizen 553 | Bernardoo Bernard | 6,138 | 0 L$ | 5000 | 0.38 L$ | 0.40 L$ |
| citizen 554 | Fatima Lycia | 6,079 | 0 L$ | 5000 | 0.38 L$ | 0.40 L$ |
| citizen 555 | Darkheart Heartsdale | 6,070 | 2 L$ | 5000 | 0.38 L$ | 0.40 L$ |
| citizen 556 | Varro Ravenhurst | 6,002 | 150 L$ | 5000 | 0.37 L$ | 0.39 L$ |
| citizen 557 | Angel Peppermint | 6,000 | 0 L$ | voted | 0.37 L$ | 0.00 L$ |
| citizen 558 | DizzyOni Resident | 5,982 | 3 L$ | 5000 | 0.37 L$ | 0.39 L$ |
| citizen 559 | donna Redrose | 5,974 | 0 L$ | 5000 | 0.37 L$ | 0.39 L$ |
| citizen 560 | xKaghirox Resident | 5,970 | 0 L$ | 5000 | 0.37 L$ | 0.39 L$ |
| citizen 561 | DemonVixen Resident | 5,952 | 1 L$ | 5000 | 0.37 L$ | 0.39 L$ |
| citizen 562 | Ribben Snowpaw | 5,950 | 297 L$ | 5000 | 0.37 L$ | 0.39 L$ |
| citizen 563 | AntiSandy Resident | 5,930 | 521 L$ | 5000 | 0.37 L$ | 0.39 L$ |
| citizen 564 | littleLaviniafisher Resident | 5,912 | 0 L$ | 5000 | 0.37 L$ | 0.39 L$ |
| citizen 565 | Chopper Sturges | 5,909 | 0 L$ | 5000 | 0.37 L$ | 0.39 L$ |
| citizen 566 | Wright Lomu | 5,900 | 0 L$ | voted | 0.37 L$ | 0.06 L$ |
| citizen 567 | Tesheta Resident | 5,864 | 29 L$ | 5000 | 0.36 L$ | 0.38 L$ |
| citizen 568 | InfiniteNight Resident | 5,823 | 0 L$ | 5000 | 0.36 L$ | 0.38 L$ |
| citizen 569 | zivaah Resident | 5,756 | 204 L$ | 5000 | 0.36 L$ | 0.38 L$ |
| citizen 570 | dotti333 Resident | 5,750 | 0 L$ | voted | 0.36 L$ | 0.04 L$ |
| citizen 571 | Ship2Sure Resident | 5,740 | 0 L$ | 5000 | 0.36 L$ | 0.36 L$ |
| citizen 572 | galaxylaurenza7 Resident | 5,627 | 0 L$ | 5000 | 0.35 L$ | 0.37 L$ |
| citizen 573 | Tinycase91 Resident | 5,620 | 0 L$ | 5000 | 0.35 L$ | 0.37 L$ |
| citizen 574 | JadedLette Resident | 5,620 | 0 L$ | voted | 0.35 L$ | 0.00 L$ |
| citizen 575 | vicuscicus Resident | 5,594 | 5 L$ | 5000 | 0.35 L$ | 0.37 L$ |
| citizen 576 | Disarmed Resident | 5,570 | 0 L$ | 5000 | 0.35 L$ | 0.36 L$ |
| citizen 577 | TaylorSwiftney Resident | 5,551 | 0 L$ | 5000 | 0.34 L$ | 0.36 L$ |
| citizen 578 | minino Toshi | 5,369 | 0 L$ | 5000 | 0.33 L$ | 0.35 L$ |
| citizen 579 | StressedKitten Resident | 5,317 | 0 L$ | 5000 | 0.33 L$ | 0.35 L$ |
| citizen 580 | Tricardi Resident | 5,292 | 13 L$ | 5000 | 0.33 L$ | 0.35 L$ |
| citizen 581 | juliasalvatore19 Resident | 5,257 | 0 L$ | 5000 | 0.33 L$ | 0.34 L$ |
| citizen 582 | ArtisanCrafter Resident | 5,252 | 0 L$ | 5000 | 0.33 L$ | 0.34 L$ |
| citizen 583 | CatalystFox Resident | 5,217 | 0 L$ | 5000 | 0.32 L$ | 0.33 L$ |
| citizen 584 | x902xXipher Resident | 5,216 | 4 L$ | 5000 | 0.32 L$ | 0.34 L$ |
| citizen 585 | miasissy58 Resident | 5,177 | 0 L$ | 5000 | 0.32 L$ | 0.30 L$ |
| citizen 586 | laina890 Resident | 5,092 | 0 L$ | 5000 | 0.32 L$ | 0.33 L$ |
| citizen 587 | RomainChelien Resident | 5,056 | 3,326 L$ | 5000 | 0.31 L$ | 0.33 L$ |
| citizen 588 | MyScriptTestAvatar Resident | 5,052 | 0 L$ | 5000 | 0.31 L$ | 0.33 L$ |
| citizen 589 | RiderInTheStorm Resident | 5,041 | 0 L$ | voted | 0.31 L$ | 1.12 L$ |
| citizen 590 | ItsJust Wise | 5,010 | 314 L$ | 5000 | 0.31 L$ | 0.33 L$ |
| citizen 591 | Grayvie Resident | 5,005 | 25 L$ | 5000 | 0.31 L$ | 0.33 L$ |
| citizen 592 | Mitzie Shippe | 4,971 | 0 L$ | 5000 | 0.31 L$ | 0.33 L$ |
| citizen 593 | Thundercat1986 Resident | 4,881 | 0 L$ | 5000 | 0.3 L$ | 0.32 L$ |
| citizen 594 | StarlinRae Resident | 4,846 | 2 L$ | 5000 | 0.3 L$ | 0.32 L$ |
| citizen 595 | JillRenee Resident | 4,720 | 0 L$ | 5000 | 0.29 L$ | 0.31 L$ |
| citizen 596 | NerriMariner Resident | 4,699 | 117 L$ | 5000 | 0.29 L$ | 0.31 L$ |
| citizen 597 | MYKAELLA30 Resident | 4,675 | 0 L$ | 5000 | 0.29 L$ | 0.31 L$ |
| citizen 598 | AnoukLion Resident | 4,661 | 0 L$ | 5000 | 0.29 L$ | 0.31 L$ |
| citizen 599 | jadek97 Resident | 4,655 | 0 L$ | 5000 | 0.29 L$ | 0.30 L$ |
| citizen 600 | Moi987654321 Resident | 4,622 | 0 L$ | 5000 | 0.29 L$ | 0.22 L$ |
| citizen 601 | Uslada08 Resident | 4,617 | 0 L$ | 5000 | 0.29 L$ | 0.30 L$ |
| citizen 602 | RoseVermilion Resident | 4,546 | 0 L$ | 5000 | 0.28 L$ | 0.30 L$ |
| citizen 603 | Amore Xi | 4,500 | 0 L$ | 5000 | 0.28 L$ | 0.29 L$ |
| citizen 604 | alisonneforte Resident | 4,491 | 0 L$ | 5000 | 0.28 L$ | 0.23 L$ |
| citizen 605 | AmbarCaramelX Resident | 4,439 | 0 L$ | 5000 | 0.28 L$ | 0.29 L$ |
| citizen 606 | Dalzius Resident | 4,402 | 0 L$ | 5000 | 0.27 L$ | 0.28 L$ |
| citizen 607 | Azkaria Resident | 4,365 | 109 L$ | 5000 | 0.27 L$ | 0.29 L$ |
| citizen 608 | nicopolo59 Resident | 4,364 | 566 L$ | 5000 | 0.27 L$ | 0.28 L$ |
| citizen 609 | Tutuola Ulrik | 4,359 | 0 L$ | 5000 | 0.27 L$ | 0.29 L$ |
| citizen 610 | AmaliaHorney Resident | 4,336 | 0 L$ | 5000 | 0.27 L$ | 0.28 L$ |
| citizen 611 | TrinietyX Resident | 4,322 | 0 L$ | 5000 | 0.27 L$ | 0.28 L$ |
| citizen 612 | Ursula99x Resident | 4,314 | 0 L$ | 5000 | 0.27 L$ | 0.28 L$ |
| citizen 613 | KristinaLaugh Resident | 4,300 | 0 L$ | voted | 0.27 L$ | 0.00 L$ |
| citizen 614 | Thomas0815 Resident | 4,293 | 0 L$ | 5000 | 0.27 L$ | 0.28 L$ |
| citizen 615 | JeReM Hoover | 4,245 | 16 L$ | 5000 | 0.26 L$ | 0.28 L$ |
| citizen 616 | BrunoMartins2014 Resident | 4,233 | 0 L$ | 5000 | 0.26 L$ | 0.28 L$ |
| citizen 617 | kim2 Kimagawa | 4,223 | 0 L$ | 5000 | 0.26 L$ | 0.28 L$ |
| citizen 618 | notyangel Resident | 4,199 | 0 L$ | 4900 | 0.26 L$ | 0.27 L$ |
| citizen 619 | Gary421 Resident | 4,190 | 0 L$ | 5000 | 0.26 L$ | 0.27 L$ |
| citizen 620 | Rosablanka Allen | 4,178 | 0 L$ | 5000 | 0.26 L$ | 0.27 L$ |
| citizen 621 | Amore Noelle | 4,140 | 0 L$ | 5000 | 0.26 L$ | 0.27 L$ |
| citizen 622 | Ninaca Jun | 4,059 | 31 L$ | 5000 | 0.25 L$ | 0.27 L$ |
| citizen 623 | Yukimitsu Shinn | 4,054 | 211 L$ | 5000 | 0.25 L$ | 0.27 L$ |
| citizen 624 | Roger Bartavelle | 4,050 | 0 L$ | 5000 | 0.25 L$ | 0.27 L$ |
| citizen 625 | XxAnnabelLeexX Resident | 3,993 | 0 L$ | 5000 | 0.25 L$ | 0.26 L$ |
| citizen 626 | Therebel3451 Resident | 3,984 | 0 L$ | 5000 | 0.25 L$ | 0.21 L$ |
| citizen 627 | Anayla Lunasea | 3,970 | 0 L$ | 5500 | 0.25 L$ | 0.18 L$ |
| citizen 628 | Roberto Roubodoo | 3,942 | 87 L$ | 5000 | 0.24 L$ | 0.26 L$ |
| citizen 629 | Exxena Resident | 3,941 | 0 L$ | 5000 | 0.24 L$ | 0.26 L$ |
| citizen 630 | Okie Heartsong | 3,911 | 20 L$ | 5000 | 0.24 L$ | 0.26 L$ |
| citizen 631 | Alala Jewell | 3,880 | 0 L$ | 5000 | 0.24 L$ | 0.25 L$ |
| citizen 632 | andrejua Resident | 3,859 | 0 L$ | 5000 | 0.24 L$ | 0.25 L$ |
| citizen 633 | Lena Mercury | 3,842 | 465 L$ | 5000 | 0.24 L$ | 0.25 L$ |
| citizen 634 | Cheryl7Sage Resident | 3,831 | 100 L$ | 5000 | 0.24 L$ | 0.25 L$ |
| citizen 635 | fuzetea95 Resident | 3,822 | 0 L$ | voted | 0.24 L$ | 0.84 L$ |
| citizen 636 | Mandy Vortex | 3,743 | 0 L$ | 5000 | 0.23 L$ | 0.24 L$ |
| citizen 637 | IshmaelNoctis Resident | 3,730 | 0 L$ | 5000 | 0.23 L$ | 0.24 L$ |
| citizen 638 | vvrvv Resident | 3,698 | 0 L$ | 5000 | 0.23 L$ | 0.24 L$ |
| citizen 639 | mariosucces Resident | 3,662 | 0 L$ | 5000 | 0.23 L$ | 0.24 L$ |
| citizen 640 | IsisLana Resident | 3,660 | 0 L$ | voted | 0.23 L$ | 0.00 L$ |
| citizen 641 | hhhellena Resident | 3,583 | 0 L$ | 5000 | 0.22 L$ | 0.23 L$ |
| citizen 642 | FullMetalUnicorn Resident | 3,561 | 517 L$ | 5000 | 0.22 L$ | 0.23 L$ |
| citizen 643 | Jaycinda Resident | 3,560 | 0 L$ | 5000 | 0.22 L$ | 0.23 L$ |
| citizen 644 | KEEPAR0SE Resident | 3,545 | 0 L$ | 6350 | 0.22 L$ | 0.21 L$ |
| citizen 645 | IIBlackRoseII Resident | 3,518 | 0 L$ | 5000 | 0.22 L$ | 0.23 L$ |
| citizen 646 | Lynn9196 Resident | 3,501 | 0 L$ | 5000 | 0.22 L$ | 0.23 L$ |
| citizen 647 | rebellious2012 Resident | 3,497 | 0 L$ | 5000 | 0.22 L$ | 0.23 L$ |
| citizen 648 | DestaMoon Resident | 3,394 | 0 L$ | 5000 | 0.21 L$ | 0.22 L$ |
| citizen 649 | krucked String | 3,390 | 0 L$ | 14 | 0.21 L$ | 0.00 L$ |
| citizen 650 | Halo Mighty | 3,382 | 45 L$ | 5000 | 0.21 L$ | 0.22 L$ |
| citizen 651 | emberjayne Resident | 3,362 | 227 L$ | 5000 | 0.21 L$ | 0.22 L$ |
| citizen 652 | niwatori Jinx | 3,353 | 0 L$ | 5000 | 0.21 L$ | 0.22 L$ |
| citizen 653 | LionelElili Resident | 3,348 | 0 L$ | 5000 | 0.21 L$ | 0.22 L$ |
| citizen 654 | TheDreaming Button | 3,347 | 0 L$ | 5000 | 0.21 L$ | 0.21 L$ |
| citizen 655 | Maisie2019FireStorm Resident | 3,334 | 0 L$ | 5000 | 0.21 L$ | 0.22 L$ |
| citizen 656 | marzsia Resident | 3,275 | 0 L$ | 5000 | 0.2 L$ | 0.21 L$ |
| citizen 657 | Geekynerdygirl Resident | 3,268 | 39 L$ | 5000 | 0.2 L$ | 0.21 L$ |
| citizen 658 | Elliena Bulmer | 3,267 | 0 L$ | 5000 | 0.2 L$ | 0.21 L$ |
| citizen 659 | fabry Sparta | 3,238 | 17 L$ | 5000 | 0.2 L$ | 0.21 L$ |
| citizen 660 | oldlion74 Resident | 3,227 | 0 L$ | 5000 | 0.2 L$ | 0.21 L$ |
| citizen 661 | mizterbonezzmusic Resident | 3,195 | 5 L$ | 5000 | 0.2 L$ | 0.21 L$ |
| citizen 662 | JaviCrypto Resident | 3,164 | 0 L$ | 5000 | 0.2 L$ | 0.21 L$ |
| citizen 663 | LVXE Resident | 3,098 | 2 L$ | 5000 | 0.19 L$ | 0.20 L$ |
| citizen 664 | MadyHades Resident | 3,083 | 9 L$ | 5000 | 0.19 L$ | 0.20 L$ |
| citizen 665 | SageSteele Resident | 3,062 | 0 L$ | 5000 | 0.19 L$ | 0.19 L$ |
| citizen 666 | Amelie Opaque | 3,053 | 0 L$ | voted | 0.19 L$ | 0.27 L$ |
| citizen 667 | RebelSeeding Resident | 3,046 | 0 L$ | 5000 | 0.19 L$ | 0.20 L$ |
| citizen 668 | Teflar Resident | 2,984 | 0 L$ | 5000 | 0.19 L$ | 0.20 L$ |
| citizen 669 | Rose Mercury | 2,956 | 0 L$ | 5000 | 0.18 L$ | 0.19 L$ |
| citizen 670 | teresag01 Resident | 2,953 | 0 L$ | 5000 | 0.18 L$ | 0.19 L$ |
| citizen 671 | Hadaway Broadway | 2,942 | 434 L$ | 5000 | 0.18 L$ | 0.19 L$ |
| citizen 672 | Turhiya Resident | 2,907 | 88 L$ | 5000 | 0.18 L$ | 0.19 L$ |
| citizen 673 | Roxxanne Starlight | 2,903 | 0 L$ | 5000 | 0.18 L$ | 0.19 L$ |
| citizen 674 | Rainbow Zulaman | 2,878 | 419 L$ | 5000 | 0.18 L$ | 0.19 L$ |
| citizen 675 | HaroldHeusen Resident | 2,857 | 0 L$ | 5000 | 0.18 L$ | 0.19 L$ |
| citizen 676 | Kristiana Magic | 2,809 | 0 L$ | 5000 | 0.17 L$ | 0.18 L$ |
| citizen 677 | Feifire Resident | 2,751 | 0 L$ | 5000 | 0.17 L$ | 0.18 L$ |
| citizen 678 | ai Mayr | 2,722 | 230 L$ | 5000 | 0.17 L$ | 0.18 L$ |
| citizen 679 | reyguy29 Resident | 2,708 | 0 L$ | 5000 | 0.17 L$ | 0.18 L$ |
| citizen 680 | Miguel Rowley | 2,696 | 0 L$ | 5000 | 0.17 L$ | 0.18 L$ |
| citizen 681 | prettypetite2003 Resident | 2,690 | 0 L$ | 5000 | 0.17 L$ | 0.18 L$ |
| citizen 682 | AkashaCoyote Resident | 2,669 | 84 L$ | 5000 | 0.17 L$ | 0.17 L$ |
| citizen 683 | R6D3 Resident | 2,669 | 72 L$ | 5000 | 0.17 L$ | 0.17 L$ |
| citizen 684 | DeDe Leimes | 2,662 | 0 L$ | 5000 | 0.17 L$ | 0.17 L$ |
| citizen 685 | Tygrhs Resident | 2,656 | 0 L$ | 5000 | 0.16 L$ | 0.17 L$ |
| citizen 686 | s3x04n41 Resident | 2,642 | 0 L$ | 5000 | 0.16 L$ | 0.17 L$ |
| citizen 687 | Tenderheartglow Resident | 2,637 | 0 L$ | 5000 | 0.16 L$ | 0.17 L$ |
| citizen 688 | crazyasin Resident | 2,619 | 0 L$ | 5000 | 0.16 L$ | 0.07 L$ |
| citizen 689 | tulikivi Resident | 2,616 | 0 L$ | 5000 | 0.16 L$ | 0.17 L$ |
| citizen 690 | Elanna Althouse | 2,610 | 0 L$ | 758 | 0.16 L$ | 0.03 L$ |
| citizen 691 | Chowder7 Resident | 2,609 | 0 L$ | 5000 | 0.16 L$ | 0.17 L$ |
| citizen 692 | TheLadyFabienne Resident | 2,572 | 0 L$ | 5000 | 0.16 L$ | 0.17 L$ |
| citizen 693 | kimari Askham | 2,569 | 0 L$ | 5000 | 0.16 L$ | 0.17 L$ |
| citizen 694 | PatriciaKelley Resident | 2,561 | 72 L$ | 5000 | 0.16 L$ | 0.17 L$ |
| citizen 695 | WildCherry Camino | 2,505 | 0 L$ | 5000 | 0.16 L$ | 0.16 L$ |
| citizen 696 | DJCreativeCat Resident | 2,499 | 0 L$ | 5000 | 0.15 L$ | 0.16 L$ |
| citizen 697 | rimmer Spitteler | 2,464 | 0 L$ | 5000 | 0.15 L$ | 0.16 L$ |
| citizen 698 | PaulinaKooy Resident | 2,443 | 344 L$ | 5000 | 0.15 L$ | 0.16 L$ |
| citizen 699 | NorinaMina Resident | 2,430 | 0 L$ | 5000 | 0.15 L$ | 0.16 L$ |
| citizen 700 | Amonfox Resident | 2,427 | 167 L$ | 5000 | 0.15 L$ | 0.16 L$ |
| citizen 701 | Mystic Ivorymage | 2,415 | 0 L$ | 5000 | 0.15 L$ | 0.16 L$ |
| citizen 702 | Roomeoo Resident | 2,395 | 107 L$ | 5000 | 0.15 L$ | 0.16 L$ |
| citizen 703 | mie Fegte | 2,395 | 0 L$ | 5000 | 0.15 L$ | 0.16 L$ |
| citizen 704 | Ariatra Resident | 2,392 | 0 L$ | 5000 | 0.15 L$ | 0.16 L$ |
| citizen 705 | GalaxiesCharm Resident | 2,389 | 0 L$ | 5000 | 0.15 L$ | 0.16 L$ |
| citizen 706 | Loic Chaffe | 2,383 | 0 L$ | 5000 | 0.15 L$ | 0.16 L$ |
| citizen 707 | Larxel12 Resident | 2,363 | 0 L$ | 5000 | 0.15 L$ | 0.15 L$ |
| citizen 708 | DieChaotin Resident | 2,333 | 2 L$ | 5000 | 0.14 L$ | 0.15 L$ |
| citizen 709 | weegeefan91 Resident | 2,322 | 8 L$ | 5000 | 0.14 L$ | 0.15 L$ |
| citizen 710 | JRoth433 Resident | 2,309 | 160 L$ | 5000 | 0.14 L$ | 0.15 L$ |
| citizen 711 | Zero Dagostino | 2,309 | 6 L$ | 5000 | 0.14 L$ | 0.15 L$ |
| citizen 712 | MariannaLa Resident | 2,301 | 0 L$ | 5000 | 0.14 L$ | 0.15 L$ |
| citizen 713 | Likoer Bailey | 2,280 | 8 L$ | 5000 | 0.14 L$ | 0.15 L$ |
| citizen 714 | ocecial Resident | 2,277 | 1 L$ | 5000 | 0.14 L$ | 0.15 L$ |
| citizen 715 | Euthvil Resident | 2,201 | 0 L$ | 5000 | 0.14 L$ | 0.14 L$ |
| citizen 716 | Dolly Karsin | 2,195 | 0 L$ | 5000 | 0.14 L$ | 0.14 L$ |
| citizen 717 | ChrystalD Resident | 2,165 | 0 L$ | 5000 | 0.13 L$ | 0.14 L$ |
| citizen 718 | rajvi12 Resident | 2,154 | 0 L$ | 5000 | 0.13 L$ | 0.14 L$ |
| citizen 719 | Brian Rowley | 2,149 | 17 L$ | voted | 0.13 L$ | 0.04 L$ |
| citizen 720 | Holly Patrick | 2,125 | 476 L$ | 5000 | 0.13 L$ | 0.14 L$ |
| citizen 721 | NevaehSumone101 Resident | 2,124 | 0 L$ | 5000 | 0.13 L$ | 0.14 L$ |
| citizen 722 | aloneDrifter Resident | 2,120 | 6 L$ | 5000 | 0.13 L$ | 0.14 L$ |
| citizen 723 | Rubiniz Resident | 2,111 | 0 L$ | 5000 | 0.13 L$ | 0.14 L$ |
| citizen 724 | brokenpoodle Resident | 2,106 | 25 L$ | 5000 | 0.13 L$ | 0.14 L$ |
| citizen 725 | gregt77140 Blinker | 2,090 | 0 L$ | 5000 | 0.13 L$ | 0.14 L$ |
| citizen 726 | vasukee Resident | 2,086 | 0 L$ | 5000 | 0.13 L$ | 0.14 L$ |
| citizen 727 | Aliksania Resident | 2,060 | 0 L$ | 5000 | 0.13 L$ | 0.13 L$ |
| citizen 728 | Tusovchik Resident | 2,038 | 4 L$ | 5000 | 0.13 L$ | 0.13 L$ |
| citizen 729 | Kanifol Resident | 2,021 | 0 L$ | 5000 | 0.13 L$ | 0.13 L$ |
| citizen 730 | calexise1 Resident | 2,002 | 0 L$ | 5000 | 0.12 L$ | 0.13 L$ |
| citizen 731 | Revan Mercury | 1,992 | 0 L$ | 5000 | 0.12 L$ | 0.13 L$ |
| citizen 732 | samule44 Resident | 1,979 | 8 L$ | 5000 | 0.12 L$ | 0.13 L$ |
| citizen 733 | White Mysterious | 1,979 | 0 L$ | 5000 | 0.12 L$ | 0.13 L$ |
| citizen 734 | niwatorijin Resident | 1,979 | 0 L$ | 5000 | 0.12 L$ | 0.13 L$ |
| citizen 735 | tunayturk Resident | 1,969 | 0 L$ | 5000 | 0.12 L$ | 0.13 L$ |
| citizen 736 | Evelyn Theseus | 1,968 | 0 L$ | 5000 | 0.12 L$ | 0.13 L$ |
| citizen 737 | Mindy2021 Resident | 1,965 | 109 L$ | 5000 | 0.12 L$ | 0.13 L$ |
| citizen 738 | Majoliy Resident | 1,959 | 0 L$ | 5000 | 0.12 L$ | 0.13 L$ |
| citizen 739 | Clarke90 Resident | 1,949 | 0 L$ | 5000 | 0.12 L$ | 0.13 L$ |
| citizen 740 | AvengerLoki Resident | 1,938 | 0 L$ | 5000 | 0.12 L$ | 0.13 L$ |
| citizen 741 | RoupasRogerSA Resident | 1,932 | 0 L$ | 5000 | 0.12 L$ | 0.13 L$ |
| citizen 742 | Shamonne Resident | 1,922 | 0 L$ | 5000 | 0.12 L$ | 0.13 L$ |
| citizen 743 | Daisy0417 Resident | 1,921 | 0 L$ | 5017 | 0.12 L$ | 0.13 L$ |
| citizen 744 | SharonShimmer Resident | 1,880 | 0 L$ | 5000 | 0.12 L$ | 0.12 L$ |
| citizen 745 | Tressa Mistletoe | 1,871 | 0 L$ | 5124 | 0.12 L$ | 0.12 L$ |
| citizen 746 | Eros Dorben | 1,854 | 0 L$ | 5000 | 0.11 L$ | 0.12 L$ |
| citizen 747 | justsomedudechris Resident | 1,851 | 0 L$ | 5000 | 0.11 L$ | 0.12 L$ |
| citizen 748 | buchhalter Zeitman | 1,832 | 0 L$ | 5000 | 0.11 L$ | 0.12 L$ |
| citizen 749 | RaiveStarsight Resident | 1,822 | 0 L$ | 5000 | 0.11 L$ | 0.12 L$ |
| citizen 750 | MisterCaveMaster Resident | 1,815 | 0 L$ | 5000 | 0.11 L$ | 0.12 L$ |
| citizen 751 | Stefaneea Resident | 1,798 | 0 L$ | 5000 | 0.11 L$ | 0.12 L$ |
| citizen 752 | Zeemmoro Resident | 1,782 | 0 L$ | 5000 | 0.11 L$ | 0.12 L$ |
| citizen 753 | eldrethsievier Resident | 1,776 | 108 L$ | 5000 | 0.11 L$ | 0.12 L$ |
| citizen 754 | TinkerTush Resident | 1,771 | 0 L$ | 5000 | 0.11 L$ | 0.12 L$ |
| citizen 755 | Will Gainey | 1,765 | 0 L$ | 5000 | 0.11 L$ | 0.12 L$ |
| citizen 756 | Pelvis666 Resident | 1,754 | 7 L$ | 5000 | 0.11 L$ | 0.11 L$ |
| citizen 757 | Kandie Gothly | 1,746 | 0 L$ | 5000 | 0.11 L$ | 0.11 L$ |
| citizen 758 | MiramirariM Resident | 1,732 | 0 L$ | 5000 | 0.11 L$ | 0.11 L$ |
| citizen 759 | Cinnamon Resident | 1,720 | 0 L$ | voted | 0.11 L$ | 0.00 L$ |
| citizen 760 | Gwendlynne Abeyante | 1,716 | 0 L$ | 5000 | 0.11 L$ | 0.11 L$ |
| citizen 761 | Kevin75019 Resident | 1,703 | 0 L$ | 5000 | 0.11 L$ | 0.11 L$ |
| citizen 762 | Moonie Sass | 1,686 | 0 L$ | 5000 | 0.1 L$ | 0.11 L$ |
| citizen 763 | Chairman Kingmaker | 1,662 | 0 L$ | 5000 | 0.1 L$ | 0.11 L$ |
| citizen 764 | Amadeus24680 Resident | 1,658 | 0 L$ | 5000 | 0.1 L$ | 0.11 L$ |
| citizen 765 | SineadSnow Resident | 1,657 | 0 L$ | 5000 | 0.1 L$ | 0.11 L$ |
| citizen 766 | Jennifer Perhaps | 1,650 | 21 L$ | 5000 | 0.1 L$ | 0.11 L$ |
| citizen 767 | Brooklyn Diplomat | 1,643 | 0 L$ | 5000 | 0.1 L$ | 0.11 L$ |
| citizen 768 | k4riok4 Resident | 1,623 | 2 L$ | 5000 | 0.1 L$ | 0.11 L$ |
| citizen 769 | rajeebh19 Resident | 1,620 | 0 L$ | 5000 | 0.1 L$ | 0.11 L$ |
| citizen 770 | MrT0ES Resident | 1,600 | 0 L$ | voted | 0.1 L$ | 0.00 L$ |
| citizen 771 | Hoangtram0110 Resident | 1,589 | 2 L$ | 5000 | 0.1 L$ | 0.10 L$ |
| citizen 772 | gastzubesuch Resident | 1,584 | 0 L$ | 5000 | 0.1 L$ | 0.10 L$ |
| citizen 773 | Bunny Pancake | 1,583 | 14 L$ | 5000 | 0.1 L$ | 0.10 L$ |
| citizen 774 | airickuh Resident | 1,542 | 46 L$ | 5000 | 0.1 L$ | 0.10 L$ |
| citizen 775 | Miomitsuki Resident | 1,533 | 0 L$ | 5000 | 0.1 L$ | 0.10 L$ |
| citizen 776 | OffWhiteMage Resident | 1,514 | 9 L$ | 5000 | 0.09 L$ | 0.10 L$ |
| citizen 777 | SiderealFace Resident | 1,506 | 0 L$ | 5000 | 0.09 L$ | 0.10 L$ |
| citizen 778 | IXDrifterXI Resident | 1,502 | 233 L$ | 5000 | 0.09 L$ | 0.10 L$ |
| citizen 779 | Amidaliah Resident | 1,499 | 4 L$ | 5000 | 0.09 L$ | 0.10 L$ |
| citizen 780 | Kitty Mosellen | 1,497 | 16 L$ | 5000 | 0.09 L$ | 0.10 L$ |
| citizen 781 | Maccam71 Resident | 1,495 | 0 L$ | 5000 | 0.09 L$ | 0.10 L$ |
| citizen 782 | Alexa Broome | 1,487 | 0 L$ | 5000 | 0.09 L$ | 0.10 L$ |
| citizen 783 | JoannHope Resident | 1,486 | 0 L$ | 5000 | 0.09 L$ | 0.10 L$ |
| citizen 784 | GregAriouz Resident | 1,482 | 0 L$ | 5000 | 0.09 L$ | 0.10 L$ |
| citizen 785 | BookShardlake Resident | 1,481 | 154 L$ | 5000 | 0.09 L$ | 0.09 L$ |
| citizen 786 | RavenTwinScrew Resident | 1,473 | 0 L$ | 5000 | 0.09 L$ | 0.10 L$ |
| citizen 787 | Dizzy Harlequin | 1,467 | 0 L$ | 5000 | 0.09 L$ | 0.10 L$ |
| citizen 788 | darkmistery7 Resident | 1,460 | 0 L$ | 5000 | 0.09 L$ | 0.10 L$ |
| citizen 789 | manuela Gracemount | 1,458 | 0 L$ | 5000 | 0.09 L$ | 0.10 L$ |
| citizen 790 | PearaMagnum Resident | 1,447 | 0 L$ | 5000 | 0.09 L$ | 0.09 L$ |
| citizen 791 | Jeremy Hexem | 1,436 | 3 L$ | 5000 | 0.09 L$ | 0.09 L$ |
| citizen 792 | jebbers12 Resident | 1,436 | 0 L$ | 5000 | 0.09 L$ | 0.09 L$ |
| citizen 793 | derick Yoshikawa | 1,405 | 0 L$ | 5000 | 0.09 L$ | 0.09 L$ |
| citizen 794 | LadyInvincible Resident | 1,396 | 466 L$ | 5000 | 0.09 L$ | 0.09 L$ |
| citizen 795 | Felicity Yearsley | 1,392 | 0 L$ | 5000 | 0.09 L$ | 0.09 L$ |
| citizen 796 | shoebat Resident | 1,373 | 0 L$ | 5000 | 0.09 L$ | 0.09 L$ |
| citizen 797 | PinkyEgirl Resident | 1,372 | 0 L$ | 5000 | 0.09 L$ | 0.09 L$ |
| citizen 798 | AlexanderBlaze1 Resident | 1,337 | 0 L$ | 5000 | 0.08 L$ | 0.09 L$ |
| citizen 799 | Zaya Whimsy | 1,331 | 0 L$ | 5000 | 0.08 L$ | 0.09 L$ |
| citizen 800 | kurleeySue Resident | 1,328 | 0 L$ | 5000 | 0.08 L$ | 0.09 L$ |
| citizen 801 | JustCallMeRexy Resident | 1,326 | 22 L$ | 5000 | 0.08 L$ | 0.09 L$ |
| citizen 802 | Friendly Littlepaws | 1,319 | 0 L$ | 5000 | 0.08 L$ | 0.09 L$ |
| citizen 803 | ThaneOwO Resident | 1,310 | 0 L$ | 5000 | 0.08 L$ | 0.09 L$ |
| citizen 804 | goldentornado Resident | 1,308 | 0 L$ | 5000 | 0.08 L$ | 0.09 L$ |
| citizen 805 | VixTheMinx Resident | 1,292 | 0 L$ | 5000 | 0.08 L$ | 0.08 L$ |
| citizen 806 | Noldeas Resident | 1,273 | 35 L$ | 5000 | 0.08 L$ | 0.08 L$ |
| citizen 807 | Kittopia Resident | 1,273 | 0 L$ | 5000 | 0.08 L$ | 0.08 L$ |
| citizen 808 | JohnMcBeth Resident | 1,256 | 58 L$ | 5000 | 0.08 L$ | 0.08 L$ |
| citizen 809 | Monique Bellambi | 1,247 | 4 L$ | 5000 | 0.08 L$ | 0.08 L$ |
| citizen 810 | JacobHGL Resident | 1,236 | 103 L$ | 5000 | 0.08 L$ | 0.08 L$ |
| citizen 811 | miablackwellcx Resident | 1,229 | 0 L$ | 5000 | 0.08 L$ | 0.08 L$ |
| citizen 812 | TakiKeiba Resident | 1,220 | 0 L$ | 5000 | 0.08 L$ | 0.08 L$ |
| citizen 813 | youreyesareunaware Resident | 1,215 | 0 L$ | 5000 | 0.08 L$ | 0.08 L$ |
| citizen 814 | jasmina Carolina | 1,214 | 0 L$ | 5000 | 0.08 L$ | 0.08 L$ |
| citizen 815 | BijanNow Resident | 1,211 | 74 L$ | 5000 | 0.08 L$ | 0.08 L$ |
| citizen 816 | DylanHowe Resident | 1,205 | 0 L$ | 5000 | 0.07 L$ | 0.08 L$ |
| citizen 817 | queenonthenile Resident | 1,203 | 21 L$ | 5000 | 0.07 L$ | 0.08 L$ |
| citizen 818 | JBStone Resident | 1,203 | 20 L$ | 5000 | 0.07 L$ | 0.08 L$ |
| citizen 819 | LitaReigns Resident | 1,199 | 0 L$ | 5000 | 0.07 L$ | 0.08 L$ |
| citizen 820 | sivvy1 Resident | 1,194 | 0 L$ | 5000 | 0.07 L$ | 0.08 L$ |
| citizen 821 | 3EvaRosaline Resident | 1,177 | 14 L$ | 5000 | 0.07 L$ | 0.08 L$ |
| citizen 822 | Su Meredith | 1,161 | 0 L$ | 5000 | 0.07 L$ | 0.08 L$ |
| citizen 823 | BruxaoZrj Resident | 1,161 | 1 L$ | 5000 | 0.07 L$ | 0.08 L$ |
| citizen 824 | mrSprut Resident | 1,151 | 0 L$ | 5000 | 0.07 L$ | 0.08 L$ |
| citizen 825 | Chanasitsayo Resident | 1,151 | 0 L$ | 5000 | 0.07 L$ | 0.08 L$ |
| citizen 826 | Spellhunters Melody | 1,139 | 0 L$ | 5000 | 0.07 L$ | 0.07 L$ |
| citizen 827 | Jasen1017 Resident | 1,131 | 0 L$ | 5000 | 0.07 L$ | 0.07 L$ |
| citizen 828 | LapinHime Resident | 1,122 | 0 L$ | 5000 | 0.07 L$ | 0.07 L$ |
| citizen 829 | TallTamryu Resident | 1,118 | 0 L$ | 5000 | 0.07 L$ | 0.07 L$ |
| citizen 830 | Asefy Resident | 1,117 | 0 L$ | 5000 | 0.07 L$ | 0.06 L$ |
| citizen 831 | AbsintheDarkheart Resident | 1,112 | 0 L$ | 5000 | 0.07 L$ | 0.07 L$ |
| citizen 832 | BlueEyedDevil777 Resident | 1,103 | 9 L$ | 5000 | 0.07 L$ | 0.07 L$ |
| citizen 833 | RenaCelline Resident | 1,103 | 0 L$ | 5000 | 0.07 L$ | 0.07 L$ |
| citizen 834 | lunarfairy122 Resident | 1,101 | 0 L$ | 5000 | 0.07 L$ | 0.07 L$ |
| citizen 835 | Hero Zuta | 1,100 | 0 L$ | voted | 0.07 L$ | 0.00 L$ |
| citizen 836 | DJNixie Resident | 1,098 | 0 L$ | 5000 | 0.07 L$ | 0.07 L$ |
| citizen 837 | Jeqoo Resident | 1,084 | 53 L$ | 5000 | 0.07 L$ | 0.07 L$ |
| citizen 838 | DollyNorthStar Resident | 1,080 | 0 L$ | voted | 0.07 L$ | 0.00 L$ |
| citizen 839 | Spinmaster Voom | 1,077 | 1,396 L$ | voted | 0.07 L$ | 0.01 L$ |
| citizen 840 | Lapis Lykin | 1,073 | 280 L$ | 5000 | 0.07 L$ | 0.07 L$ |
| citizen 841 | Rylber399 Resident | 1,069 | 0 L$ | 5000 | 0.07 L$ | 0.07 L$ |
| citizen 842 | FoxxyGaz Resident | 1,056 | 8 L$ | 5000 | 0.07 L$ | 0.07 L$ |
| citizen 843 | ProHuman Resident | 1,054 | 10 L$ | 5000 | 0.07 L$ | 0.07 L$ |
| citizen 844 | jbangas Resident | 1,041 | 0 L$ | 5000 | 0.06 L$ | 0.07 L$ |
| citizen 845 | KittenLola Resident | 1,031 | 20 L$ | 5000 | 0.06 L$ | 0.07 L$ |
| citizen 846 | ShaneStorm Pumpkins | 1,013 | 2 L$ | 5000 | 0.06 L$ | 0.07 L$ |
| citizen 847 | RobynRihannaFenty2 Resident | 1,011 | 0 L$ | 5000 | 0.06 L$ | 0.02 L$ |
| citizen 848 | Miranda Freenote | 1,002 | 9 L$ | 5000 | 0.06 L$ | 0.07 L$ |
| citizen 849 | SebastienB Resident | 1,000 | 0 L$ | voted | 0.06 L$ | 0.00 L$ |
| citizen 850 | Lienangelo Resident | 995 | 0 L$ | 5000 | 0.06 L$ | 0.07 L$ |
| citizen 851 | GothMetalBarbie Resident | 993 | 0 L$ | 5000 | 0.06 L$ | 0.07 L$ |
| citizen 852 | Maverick420 Resident | 984 | 0 L$ | 5000 | 0.06 L$ | 0.06 L$ |
| citizen 853 | BlueJadeFox Resident | 983 | 401 L$ | 5000 | 0.06 L$ | 0.06 L$ |
| citizen 854 | Kamelot88 Resident | 978 | 0 L$ | 5000 | 0.06 L$ | 0.06 L$ |
| citizen 855 | BrookEve Resident | 977 | 0 L$ | 5000 | 0.06 L$ | 0.06 L$ |
| citizen 856 | Tiny Oberueng | 967 | 0 L$ | 5000 | 0.06 L$ | 0.06 L$ |
| citizen 857 | CKRVA Resident | 955 | 372 L$ | 5000 | 0.06 L$ | 0.06 L$ |
| citizen 858 | angelina Rootcreeper | 955 | 0 L$ | 5000 | 0.06 L$ | 0.06 L$ |
| citizen 859 | tinyangel2019 Resident | 947 | 0 L$ | 5000 | 0.06 L$ | 0.06 L$ |
| citizen 860 | shadowstart Resident | 945 | 0 L$ | 5010 | 0.06 L$ | 0.06 L$ |
| citizen 861 | kurtjackman Resident | 940 | 0 L$ | 5000 | 0.06 L$ | 0.04 L$ |
| citizen 862 | kostas8813 Resident | 922 | 0 L$ | 5000 | 0.06 L$ | 0.06 L$ |
| citizen 863 | LordLuciferBadger Resident | 914 | 0 L$ | 5000 | 0.06 L$ | 0.06 L$ |
| citizen 864 | IVurdalakI Resident | 909 | 0 L$ | 5000 | 0.06 L$ | 0.06 L$ |
| citizen 865 | IsabellavonGlanstein Resident | 905 | 28 L$ | 5000 | 0.06 L$ | 0.06 L$ |
| citizen 866 | euben Resident | 900 | 0 L$ | 5000 | 0.06 L$ | 0.06 L$ |
| citizen 867 | Ryoji Felisimo | 900 | 0 L$ | 5000 | 0.06 L$ | 0.06 L$ |
| citizen 868 | AveDoll Resident | 900 | 0 L$ | 5000 | 0.06 L$ | 0.06 L$ |
| citizen 869 | fajarmuhf Resident | 897 | 0 L$ | 5000 | 0.06 L$ | 0.06 L$ |
| citizen 870 | Melangel Thespian | 886 | 0 L$ | 5000 | 0.05 L$ | 0.06 L$ |
| citizen 871 | KlSS Resident | 871 | 0 L$ | 5000 | 0.05 L$ | 0.06 L$ |
| citizen 872 | Cutieboy4memes Resident | 867 | 0 L$ | 5000 | 0.05 L$ | 0.06 L$ |
| citizen 873 | skyebluefall Resident | 858 | 52 L$ | 5000 | 0.05 L$ | 0.06 L$ |
| citizen 874 | MaryLovys Resident | 850 | 7 L$ | 5000 | 0.05 L$ | 0.06 L$ |
| citizen 875 | snake89pl Resident | 847 | 62 L$ | 5000 | 0.05 L$ | 0.06 L$ |
| citizen 876 | RaeLynn Ravenhurst | 842 | 0 L$ | 5000 | 0.05 L$ | 0.06 L$ |
| citizen 877 | JumbaDeJux Resident | 824 | 66 L$ | 5000 | 0.05 L$ | 0.05 L$ |
| citizen 878 | kittyunplugged306 Resident | 822 | 0 L$ | 5000 | 0.05 L$ | 0.05 L$ |
| citizen 879 | zD0Mz Resident | 810 | 0 L$ | 5000 | 0.05 L$ | 0.05 L$ |
| citizen 880 | Zeppylynn Resident | 810 | 0 L$ | 5000 | 0.05 L$ | 0.05 L$ |
| citizen 881 | Sharon Toxx | 810 | 0 L$ | 5000 | 0.05 L$ | 0.05 L$ |
| citizen 882 | PlutoSaturn Resident | 805 | 0 L$ | 5000 | 0.05 L$ | 0.05 L$ |
| citizen 883 | RubyRencer Resident | 801 | 0 L$ | 5000 | 0.05 L$ | 0.05 L$ |
| citizen 884 | RobynRedhead Resident | 792 | 2,580 L$ | 5000 | 0.05 L$ | 0.05 L$ |
| citizen 885 | Akteur Resident | 790 | 0 L$ | 5000 | 0.05 L$ | 0.05 L$ |
| citizen 886 | knotyfox69 Resident | 790 | 0 L$ | 5000 | 0.05 L$ | 0.05 L$ |
| citizen 887 | oFemkeO Resident | 786 | 220 L$ | 5000 | 0.05 L$ | 0.05 L$ |
| citizen 888 | Rantaplan Resident | 781 | 0 L$ | 5000 | 0.05 L$ | 0.05 L$ |
| citizen 889 | Niklaus Hexem | 779 | 0 L$ | 5000 | 0.05 L$ | 0.05 L$ |
| citizen 890 | SinfulDreamz Babii | 778 | 0 L$ | 5000 | 0.05 L$ | 0.05 L$ |
| citizen 891 | FelicityForce Resident | 777 | 0 L$ | 5000 | 0.05 L$ | 0.05 L$ |
| citizen 892 | iiiSeRgEiii Resident | 777 | 0 L$ | 5000 | 0.05 L$ | 0.05 L$ |
| citizen 893 | S1mpleSarah Resident | 773 | 36 L$ | 5000 | 0.05 L$ | 0.05 L$ |
| citizen 894 | AlethiaCross Resident | 770 | 0 L$ | 5000 | 0.05 L$ | 0.05 L$ |
| citizen 895 | LosAngelesGraff Resident | 770 | 4 L$ | 5000 | 0.05 L$ | 0.05 L$ |
| citizen 896 | TeenCandy Resident | 768 | 0 L$ | 5000 | 0.05 L$ | 0.05 L$ |
| citizen 897 | Ph0enixAshes Resident | 763 | 0 L$ | 5000 | 0.05 L$ | 0.05 L$ |
| citizen 898 | MissGigilove Resident | 762 | 0 L$ | 5000 | 0.05 L$ | 0.05 L$ |
| citizen 899 | Titoss Xue | 762 | 0 L$ | 5000 | 0.05 L$ | 0.05 L$ |
| citizen 900 | smike29 Resident | 752 | 0 L$ | 5000 | 0.05 L$ | 0.05 L$ |
| citizen 901 | DjZenha Resident | 741 | 0 L$ | 5000 | 0.05 L$ | 0.05 L$ |
| citizen 902 | dx61005 Resident | 734 | 0 L$ | 5000 | 0.05 L$ | 0.05 L$ |
| citizen 903 | akantha25 Resident | 729 | 0 L$ | 5000 | 0.05 L$ | 0.05 L$ |
| citizen 904 | G1ggleMachineBri Resident | 726 | 0 L$ | 5000 | 0.05 L$ | 0.05 L$ |
| citizen 905 | Modaris Resident | 725 | 0 L$ | 5000 | 0.04 L$ | 0.05 L$ |
| citizen 906 | IIK1ngDr3wII Resident | 722 | 0 L$ | 5000 | 0.04 L$ | 0.05 L$ |
| citizen 907 | Zayden2020 Resident | 720 | 0 L$ | 5000 | 0.04 L$ | 0.05 L$ |
| citizen 908 | Minty1990 Resident | 720 | 0 L$ | 5000 | 0.04 L$ | 0.05 L$ |
| citizen 909 | emmillis Resident | 718 | 0 L$ | 5000 | 0.04 L$ | 0.05 L$ |
| citizen 910 | princesspeach1359 Resident | 702 | 0 L$ | 5000 | 0.04 L$ | 0.05 L$ |
| citizen 911 | LulaMoo Resident | 702 | 0 L$ | 5000 | 0.04 L$ | 0.05 L$ |
| citizen 912 | oysterannie Resident | 701 | 0 L$ | 5000 | 0.04 L$ | 0.05 L$ |
| citizen 913 | melodywolfpaw Resident | 700 | 0 L$ | voted | 0.04 L$ | 0.00 L$ |
| citizen 914 | Iggwar Resident | 687 | 0 L$ | 5000 | 0.04 L$ | 0.05 L$ |
| citizen 915 | LeQuire Resident | 673 | 8 L$ | 5000 | 0.04 L$ | 0.04 L$ |
| citizen 916 | tomfewz Resident | 668 | 3 L$ | 5000 | 0.04 L$ | 0.04 L$ |
| citizen 917 | EconaWolf Resident | 649 | 0 L$ | 5000 | 0.04 L$ | 0.04 L$ |
| citizen 918 | Janetochka Resident | 646 | 0 L$ | 5000 | 0.04 L$ | 0.04 L$ |
| citizen 919 | StariNite Resident | 641 | 1 L$ | 5000 | 0.04 L$ | 0.04 L$ |
| citizen 920 | beatricemy Resident | 639 | 0 L$ | 5000 | 0.04 L$ | 0.04 L$ |
| citizen 921 | whereami8 Resident | 635 | 0 L$ | 5000 | 0.04 L$ | 0.04 L$ |
| citizen 922 | Katulio Meriadoc | 630 | 0 L$ | 5000 | 0.04 L$ | 0.04 L$ |
| citizen 923 | MotoDarknight Resident | 626 | 0 L$ | 5000 | 0.04 L$ | 0.04 L$ |
| citizen 924 | Pycky Resident | 626 | 0 L$ | 5000 | 0.04 L$ | 0.04 L$ |
| citizen 925 | PatricaC Resident | 622 | 0 L$ | 5000 | 0.04 L$ | 0.04 L$ |
| citizen 926 | darklordofhades Resident | 622 | 0 L$ | 5000 | 0.04 L$ | 0.04 L$ |
| citizen 927 | Toy Cheng | 619 | 51 L$ | 5000 | 0.04 L$ | 0.04 L$ |
| citizen 928 | Yodel1262 Resident | 618 | 0 L$ | 5000 | 0.04 L$ | 0.04 L$ |
| citizen 929 | PeachyKittay Resident | 601 | 0 L$ | voted | 0.04 L$ | 0.26 L$ |
| citizen 930 | Mirjam Dighno | 598 | 0 L$ | 5000 | 0.04 L$ | 0.04 L$ |
| citizen 931 | EvieKray Resident | 595 | 0 L$ | 5000 | 0.04 L$ | 0.04 L$ |
| citizen 932 | Faith Starchild | 595 | 0 L$ | 5000 | 0.04 L$ | 0.04 L$ |
| citizen 933 | waller006 Resident | 594 | 0 L$ | 5000 | 0.04 L$ | 0.04 L$ |
| citizen 934 | 07311984 Resident | 590 | 0 L$ | 5000 | 0.04 L$ | 0.04 L$ |
| citizen 935 | VolchicaKsenia Resident | 590 | 0 L$ | 5000 | 0.04 L$ | 0.04 L$ |
| citizen 936 | DarkMorticia Resident | 588 | 0 L$ | 5000 | 0.04 L$ | 0.04 L$ |
| citizen 937 | Heythatsmychair Resident | 588 | 0 L$ | 5000 | 0.04 L$ | 0.04 L$ |
| citizen 938 | LEILANIDaphne Resident | 568 | 26 L$ | 5000 | 0.04 L$ | 0.04 L$ |
| citizen 939 | Trixxy2134 Resident | 563 | 0 L$ | 5000 | 0.03 L$ | 0.04 L$ |
| citizen 940 | MoryaEcon Resident | 563 | 0 L$ | 5000 | 0.03 L$ | 0.04 L$ |
| citizen 941 | BallerinaDoll Resident | 561 | 0 L$ | 5000 | 0.03 L$ | 0.04 L$ |
| citizen 942 | XxFallPrincessxX Resident | 559 | 0 L$ | 5000 | 0.03 L$ | 0.03 L$ |
| citizen 943 | RobinX0X0 Resident | 556 | 0 L$ | 5000 | 0.03 L$ | 0.04 L$ |
| citizen 944 | Wikusm1987 Resident | 556 | 0 L$ | 5000 | 0.03 L$ | 0.04 L$ |
| citizen 945 | Clein50 Resident | 551 | 5 L$ | 5000 | 0.03 L$ | 0.04 L$ |
| citizen 946 | WolfOfTheMountains Resident | 548 | 0 L$ | 5000 | 0.03 L$ | 0.04 L$ |
| citizen 947 | NoaMellow Resident | 546 | 0 L$ | 5000 | 0.03 L$ | 0.04 L$ |
| citizen 948 | Jad3daj3w3l Resident | 539 | 0 L$ | 5000 | 0.03 L$ | 0.04 L$ |
| citizen 949 | DopierStudent51 Resident | 539 | 0 L$ | 5000 | 0.03 L$ | 0.04 L$ |
| citizen 950 | ROYALKING19913 Resident | 538 | 11 L$ | 5000 | 0.03 L$ | 0.04 L$ |
| citizen 951 | Shaula15 Resident | 531 | 0 L$ | 5000 | 0.03 L$ | 0.03 L$ |
| citizen 952 | Darius Wilberg | 525 | 0 L$ | 5000 | 0.03 L$ | 0.03 L$ |
| citizen 953 | BebeB0nita Resident | 523 | 0 L$ | 5000 | 0.03 L$ | 0.03 L$ |
| citizen 954 | Darkstar Niven | 519 | 0 L$ | 5000 | 0.03 L$ | 0.03 L$ |
| citizen 955 | AnnaNo Knickers | 510 | 0 L$ | 5000 | 0.03 L$ | 0.03 L$ |
| citizen 956 | VictoriaRavencroft Resident | 505 | 0 L$ | 5000 | 0.03 L$ | 0.03 L$ |
| citizen 957 | Katiceres Resident | 500 | 349 L$ | 5000 | 0.03 L$ | 0.03 L$ |
| citizen 958 | XleishaX787 Resident | 496 | 0 L$ | 5000 | 0.03 L$ | 0.03 L$ |
| citizen 959 | Sheepy Bailey | 488 | 580 L$ | 5000 | 0.03 L$ | 0.03 L$ |
| citizen 960 | kent Cluny | 486 | 0 L$ | 5000 | 0.03 L$ | 0.03 L$ |
| citizen 961 | Wincil Resident | 485 | 0 L$ | 5000 | 0.03 L$ | 0.03 L$ |
| citizen 962 | jay1990x Resident | 482 | 0 L$ | 5000 | 0.03 L$ | 0.03 L$ |
| citizen 963 | lamia890 Resident | 482 | 0 L$ | 5000 | 0.03 L$ | 0.03 L$ |
| citizen 964 | Secretly Resident | 480 | 0 L$ | 5000 | 0.03 L$ | 0.03 L$ |
| citizen 965 | Timeto Koskinen | 473 | 0 L$ | 5000 | 0.03 L$ | 0.03 L$ |
| citizen 966 | redneckluver Resident | 473 | 0 L$ | 5000 | 0.03 L$ | 0.03 L$ |
| citizen 967 | VeeReal Resident | 470 | 0 L$ | 5000 | 0.03 L$ | 0.03 L$ |
| citizen 968 | BigSpungus35 Resident | 460 | 0 L$ | 5000 | 0.03 L$ | 0.03 L$ |
| citizen 969 | JesusFernandes Resident | 455 | 0 L$ | 5000 | 0.03 L$ | 0.03 L$ |
| citizen 970 | AvalonSama Resident | 453 | 206 L$ | 5000 | 0.03 L$ | 0.03 L$ |
| citizen 971 | Button Covfefe | 452 | 0 L$ | 5000 | 0.03 L$ | 0.03 L$ |
| citizen 972 | princelee3 Resident | 450 | 0 L$ | 5000 | 0.03 L$ | 0.03 L$ |
| citizen 973 | Raidrogon Resident | 448 | 0 L$ | 5000 | 0.03 L$ | 0.03 L$ |
| citizen 974 | Giuliano Starchild | 444 | 0 L$ | 5000 | 0.03 L$ | 0.03 L$ |
| citizen 975 | 01Aria01 Resident | 442 | 0 L$ | 5000 | 0.03 L$ | 0.03 L$ |
| citizen 976 | MaxSilverDragon Resident | 437 | 0 L$ | 5000 | 0.03 L$ | 0.03 L$ |
| citizen 977 | PaoloF05 Resident | 437 | 0 L$ | 5000 | 0.03 L$ | 0.03 L$ |
| citizen 978 | JonasTemp Resident | 435 | 0 L$ | 5000 | 0.03 L$ | 0.03 L$ |
| citizen 979 | Rosa Streusel | 432 | 0 L$ | 5000 | 0.03 L$ | 0.03 L$ |
| citizen 980 | raatwo2 Resident | 430 | 0 L$ | 5000 | 0.03 L$ | 0.03 L$ |
| citizen 981 | Chimene Bombast | 427 | 0 L$ | 5000 | 0.03 L$ | 0.03 L$ |
| citizen 982 | MarusiaMinx Resident | 420 | 0 L$ | 5000 | 0.03 L$ | 0.03 L$ |
| citizen 983 | AnaOcean Resident | 420 | 0 L$ | 5000 | 0.03 L$ | 0.03 L$ |
| citizen 984 | Betty Helstein | 418 | 0 L$ | 5000 | 0.03 L$ | 0.03 L$ |
| citizen 985 | ChaseTheScorpio Resident | 417 | 0 L$ | 5000 | 0.03 L$ | 0.03 L$ |
| citizen 986 | AmethystSage Resident | 416 | 0 L$ | 5000 | 0.03 L$ | 0.03 L$ |
| citizen 987 | emmas230 Resident | 414 | 0 L$ | 5000 | 0.03 L$ | 0.03 L$ |
| citizen 988 | Merricourt Resident | 410 | 0 L$ | 5000 | 0.03 L$ | 0.03 L$ |
| citizen 989 | Nice Daylight | 409 | 0 L$ | 5000 | 0.03 L$ | 0.03 L$ |
| citizen 990 | Charlotte Godde | 390 | 0 L$ | voted | 0.02 L$ | 0.03 L$ |
| citizen 991 | Goodwrench Resident | 385 | 26 L$ | 5000 | 0.02 L$ | 0.03 L$ |
| citizen 992 | Shyann Kira | 385 | 0 L$ | 5000 | 0.02 L$ | 0.03 L$ |
| citizen 993 | AuraliaGothly Resident | 381 | 0 L$ | 5000 | 0.02 L$ | 0.02 L$ |
| citizen 994 | AthenaDruid Resident | 381 | 0 L$ | 5000 | 0.02 L$ | 0.02 L$ |
| citizen 995 | Silsmi Resident | 378 | 0 L$ | 5000 | 0.02 L$ | 0.02 L$ |
| citizen 996 | brokendoll28 Resident | 377 | 0 L$ | 5000 | 0.02 L$ | 0.02 L$ |
| citizen 997 | CaliforniaJones Resident | 377 | 0 L$ | 5000 | 0.02 L$ | 0.02 L$ |
| citizen 998 | empressvybz Resident | 376 | 0 L$ | 5000 | 0.02 L$ | 0.02 L$ |
| citizen 999 | specopsfox Resident | 372 | 0 L$ | 5000 | 0.02 L$ | 0.02 L$ |
| citizen 1000 | NikVoelz Resident | 369 | 0 L$ | 5000 | 0.02 L$ | 0.02 L$ |
| citizen 1001 | 7Pleasant7 Resident | 369 | 0 L$ | 5000 | 0.02 L$ | 0.02 L$ |
| citizen 1002 | myrtilless Resident | 365 | 0 L$ | 5000 | 0.02 L$ | 0.02 L$ |
| citizen 1003 | Robert Hailey | 361 | 0 L$ | 5000 | 0.02 L$ | 0.02 L$ |
| citizen 1004 | RTHK123 Resident | 357 | 17 L$ | 5000 | 0.02 L$ | 0.02 L$ |
| citizen 1005 | Clint Snowfall | 352 | 9 L$ | 5000 | 0.02 L$ | 0.02 L$ |
| citizen 1006 | Passionate159 Resident | 348 | 0 L$ | 5000 | 0.02 L$ | 0.02 L$ |
| citizen 1007 | Slada77 Resident | 339 | 0 L$ | 5000 | 0.02 L$ | 0.02 L$ |
| citizen 1008 | HughBenis Resident | 338 | 0 L$ | 5000 | 0.02 L$ | 0.02 L$ |
| citizen 1009 | catarynna12 Resident | 336 | 0 L$ | 5000 | 0.02 L$ | 0.02 L$ |
| citizen 1010 | Merrytt Resident | 329 | 0 L$ | 5000 | 0.02 L$ | 0.02 L$ |
| citizen 1011 | PammyRenee Resident | 327 | 190 L$ | 5000 | 0.02 L$ | 0.02 L$ |
| citizen 1012 | Bloodfang Dagger | 324 | 14 L$ | 5000 | 0.02 L$ | 0.02 L$ |
| citizen 1013 | Luna Darkheart | 322 | 0 L$ | 5000 | 0.02 L$ | 0.02 L$ |
| citizen 1014 | Vilria Resident | 322 | 0 L$ | 5000 | 0.02 L$ | 0.02 L$ |
| citizen 1015 | Sunred22 Resident | 318 | 0 L$ | 5000 | 0.02 L$ | 0.02 L$ |
| citizen 1016 | Aquaria Humphrey | 314 | 0 L$ | 5000 | 0.02 L$ | 0.02 L$ |
| citizen 1017 | laurence12000 Resident | 313 | 0 L$ | 5000 | 0.02 L$ | 0.02 L$ |
| citizen 1018 | masteryohn Acoustic | 313 | 0 L$ | 5000 | 0.02 L$ | 0.02 L$ |
| citizen 1019 | Vivian Klees | 312 | 170 L$ | 5000 | 0.02 L$ | 0.02 L$ |
| citizen 1020 | 2ensie Resident | 312 | 15 L$ | 5000 | 0.02 L$ | 0.02 L$ |
| citizen 1021 | blindman75 Resident | 308 | 0 L$ | 5000 | 0.02 L$ | 0.02 L$ |
| citizen 1022 | Elza Ronin | 307 | 0 L$ | 5000 | 0.02 L$ | 0.02 L$ |
| citizen 1023 | MIENAIES11 Resident | 306 | 0 L$ | 5000 | 0.02 L$ | 0.02 L$ |
| citizen 1024 | YummySarra Genesis | 302 | 502 L$ | 5000 | 0.02 L$ | 0.02 L$ |
| citizen 1025 | Ru Sorbet | 299 | 0 L$ | 5000 | 0.02 L$ | 0.02 L$ |
| citizen 1026 | Mone Palmira | 296 | 0 L$ | 5000 | 0.02 L$ | 0.02 L$ |
| citizen 1027 | Sbecky Kidd | 293 | 0 L$ | 5000 | 0.02 L$ | 0.01 L$ |
| citizen 1028 | gryffoni Resident | 292 | 3 L$ | 5000 | 0.02 L$ | 0.02 L$ |
| citizen 1029 | Abcd Rau | 290 | 0 L$ | 5000 | 0.02 L$ | 0.02 L$ |
| citizen 1030 | dayz Short | 285 | 24 L$ | 5000 | 0.02 L$ | 0.02 L$ |
| citizen 1031 | LadyAhyoka Resident | 285 | 0 L$ | 5000 | 0.02 L$ | 0.02 L$ |
| citizen 1032 | Darknau Resident | 282 | 0 L$ | 5000 | 0.02 L$ | 0.02 L$ |
| citizen 1033 | MsChanelOberlin Resident | 281 | 0 L$ | 5000 | 0.02 L$ | 0.02 L$ |
| citizen 1034 | Meligamer Resident | 280 | 0 L$ | 4900 | 0.02 L$ | 0.01 L$ |
| citizen 1035 | SarahDuvall Resident | 279 | 0 L$ | 5000 | 0.02 L$ | 0.02 L$ |
| citizen 1036 | AnnaNo Knickers | 277 | 0 L$ | 5000 | 0.02 L$ | 0.02 L$ |
| citizen 1037 | Jillx Resident | 274 | 0 L$ | 5000 | 0.02 L$ | 0.02 L$ |
| citizen 1038 | Anshika2002 Resident | 274 | 0 L$ | 5000 | 0.02 L$ | 0.02 L$ |
| citizen 1039 | littlecupcakeee Resident | 274 | 0 L$ | 5000 | 0.02 L$ | 0.02 L$ |
| citizen 1040 | Paradoksaljnaya Resident | 272 | 0 L$ | 5000 | 0.02 L$ | 0.02 L$ |
| citizen 1041 | ZhekaTheWolf Resident | 271 | 0 L$ | 5000 | 0.02 L$ | 0.02 L$ |
| citizen 1042 | brujitalila Resident | 270 | 0 L$ | 5000 | 0.02 L$ | 0.02 L$ |
| citizen 1043 | PiperWells Resident | 268 | 0 L$ | 5000 | 0.02 L$ | 0.02 L$ |
| citizen 1044 | KaliaRagnara Resident | 268 | 0 L$ | 5000 | 0.02 L$ | 0.02 L$ |
| citizen 1045 | onlyaboutfun Resident | 266 | 0 L$ | 5000 | 0.02 L$ | 0.02 L$ |
| citizen 1046 | Joycelyn Ohmai | 265 | 181 L$ | 5000 | 0.02 L$ | 0.02 L$ |
| citizen 1047 | fabiana Crescendo | 264 | 0 L$ | 5000 | 0.02 L$ | 0.02 L$ |
| citizen 1048 | Francescopalma Resident | 263 | 0 L$ | 5000 | 0.02 L$ | 0.02 L$ |
| citizen 1049 | MalkoviaBST Resident | 252 | 0 L$ | 5000 | 0.02 L$ | 0.02 L$ |
| citizen 1050 | minergirl74 Resident | 252 | 0 L$ | 5000 | 0.02 L$ | 0.02 L$ |
| citizen 1051 | Rita Sunkiller | 247 | 0 L$ | 5000 | 0.02 L$ | 0.02 L$ |
| citizen 1052 | OathMusic Resident | 247 | 0 L$ | 5000 | 0.02 L$ | 0.02 L$ |
| citizen 1053 | MandyGirl36 Resident | 246 | 0 L$ | 5000 | 0.02 L$ | 0.02 L$ |
| citizen 1054 | ANTONIJA1999 Resident | 246 | 0 L$ | 5000 | 0.02 L$ | 0.02 L$ |
| citizen 1055 | Salaciia Resident | 246 | 0 L$ | 5000 | 0.02 L$ | 0.02 L$ |
| citizen 1056 | Ribodan Resident | 239 | 134 L$ | 5000 | 0.01 L$ | 0.02 L$ |
| citizen 1057 | bubblez1976 Resident | 239 | 0 L$ | 5000 | 0.01 L$ | 0.02 L$ |
| citizen 1058 | FearSom1 Resident | 239 | 0 L$ | 5000 | 0.01 L$ | 0.02 L$ |
| citizen 1059 | ZoeyZodiac Resident | 239 | 0 L$ | 5000 | 0.01 L$ | 0.02 L$ |
| citizen 1060 | Alitiaa Resident | 238 | 0 L$ | 5000 | 0.01 L$ | 0.02 L$ |
| citizen 1061 | kaylae307 Resident | 235 | 3 L$ | 5000 | 0.01 L$ | 0.02 L$ |
| citizen 1062 | DeannaMystic Resident | 232 | 0 L$ | 5000 | 0.01 L$ | 0.02 L$ |
| citizen 1063 | Birhin Resident | 231 | 0 L$ | 5000 | 0.01 L$ | 0.02 L$ |
| citizen 1064 | ChristinaEwing92 Resident | 229 | 0 L$ | 5000 | 0.01 L$ | 0.02 L$ |
| citizen 1065 | IflorI Resident | 229 | 0 L$ | 5000 | 0.01 L$ | 0.02 L$ |
| citizen 1066 | Becky Darkheart | 228 | 0 L$ | 5000 | 0.01 L$ | 0.01 L$ |
| citizen 1067 | NitroB Resident | 226 | 0 L$ | 5000 | 0.01 L$ | 0.01 L$ |
| citizen 1068 | AnnaBellaRegn Resident | 215 | 675 L$ | 5000 | 0.01 L$ | 0.01 L$ |
| citizen 1069 | Lucrezia Kristan | 215 | 0 L$ | 5000 | 0.01 L$ | 0.01 L$ |
| citizen 1070 | Ssparkyy Swindlehurst | 215 | 0 L$ | 5000 | 0.01 L$ | 0.01 L$ |
| citizen 1071 | xLizaSimpsoNx Resident | 215 | 0 L$ | 5000 | 0.01 L$ | 0.01 L$ |
| citizen 1072 | Sveta Xue | 213 | 0 L$ | 5000 | 0.01 L$ | 0.01 L$ |
| citizen 1073 | Colller Resident | 208 | 0 L$ | 5000 | 0.01 L$ | 0.01 L$ |
| citizen 1074 | Gillie Loring | 206 | 0 L$ | 5000 | 0.01 L$ | 0.01 L$ |
| citizen 1075 | CharmingSabrina Resident | 206 | 0 L$ | 5000 | 0.01 L$ | 0.01 L$ |
| citizen 1076 | JKismet Resident | 206 | 0 L$ | 5000 | 0.01 L$ | 0.01 L$ |
| citizen 1077 | AshleeRoseBonham Resident | 205 | 0 L$ | 5000 | 0.01 L$ | 0.01 L$ |
| citizen 1078 | Repent162 Resident | 204 | 0 L$ | 5000 | 0.01 L$ | 0.01 L$ |
| citizen 1079 | duffus1234 Resident | 201 | 0 L$ | 5000 | 0.01 L$ | 0.01 L$ |
| citizen 1080 | 0VickyRose0 Resident | 200 | 0 L$ | voted | 0.01 L$ | 0.00 L$ |
| citizen 1081 | MelinaAndrews Resident | 200 | 0 L$ | voted | 0.01 L$ | 0.00 L$ |
| citizen 1082 | kenix5 Resident | 197 | 0 L$ | 5000 | 0.01 L$ | 0.01 L$ |
| citizen 1083 | AlexandrieDeveraux Resident | 193 | 0 L$ | 5000 | 0.01 L$ | 0.01 L$ |
| citizen 1084 | AdrienTeller Resident | 192 | 0 L$ | 5000 | 0.01 L$ | 0.01 L$ |
| citizen 1085 | skittle Szczepanski | 191 | 0 L$ | 5000 | 0.01 L$ | 0.01 L$ |
| citizen 1086 | Divo Delicioso | 188 | 0 L$ | 5000 | 0.01 L$ | 0.01 L$ |
| citizen 1087 | MaxDick69 Resident | 187 | 48 L$ | 5000 | 0.01 L$ | 0.01 L$ |
| citizen 1088 | Lynnetx Resident | 186 | 29 L$ | 5000 | 0.01 L$ | 0.01 L$ |
| citizen 1089 | yaseminnnnnnnnnn Resident | 184 | 0 L$ | 5000 | 0.01 L$ | 0.01 L$ |
| citizen 1090 | XALEXANDRX Resident | 181 | 4 L$ | voted | 0.01 L$ | 0.01 L$ |
| citizen 1091 | Noraeviedavinci Resident | 180 | 0 L$ | 5000 | 0.01 L$ | 0.01 L$ |
| citizen 1092 | Mareturchese Resident | 180 | 0 L$ | 5000 | 0.01 L$ | 0.01 L$ |
| citizen 1093 | rratgirll Resident | 180 | 0 L$ | 5000 | 0.01 L$ | 0.01 L$ |
| citizen 1094 | CraigKnight Resident | 176 | 0 L$ | 5000 | 0.01 L$ | 0.01 L$ |
| citizen 1095 | HalenaMikaelson Resident | 176 | 0 L$ | 5000 | 0.01 L$ | 0.01 L$ |
| citizen 1096 | Amabylinoemi Resident | 176 | 0 L$ | 5000 | 0.01 L$ | 0.01 L$ |
| citizen 1097 | wavygravvee Resident | 176 | 0 L$ | 5000 | 0.01 L$ | 0.01 L$ |
| citizen 1098 | Devilhase Aeon | 175 | 2 L$ | 5000 | 0.01 L$ | 0.01 L$ |
| citizen 1099 | Grey Rosca | 175 | 0 L$ | 5000 | 0.01 L$ | 0.01 L$ |
| citizen 1100 | kellymjenkins Resident | 175 | 0 L$ | 5000 | 0.01 L$ | 0.01 L$ |
| citizen 1101 | Cherri McKeenan | 174 | 5 L$ | 5000 | 0.01 L$ | 0.01 L$ |
| citizen 1102 | xZoro91 Resident | 170 | 0 L$ | 5000 | 0.01 L$ | 0.01 L$ |
| citizen 1103 | AmyHeartfilia Resident | 168 | 0 L$ | 5000 | 0.01 L$ | 0.01 L$ |
| citizen 1104 | Galaksia Resident | 168 | 0 L$ | 5000 | 0.01 L$ | 0.01 L$ |
| citizen 1105 | SpoopyPeach25 Resident | 167 | 0 L$ | 5000 | 0.01 L$ | 0.01 L$ |
| citizen 1106 | PazRyaDawson Resident | 167 | 0 L$ | 5000 | 0.01 L$ | 0.01 L$ |
| citizen 1107 | jockmactavish11 Resident | 167 | 0 L$ | 5000 | 0.01 L$ | 0.01 L$ |
| citizen 1108 | Anastasia Alpha | 166 | 0 L$ | 5000 | 0.01 L$ | 0.01 L$ |
| citizen 1109 | darklightfury Resident | 163 | 0 L$ | 5000 | 0.01 L$ | 0.01 L$ |
| citizen 1110 | SomethingFixed Resident | 163 | 0 L$ | 5000 | 0.01 L$ | 0.01 L$ |
| citizen 1111 | Aros Cloud | 162 | 0 L$ | 5000 | 0.01 L$ | 0.01 L$ |
| citizen 1112 | DreeMeDee Psaltery | 159 | 2,930 L$ | 5000 | 0.01 L$ | 0.01 L$ |
| citizen 1113 | darkwildleopard Resident | 158 | 0 L$ | 5000 | 0.01 L$ | 0.01 L$ |
| citizen 1114 | JenicaBohdan Resident | 154 | 0 L$ | 5000 | 0.01 L$ | 0.01 L$ |
| citizen 1115 | TaraDayz Resident | 150 | 91 L$ | 5000 | 0.01 L$ | 0.01 L$ |
| citizen 1116 | nikkibabyyay Resident | 149 | 0 L$ | 5000 | 0.01 L$ | 0.01 L$ |
| citizen 1117 | serena Seminario | 143 | 5 L$ | 5000 | 0.01 L$ | 0.01 L$ |
| citizen 1118 | Allivra Parx | 143 | 0 L$ | 5000 | 0.01 L$ | 0.01 L$ |
| citizen 1119 | MistyGuest Resident | 142 | 0 L$ | 5000 | 0.01 L$ | 0.01 L$ |
| citizen 1120 | Huakeriasan Resident | 142 | 0 L$ | 5000 | 0.01 L$ | 0.01 L$ |
| citizen 1121 | Paynter Francis | 139 | 0 L$ | 5000 | 0.01 L$ | 0.01 L$ |
| citizen 1122 | mahomushi Resident | 137 | 0 L$ | 5000 | 0.01 L$ | 0.01 L$ |
| citizen 1123 | bobbiedragonwolf Resident | 136 | 0 L$ | 5000 | 0.01 L$ | 0.01 L$ |
| citizen 1124 | MartinAntony Resident | 136 | 0 L$ | 5000 | 0.01 L$ | 0.01 L$ |
| citizen 1125 | scooter Michalski | 134 | 0 L$ | 5000 | 0.01 L$ | 0.01 L$ |
| citizen 1126 | Jeankeegirl Resident | 134 | 0 L$ | 5000 | 0.01 L$ | 0.01 L$ |
| citizen 1127 | Enrica Hallison | 134 | 0 L$ | 5000 | 0.01 L$ | 0.01 L$ |
| citizen 1128 | PAPERINO Messinez | 131 | 6 L$ | 5000 | 0.01 L$ | 0.01 L$ |
| citizen 1129 | Neena Kiko | 128 | 0 L$ | 5000 | 0.01 L$ | 0.01 L$ |
| citizen 1130 | Victor Tuxing | 126 | 0 L$ | 5000 | 0.01 L$ | 0.01 L$ |
| citizen 1131 | JaNessaTehani Resident | 126 | 0 L$ | 5000 | 0.01 L$ | 0.01 L$ |
| citizen 1132 | BigBossTurboFt Resident | 119 | 0 L$ | 5000 | 0.01 L$ | 0.01 L$ |
| citizen 1133 | Suzyremmmm Resident | 118 | 0 L$ | 5000 | 0.01 L$ | 0.01 L$ |
| citizen 1134 | 10LuDmiLkA01 Resident | 116 | 0 L$ | 5000 | 0.01 L$ | 0.01 L$ |
| citizen 1135 | QwadiraSilver Resident | 115 | 0 L$ | 5000 | 0.01 L$ | 0.01 L$ |
| citizen 1136 | Galvestonbay Resident | 115 | 0 L$ | 5000 | 0.01 L$ | 0.01 L$ |
| citizen 1137 | babygirl Juneberry | 113 | 0 L$ | 5000 | 0.01 L$ | 0.01 L$ |
| citizen 1138 | Jellybiean Resident | 113 | 0 L$ | 5000 | 0.01 L$ | 0.01 L$ |
| citizen 1139 | Hernystar Resident | 112 | 0 L$ | 5000 | 0.01 L$ | 0.01 L$ |
| citizen 1140 | BURBERRYWeekend80 Resident | 110 | 0 L$ | 5000 | 0.01 L$ | 0.01 L$ |
| citizen 1141 | Mosita193 Resident | 110 | 0 L$ | 5000 | 0.01 L$ | 0.01 L$ |
| citizen 1142 | Six Juriya | 109 | 0 L$ | 5000 | 0.01 L$ | 0.01 L$ |
| citizen 1143 | Mariyaha Resident | 107 | 212 L$ | 5000 | 0.01 L$ | 0.01 L$ |
| citizen 1144 | Semiramis1 Resident | 106 | 274 L$ | 5000 | 0.01 L$ | 0.01 L$ |
| citizen 1145 | LordoNetto Resident | 105 | 0 L$ | voted | 0.01 L$ | 0.00 L$ |
| citizen 1146 | Rakasha Farspire | 103 | 0 L$ | 5000 | 0.01 L$ | 0.01 L$ |
| citizen 1147 | genoveva72 Resident | 102 | 505 L$ | 5000 | 0.01 L$ | 0.01 L$ |
| citizen 1148 | Destimona Resident | 100 | 0 L$ | voted | 0.01 L$ | 0.00 L$ |
| citizen 1149 | Lenzz Resident | 100 | 0 L$ | voted | 0.01 L$ | 0.00 L$ |
| citizen 1150 | Lexmarithon Carpaccio | 99 | 0 L$ | 5000 | 0.01 L$ | 0.01 L$ |
| citizen 1151 | Sanya2022 Resident | 99 | 0 L$ | 5000 | 0.01 L$ | 0.01 L$ |
| citizen 1152 | Kertenkelebeleylek Resident | 98 | 0 L$ | 5000 | 0.01 L$ | 0.01 L$ |
| citizen 1153 | murilinh0 Xenno | 95 | 0 L$ | 5000 | 0.01 L$ | 0.01 L$ |
| citizen 1154 | AngelinaDesiree Resident | 95 | 0 L$ | 5000 | 0.01 L$ | 0.01 L$ |
| citizen 1155 | Canidsy Resident | 95 | 0 L$ | 5000 | 0.01 L$ | 0.01 L$ |
| citizen 1156 | SherylAnn3 Resident | 95 | 0 L$ | 5000 | 0.01 L$ | 0.01 L$ |
| citizen 1157 | Bionic007 Resident | 94 | 3 L$ | 5000 | 0.01 L$ | 0.01 L$ |
| citizen 1158 | LadyNightsong Resident | 92 | 6 L$ | 5000 | 0.01 L$ | 0.01 L$ |
| citizen 1159 | KittyVonTitties Resident | 91 | 0 L$ | 5000 | 0.01 L$ | 0.01 L$ |
| citizen 1160 | ryeguy2015 Resident | 90 | 0 L$ | 5000 | 0.01 L$ | 0.01 L$ |
| citizen 1161 | Zyuip Resident | 89 | 0 L$ | 5000 | 0.01 L$ | 0.01 L$ |
| citizen 1162 | sammira Bartavelle | 89 | 0 L$ | 5000 | 0.01 L$ | 0.01 L$ |
| citizen 1163 | xxBysinkaxx Resident | 86 | 0 L$ | 5000 | 0.01 L$ | 0.01 L$ |
| citizen 1164 | Alexxr6 Resident | 86 | 0 L$ | 5000 | 0.01 L$ | 0.01 L$ |
| citizen 1165 | Whissper00 Resident | 85 | 0 L$ | 5000 | 0.01 L$ | 0.01 L$ |
| citizen 1166 | CelineTwilight Resident | 84 | 12 L$ | 5000 | 0.01 L$ | 0.01 L$ |
| citizen 1167 | John Gavilan | 83 | 35 L$ | 5000 | 0.01 L$ | 0.01 L$ |
| citizen 1168 | Jayelend Resident | 81 | 0 L$ | 5000 | 0.01 L$ | 0.01 L$ |
| citizen 1169 | Fiesta Roecastle | 80 | 0 L$ | 5000 | 0 L$ | 0.01 L$ |
| citizen 1170 | Trip Somerset | 79 | 0 L$ | 5000 | 0 L$ | 0.01 L$ |
| citizen 1171 | qAdrienne Resident | 77 | 13 L$ | 5000 | 0 L$ | 0.01 L$ |
| citizen 1172 | EowynAnn Resident | 77 | 9 L$ | 5000 | 0 L$ | 0.01 L$ |
| citizen 1173 | justadrii Resident | 77 | 0 L$ | 5000 | 0 L$ | 0.01 L$ |
| citizen 1174 | Natalie Loxtonian | 77 | 0 L$ | 5000 | 0 L$ | 0.01 L$ |
| citizen 1175 | Angel Daffodil | 77 | 0 L$ | 5000 | 0 L$ | 0.01 L$ |
| citizen 1176 | Mitsela Andretti | 77 | 0 L$ | 5000 | 0 L$ | 0.01 L$ |
| citizen 1177 | Irakllia Alecto | 76 | 0 L$ | 5000 | 0 L$ | 0.00 L$ |
| citizen 1178 | Chatteers Resident | 76 | 0 L$ | 5000 | 0 L$ | 0.00 L$ |
| citizen 1179 | EquinoxSpirit Resident | 73 | 0 L$ | 5000 | 0 L$ | 0.00 L$ |
| citizen 1180 | Sorina Garrigus | 72 | 0 L$ | 5000 | 0 L$ | 0.00 L$ |
| citizen 1181 | Madisson Camino | 72 | 0 L$ | 5000 | 0 L$ | 0.00 L$ |
| citizen 1182 | zotyi72 Resident | 71 | 0 L$ | 5000 | 0 L$ | 0.00 L$ |
| citizen 1183 | Rickyyyyyy Xue | 69 | 0 L$ | 5000 | 0 L$ | 0.00 L$ |
| citizen 1184 | WrathDragon Resident | 69 | 0 L$ | 5000 | 0 L$ | 0.00 L$ |
| citizen 1185 | byakko877 Resident | 69 | 0 L$ | 5000 | 0 L$ | 0.00 L$ |
| citizen 1186 | LestatDeathAngel Resident | 68 | 0 L$ | 5000 | 0 L$ | 0.00 L$ |
| citizen 1187 | kaigon Resident | 66 | 88 L$ | 5000 | 0 L$ | 0.00 L$ |
| citizen 1188 | Leyla72 Resident | 66 | 0 L$ | 5000 | 0 L$ | 0.00 L$ |
| citizen 1189 | gugudan Resident | 66 | 0 L$ | 5000 | 0 L$ | 0.00 L$ |
| citizen 1190 | plus Solo | 66 | 0 L$ | 5000 | 0 L$ | 0.00 L$ |
| citizen 1191 | yck224 Resident | 65 | 0 L$ | 5000 | 0 L$ | 0.00 L$ |
| citizen 1192 | LordDarckgon Resident | 62 | 0 L$ | 5000 | 0 L$ | 0.00 L$ |
| citizen 1193 | automatebot Resident | 62 | 0 L$ | 5000 | 0 L$ | 0.00 L$ |
| citizen 1194 | MrLeoneil Resident | 62 | 0 L$ | 5000 | 0 L$ | 0.00 L$ |
| citizen 1195 | Ulli Bowdit | 62 | 0 L$ | 5000 | 0 L$ | 0.00 L$ |
| citizen 1196 | Whitemoccha Resident | 61 | 0 L$ | 5000 | 0 L$ | 0.00 L$ |
| citizen 1197 | KarinaMarievna Resident | 58 | 0 L$ | 5000 | 0 L$ | 0.00 L$ |
| citizen 1198 | FabiniDC Resident | 56 | 103 L$ | 5000 | 0 L$ | 0.00 L$ |
| citizen 1199 | paullehat Resident | 56 | 0 L$ | 5000 | 0 L$ | 0.00 L$ |
| citizen 1200 | icedemmon Resident | 56 | 0 L$ | 5000 | 0 L$ | 0.00 L$ |
| citizen 1201 | AudreCallow Resident | 56 | 0 L$ | 5000 | 0 L$ | 0.00 L$ |
| citizen 1202 | cyborgSL Resident | 55 | 0 L$ | 5000 | 0 L$ | 0.00 L$ |
| citizen 1203 | marcel Trapdoor | 54 | 0 L$ | 5000 | 0 L$ | 0.00 L$ |
| citizen 1204 | TasiaAmberRaeNaylise Resident | 54 | 0 L$ | 5000 | 0 L$ | 0.00 L$ |
| citizen 1205 | Ensus Resident | 54 | 0 L$ | 5000 | 0 L$ | 0.00 L$ |
| citizen 1206 | AzarniTsa Resident | 53 | 0 L$ | 5000 | 0 L$ | 0.00 L$ |
| citizen 1207 | Neyvn Kenzo | 53 | 0 L$ | 5000 | 0 L$ | 0.00 L$ |
| citizen 1208 | HarleyJQuinn8807 Resident | 53 | 0 L$ | 5000 | 0 L$ | 0.00 L$ |
| citizen 1209 | Desire Deka | 53 | 0 L$ | 5000 | 0 L$ | 0.00 L$ |
| citizen 1210 | Mystery7Origin Resident | 53 | 0 L$ | 5000 | 0 L$ | 0.00 L$ |
| citizen 1211 | diablowomen Resident | 53 | 0 L$ | 5000 | 0 L$ | 0.00 L$ |
| citizen 1212 | Roger01234 Resident | 53 | 0 L$ | 5000 | 0 L$ | 0.00 L$ |
| citizen 1213 | LydiaMatisse Resident | 52 | 0 L$ | 5000 | 0 L$ | 0.00 L$ |
| citizen 1214 | gallishia Resident | 51 | 0 L$ | 5000 | 0 L$ | 0.00 L$ |
| citizen 1215 | Clairvel Resident | 50 | 0 L$ | 5000 | 0 L$ | 0.00 L$ |
| citizen 1216 | LisavonGlanstein Resident | 50 | 1 L$ | 5000 | 0 L$ | 0.00 L$ |
| citizen 1217 | AlHunt Resident | 50 | 0 L$ | 5000 | 0 L$ | 0.00 L$ |
| citizen 1218 | acaciamonshadow Resident | 50 | 0 L$ | 5000 | 0 L$ | 0.00 L$ |
| citizen 1219 | vonBlankenstein Resident | 50 | 1 L$ | 5000 | 0 L$ | 0.00 L$ |
| citizen 1220 | Skyblue Flores | 50 | 0 L$ | 5000 | 0 L$ | 0.00 L$ |
| citizen 1221 | Foxnight Follet | 50 | 0 L$ | 5900 | 0 L$ | 0.00 L$ |
| citizen 1222 | SashaByaku Resident | 50 | 0 L$ | 5000 | 0 L$ | 0.00 L$ |
| citizen 1223 | XxDarkTemptressxX Resident | 48 | 335 L$ | 5000 | 0 L$ | 0.00 L$ |
| citizen 1224 | Jane Loordes | 48 | 0 L$ | 5000 | 0 L$ | 0.00 L$ |
| citizen 1225 | Celeste1913 Resident | 48 | 0 L$ | 5000 | 0 L$ | 0.00 L$ |
| citizen 1226 | isabelle20061986006 Resident | 48 | 0 L$ | 5000 | 0 L$ | 0.00 L$ |
| citizen 1227 | Paipere Resident | 45 | 19 L$ | 5000 | 0 L$ | 0.00 L$ |
| citizen 1228 | Nedar Koba | 45 | 0 L$ | 5000 | 0 L$ | 0.00 L$ |
| citizen 1229 | Akihiroo Resident | 45 | 0 L$ | 5000 | 0 L$ | 0.00 L$ |
| citizen 1230 | Savanah Helendale | 43 | 0 L$ | 5000 | 0 L$ | 0.00 L$ |
| citizen 1231 | TiggyTibbs Resident | 43 | 0 L$ | 5000 | 0 L$ | 0.00 L$ |
| citizen 1232 | Marciasdias Resident | 43 | 0 L$ | 5000 | 0 L$ | 0.00 L$ |
| citizen 1233 | marcmorpion Resident | 43 | 0 L$ | 5000 | 0 L$ | 0.00 L$ |
| citizen 1234 | Rosey785Bloom Resident | 41 | 0 L$ | 5000 | 0 L$ | 0.00 L$ |
| citizen 1235 | Xelannah Resident | 41 | 0 L$ | 5000 | 0 L$ | 0.00 L$ |
| citizen 1236 | Sherridon Mercury | 39 | 14 L$ | 5000 | 0 L$ | 0.00 L$ |
| citizen 1237 | voyag1212 Resident | 38 | 0 L$ | 5000 | 0 L$ | 0.00 L$ |
| citizen 1238 | MistyFishEyes Resident | 37 | 161 L$ | 5000 | 0 L$ | 0.00 L$ |
| citizen 1239 | Luther Nestler | 37 | 35 L$ | 5000 | 0 L$ | 0.00 L$ |
| citizen 1240 | FrancescawulfFirethorn Resident | 37 | 0 L$ | 5000 | 0 L$ | 0.00 L$ |
| citizen 1241 | Bee Takeda | 35 | 0 L$ | 5000 | 0 L$ | 0.00 L$ |
| citizen 1242 | Penny Amaterasu | 35 | 0 L$ | 5015 | 0 L$ | 0.00 L$ |
| citizen 1243 | Delilah Querilo | 34 | 220 L$ | 5000 | 0 L$ | 0.00 L$ |
| citizen 1244 | Plebian75 Resident | 33 | 9 L$ | 5000 | 0 L$ | 0.00 L$ |
| citizen 1245 | Yulia Lysette | 33 | 0 L$ | 5000 | 0 L$ | 0.00 L$ |
| citizen 1246 | 1DayIWill Resident | 33 | 152 L$ | 5000 | 0 L$ | 0.00 L$ |
| citizen 1247 | SirBlood Resident | 33 | 126 L$ | 5000 | 0 L$ | 0.00 L$ |
| citizen 1248 | TPHoarder Resident | 33 | 0 L$ | 5000 | 0 L$ | 0.00 L$ |
| citizen 1249 | Georgia Munster | 33 | 1 L$ | 5000 | 0 L$ | 0.00 L$ |
| citizen 1250 | AlienLover2 Resident | 32 | 24 L$ | 5000 | 0 L$ | 0.00 L$ |
| citizen 1251 | xVGAx Resident | 32 | 0 L$ | 5000 | 0 L$ | 0.00 L$ |
| citizen 1252 | sandylove2019 Resident | 30 | 0 L$ | 5000 | 0 L$ | 0.00 L$ |
| citizen 1253 | EthanVyer Resident | 30 | 64 L$ | 5000 | 0 L$ | 0.00 L$ |
| citizen 1254 | Gorgud Avro | 30 | 9 L$ | 5000 | 0 L$ | 0.00 L$ |
| citizen 1255 | KoWoTo Resident | 30 | 0 L$ | 5000 | 0 L$ | 0.00 L$ |
| citizen 1256 | scruffydelroughe Resident | 30 | 0 L$ | 5000 | 0 L$ | 0.00 L$ |
| citizen 1257 | mvtive Resident | 30 | 0 L$ | 5000 | 0 L$ | 0.00 L$ |
| citizen 1258 | Bellatrix Edwardstone | 29 | 71 L$ | 5000 | 0 L$ | 0.00 L$ |
| citizen 1259 | Viktor Corvinus | 29 | 0 L$ | 5000 | 0 L$ | 0.00 L$ |
| citizen 1260 | ByeByeFacebook Resident | 29 | 0 L$ | 5000 | 0 L$ | 0.00 L$ |
| citizen 1261 | AmberNicole Pittman | 29 | 0 L$ | 5000 | 0 L$ | 0.00 L$ |
| citizen 1262 | 1truboss Resident | 27 | 45 L$ | 5000 | 0 L$ | 0.00 L$ |
| citizen 1263 | victoriahail Resident | 27 | 0 L$ | 5000 | 0 L$ | 0.00 L$ |
| citizen 1264 | TiffanyTD Resident | 26 | 132 L$ | 5000 | 0 L$ | 0.00 L$ |
| citizen 1265 | AliciaBCullen Resident | 26 | 0 L$ | 5000 | 0 L$ | 0.00 L$ |
| citizen 1266 | HornajRoza Resident | 26 | 0 L$ | 5000 | 0 L$ | 0.00 L$ |
| citizen 1267 | Tabby2Tone Ghost | 26 | 0 L$ | 5000 | 0 L$ | 0.00 L$ |
| citizen 1268 | Kevinsons Resident | 24 | 0 L$ | 5000 | 0 L$ | 0.00 L$ |
| citizen 1269 | HUKON Resident | 23 | 0 L$ | 5000 | 0 L$ | 0.00 L$ |
| citizen 1270 | vickyslaboss Resident | 23 | 0 L$ | 5000 | 0 L$ | 0.00 L$ |
| citizen 1271 | Sabrina Absinthe | 23 | 0 L$ | 5000 | 0 L$ | 0.00 L$ |
| citizen 1272 | maxime175 Resident | 23 | 0 L$ | 5000 | 0 L$ | 0.00 L$ |
| citizen 1273 | Angela Tennyson | 23 | 0 L$ | 5000 | 0 L$ | 0.00 L$ |
| citizen 1274 | Chelsea Brandes | 22 | 14 L$ | 5000 | 0 L$ | 0.00 L$ |
| citizen 1275 | Weiyu Chun | 22 | 26 L$ | 5000 | 0 L$ | 0.00 L$ |
| citizen 1276 | Mariana Chiuh | 22 | 26 L$ | 5000 | 0 L$ | 0.00 L$ |
| citizen 1277 | NatShanosky Resident | 22 | 0 L$ | 5000 | 0 L$ | 0.00 L$ |
| citizen 1278 | M4IS0U3STD0NC0RNIC4R Resident | 22 | 0 L$ | 5000 | 0 L$ | 0.00 L$ |
| citizen 1279 | RitaMartin Resident | 21 | 92 L$ | 5000 | 0 L$ | 0.00 L$ |
| citizen 1280 | BrookLynn Aldrin | 21 | 0 L$ | 5000 | 0 L$ | 0.00 L$ |
| citizen 1281 | Narcissa Macalroy | 20 | 20 L$ | 5000 | 0 L$ | 0.00 L$ |
| citizen 1282 | Kagrra Resident | 20 | 20 L$ | 5000 | 0 L$ | 0.00 L$ |
| citizen 1283 | pixiecathy Resident | 20 | 20 L$ | 5000 | 0 L$ | 0.00 L$ |
| citizen 1284 | KieraDeluka Resident | 20 | 0 L$ | 5000 | 0 L$ | 0.00 L$ |
| citizen 1285 | ialopezg Resident | 19 | 0 L$ | 5000 | 0 L$ | 0.00 L$ |
| citizen 1286 | Vance Siamendes | 19 | 12 L$ | 5000 | 0 L$ | 0.00 L$ |
| citizen 1287 | TyaraCast Resident | 17 | 0 L$ | 5000 | 0 L$ | 0.00 L$ |
| citizen 1288 | christel Copperfield | 17 | 0 L$ | 5000 | 0 L$ | 0.00 L$ |
| citizen 1289 | malasty Resident | 17 | 0 L$ | 5000 | 0 L$ | 0.00 L$ |
| citizen 1290 | LokiLiosafar Resident | 17 | 0 L$ | 5000 | 0 L$ | 0.00 L$ |
| citizen 1291 | VilioKiss Resident | 14 | 0 L$ | 5000 | 0 L$ | 0.00 L$ |
| citizen 1292 | kitty19841984 Resident | 14 | 0 L$ | 5000 | 0 L$ | 0.00 L$ |
| citizen 1293 | JulliaBac Resident | 14 | 0 L$ | 5000 | 0 L$ | 0.00 L$ |
| citizen 1294 | riquezas Resident | 13 | 0 L$ | 5000 | 0 L$ | 0.00 L$ |
| citizen 1295 | Manzana2022 Resident | 13 | 0 L$ | 5000 | 0 L$ | 0.00 L$ |
| citizen 1296 | Pheobe Torrance | 13 | 0 L$ | 5000 | 0 L$ | 0.00 L$ |
| citizen 1297 | Bbygrltjg Resident | 12 | 0 L$ | 5000 | 0 L$ | 0.00 L$ |
| citizen 1298 | barbika30 Resident | 12 | 0 L$ | 5000 | 0 L$ | 0.00 L$ |
| citizen 1299 | lisbe1thag1 Resident | 12 | 0 L$ | 5000 | 0 L$ | 0.00 L$ |
| citizen 1300 | DrPepperDude1885 Resident | 11 | 0 L$ | 5000 | 0 L$ | 0.00 L$ |
| citizen 1301 | KingdomCat32 Resident | 10 | 168 L$ | 5000 | 0 L$ | 0.00 L$ |
| citizen 1302 | FabyaneS2 Resident | 10 | 0 L$ | 5000 | 0 L$ | 0.00 L$ |
| citizen 1303 | Dannikka Resident | 10 | 0 L$ | 5000 | 0 L$ | 0.00 L$ |
| citizen 1304 | EvelyneLocke Resident | 10 | 0 L$ | 5000 | 0 L$ | 0.00 L$ |
| citizen 1305 | misstyeyes Resident | 9 | 383 L$ | voted | 0 L$ | 0.00 L$ |
| citizen 1306 | myzdd Resident | 9 | 47 L$ | 5000 | 0 L$ | 0.00 L$ |
| citizen 1307 | Arsen00 Resident | 9 | 0 L$ | 5000 | 0 L$ | 0.00 L$ |
| citizen 1308 | johnydavid Resident | 8 | 0 L$ | 5000 | 0 L$ | 0.00 L$ |
| citizen 1309 | BettyP96 Resident | 0 | 0 L$ | voted | 0 L$ | 0.00 L$ |
| citizen 1310 | zenator Solo | 0 | 0 L$ | 5000 | 0 L$ | 0.00 L$ |
| citizen 1311 | 10Li Resident | 0 | 0 L$ | 5000 | 0 L$ | 0.00 L$ |